Going that extra mile
21/02/2018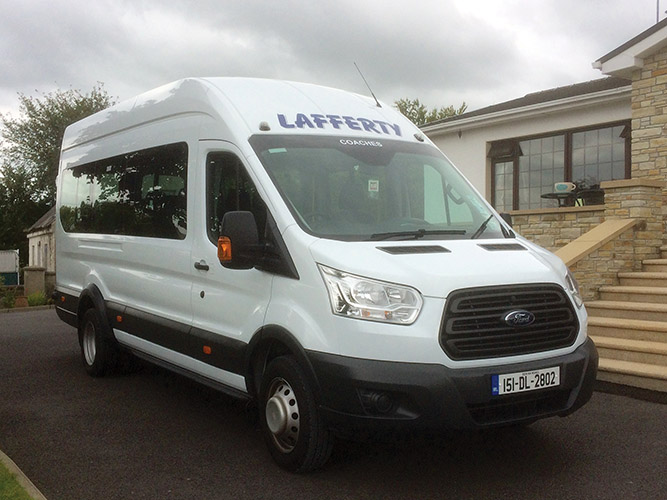 Gone are the days when bus journeys were considered torturous affairs that dragged out for hours, as modern fleets offer the best in luxury and comfort. The coach industry in Ireland has been boosted by our tourism flourishing, but many companies operating in this sector offer a wide range of services.
One such firm is the focus for this month's edition of Irish Trucker as we profile Donegal based Lafferty Buses.
The family run business, which is headquartered in Ballybofey has over 50 years' experience in the industry as Jim Lafferty first set up the company and from running one bus doing local work, they not have a fleet of 13 buses varying in size from 14-seaters to 52-seaters.
These days, Jim's son Aidan is at the helm and along with company secretary John McCullough, they spoke to us about the services that they provide to their large customer base.
As the leading bus provider in the county, Lafferty Buses provide such services, as school and college runs, coach tours, bus hire, cross-channel and much more. Their work sees them cater for such parties as weddings, stags, hens, anniversaries, engagements, sports clubs, day trips, overnights, weekends and short trips
fishing, golfing, touring, trekking, bikes and motor bikes, support teams
shopping, outings, airport Runs, one-offs, they cater to all needs.
"We provide a wide range of services and we take great pride in the work that we do. We have built up a reputation for providing a reliable service and the feedback we receive from customers is very positive,"said Aidan.
"Our customer base would include many sports clubs, family and company clients, Government and tours agencies. We aim to get better with every year that passes and every generation that take over."
Lafferty Buses have always stuck to the same ethos of ensuring that their passengers are carefully, safely and dependably driven people to, from and around Donegal.
"Our fleet is kept in pristine condition and is upgraded on a regular basis. We have a modern fleet of Mercedes and Ford coaches which are serviced and maintained by qualified mechanics, driven by experienced safe, capable, happy drivers, safety checked regularly, insured correctly, NCT up to date, clean and quiet and have modern low mileage."
Another string to their bow is the relatively new service of transporting tourists from the U.S around the country. A service that has received a lot of attention since it started last year.
"This is in its second year now and it has been a huge success so far,"said John. "We provide tours for American tourists and there has been a lot of interest in it. We have had American Glee clubs come over and we bring them all over the country."
John echoed Aidan's sentiments that the fleet was kept in excellent condition by adding that appearance was everything in this industry. "
"The fleet is washed after every trip and all vehicles are well maintained and cleaned out before setting off on a journey. We do a lot of our own maintenance, but some of it is subbed out. Appearance is crucial in this business and they fleet has to be looking immaculate at all times."
Aside from the fleet, the next thing that has to impress the passengers is their drivers and Aidan stated that they are fortunate to have a loyal and reliable work force.
"Many of the drivers would be with us years. They are the one's representing the company and we have had some excellent reviews from customers about how the were looked after by the drivers."
Lafferty's have always had the motto of no job being too big or small as Aidan revealed that they are there to cater for all.
"Our bread and butter would be the school runs and the local work. It is something that we have always done and always will do. Whether its a run a few mile up the road, or one that could take us around the country, it doesn't matter, we'll do every job as professionally as possible."
Of course in this industry, there are massive overheads to contend with and Aidan stressed it is essential to plan accordingly.
"Yes, the overheads are massive, the diesel bill is huge, but we always make sure the drivers drive economically, while by keeping the fleet well maintained, we ensure that unnecessary downtime is avoided as the last thing we want are breakdowns."
Located in the heart of Donegal means that Lafferty's are ideally located and have a great knowledge of renowned Wild Atlantic Way, one of Ireland's greatest hidden gems.
"We will happily take you along the Wild Atlantic Way to nooks and crannies, places that are not on the map. This is one of our favourite days out and visitors really love the adventure."
As stated, school runs are a big part of the business and Aidan was adamant when he stated that nothing was left to chance when it came to the safety of the children.
"All our drivers are all qualified, Garda vetted, insured, trained and suitable for school bus driving - which can be noisy and distracting if you do not have the right temperament. Our school bus drivers love their job.
"With 100% record for safety and a reputation for dependability and understanding, we know what is needed for school goers. The School Buses are all up to date with CVRT Commercial Vehicle Road Test, tyres and steering aligned, equipment all in order and lights all operational."
Lafferty Buses
Navenny,
Ballybofey, County Donegal
Landline: 074 913 1418 Mobile: 086 6016157
Taken from Irish Trucker & Light Commercials magazine, November/December 2017, Vol 20 No 7