'Our lorries are our shop window'
20/02/2018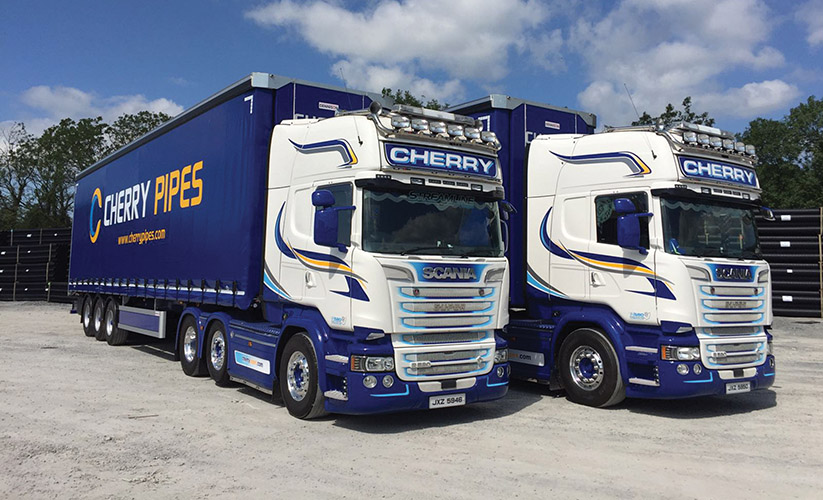 Irish Trucker caught up with Neal Martin who oversees the smooth running of Cherry Drainage Pipes' transport needs. The Dungannon-based company's transport manager emphasised the importance of having their trucks and trailers looking professional at all times.
Cherry Drainage Pipes is part of Cherry Plastics Group and specialises in the manufacture and distribution of plastic drainage systems to the Agricultural, Civil Engineering and Construction Industries throughout the United Kingdom and Ireland.
Cherry Drainage Pipes was established in 1969 by David Cherry for the manufacture of precast concrete drainage pipes. The company grew quickly and by the mid 70's Cherry Concrete Pipes were distributed throughout Ireland.
What began with a single concrete pipe machine in a small out building; moved to a purpose built factory on a 20 acre site close to Dungannon, Co. Tyrone.
In the mid 90's the company began manufacturing HDPE (high density polyethylene) drainage systems, whilst continuing the manufacture of precast concrete pipes, it became the first company in Ireland to manufacture both plastic and concrete drainage systems.
As technology developed and market trends changed the demand for plastic drainage systems increased and in 2006 the decision was made to cease production of precast concrete pipes and concentrate on the expansion and development of the HDPE pipe manufacturing.
Cherry Drainage Pipes manufacture a single wall land drainage system, a twin wall surface and storm water drainage system and a twin wall cable protection system from high quality reprocessed rHDPE. Until 2008 the reprocessed materials used in the manufacturing of Cherry Drainage Pipes products was sourced from a variety of suppliers throughout Europe.
However, as the company grew and expanded the potential benefits of processing raw material in house were realised, and so a Recycling Division was established with the acquisition of Irelands largest automated NIR (Near Infra Red) plastic bottle sorting plant.
The Recycling Division is now Ireland's largest plastic recycling company and operate a plastic bottle sorting plant, a Polyolefin washing plant with an Integrated water treatment facility and an extrusion plant for repelletising, compounding and now supplies Cherry Drainage Pipes with raw material for its manufacturing processes, ensuring Cherry Drainage Pipes are produced from the highest quality reprocessed material.
As the company's transport manager, Neal Martin is responsible for managing the execution, direction, and coordination of all transportation matters within Cherry Drainage Pipes. This includes organising schedules and routes, ensuring that vehicles are safe and meet legal requirements and making sure that drivers are aware of their duties.
As he says himself, Neal practically "grew up in the company"and he utilises his strong organisational skills on a day-to-day basis to ensure the company's long list of valued customers's orders are delivered on time and with a minimum of fuss.
"Basically everything!"he answered without hesitation when asked to outline his main duties. "It varies from day-to-day but, basically, I'm looking after the yard and the lorries and always trying to make sure that we get deliveries out to our customers as quickly as possible."
Cherry Drainage Pipes operate a fleet of four Scania (three S580s and one R420) and a Volvo FH 500 and Neal and his team of five drivers take great pride in the pristine appearance of their lorries.
"We took delivery of three new Scania's inside the last six months and we are really pleased with them,"he revealed.
The Scania trucks are the face of the company and reflect the pride that all Cherry Drainage Pipes have in their business.
"As a company, we don't really do advertising, what you see on the road is our advertising. It is important to us that the lorries are always looking their best because they are our shop window as such.
"We went with Scania because they are a good looking lorry. Also, we tend to refresh our lorries every three years and they hold their value better than any other lorry. Plus we get a lot of good customer feedback. We also recently bought six curtainsiders from Dennison Trailers bring our total number to 24."
The diligence of the drivers at Neal's disposal also makes his life a lot easier. "We're lucky to have experienced drivers working for us. They are all smart guys who carry out daily maintenance checks themselves and if there is anything wrong they won't be long in letting me know."
Team work and attention to detail are key ingredients in Neal's fleet maintenance programme.

Cherry Drainage Pipes,
12 Derryhirk Road
Dungannon
Co. Tyrone BT71 6NH,
Northern Ireland
Tel: 00 44 (0)28 3885 3900 Fax: 00 44 (0)28 3885 3901
Email: [email protected] Website: www.cherrypipes.com
Taken from Irish Trucker & Light Commercials magazine, November/December 2017, Vol 20 No 7