Greenhall and Opel: the perfect combination
15/01/2018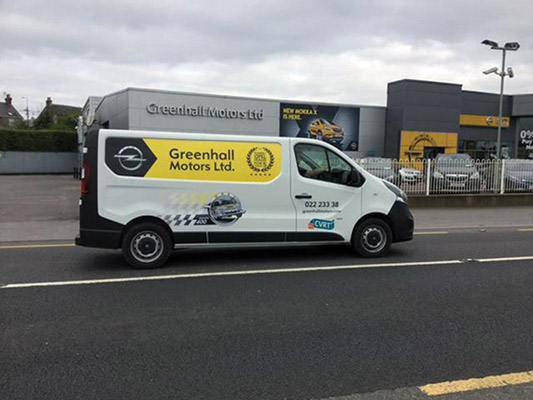 There are some businesses that just make the perfect fit with the dealership that they take up and that could be said about Greenhall Motors in Buttevant, Co Cork.
Experience is vital in any business, and to this end, Greenhall Motors has more experience than the majority of their competitors having been established in 1959 by Tim & Joan O'Shea. Their ability to move with the times and add to their services has seen them establish a customer base that has stood by them over the years.
Greenhall Motors was the first appointed Opel Dealer in Ireland and their dedication to the brand has earned them the Opel Dealer of Year award on more than one occasion.
Greenhall Motors supply a wide range of services including car and commercial sales and service, CVRT testing and much more.
Their ability to help the customer choose the vehicle that best suits their needs has earned them rave reviews both from customers and in the media.
These days Tim's sons Barry and Tadgh run the business and Barry revealed that the company has stood the test of time as they continue to supply a top quality service to their customers.
"Our business is built mainly on repeat custom. We have customers coming to us for many, many years and our aim is always to ensure they get a service that they are more than happy with."
Of course, selling a vehicle is just one part of the service as after sales is a massive part of the Greenhall Motors ethos.
"We would certainly follow up on all our customers and make sure they are happy with their purchase. Our service team are very experienced and they will get through the necessary work quickly and efficiently."Some quotes from their Customers include:
"Barry, thanks again for all your help, can't recommend you and your team highly enough". Colm Dineen, Evolution Signage & Design Team, Limerick. 21/7/17
"It was a pleasure to do business with you. You have great pride in what you offer and that is obvious...a true family business."A & E Quinn, 24/2/17
"I was very happy with the service provided by Greenhall. They delivered as promised. Everyone from the sales to the staff in the Service Centre made it a very special and enjoyable experience". Mr A Kelly 27/04/16
As one of the country's first CVRT test centres for light commercial vehicles, this Cork based business operates its test centre six days a week and this sees any vehicle up to 3.5 tonnes tested.
"We have three testers working here full time. We test all light commercials up to 3,500kg as well as camper vans. The testers are experienced and they go on refresher courses every year to ensure that they are up to date with all the changes that are being introduced on a regular basis. We are open the six days to ensure that the customer can choose a time that suits them as we know that many light commercial owners need their vans for work.
"Our workshop is fully equipped with all the leading technology to carry out services, maintenance and the testing."
Sales have also picked up in the last few years following the end of the recession and Barry stated that the Opel brand is a very popular choice amongst their customers.
"Opel has always been a leading seller in Ireland. The Insignia has been a popular vehicle and there is a lot of interest in the new Insignia Grand Sport, while the new small SUV Crossland X is set to take the market by storm. In November we will have the new Grandland X large SUV, so exciting times for Opel and Greenhall Motors ahead.
Greenhall's second hand trade has always been strong as they strive to have the vehicle that not only suits the customer best, but is affordable to them also. All our Used Vehicles are photographed and available to view on our website. We also have videos of several of our New and Used Vehicles available to view on the Greenhall Motors YouTube channel.
"We have a wide range of trade-in vehicles on site, while our showroom hosts 13 new vehicles at any given time, so there is plenty of choice.
"Our reputation has been built on the fact that our word is our bond and if we say we will do something then it will be done without any hassle."
Greenhall Motors have always given back to the local community, it is something they have done since the business was first established and they continue to do so today.
"We sponsor a number of local organisations. Recently, the local secondary school developed new sports pitches and we were delighted to be the main sponsors for a charity cycle to support that.
"We are pleased with how the business is going. Our customers have stayed loyal to us over the years, so we must be doing something right.
"However, it is essential that we keep up that level of service and ensure that the customer remains satisfied. We are always looking at ways of improving the service we provide. Recently, we gave the reception area and showroom a facelift in order to create an even more welcoming and friendly environment for when the customer comes through the door."
Contact Details:
Greenhall Motors
Charleville Road,
Buttevant,
Co. Cork
P51 YD77
T: 022 23338
F: 022 23416
Taken from Irish Trucker & Light Commercials magazine, September/October 2017, Vol 20 No 6