Delivering LPG to Irish homes, businesses ... and vehicles
21/12/2017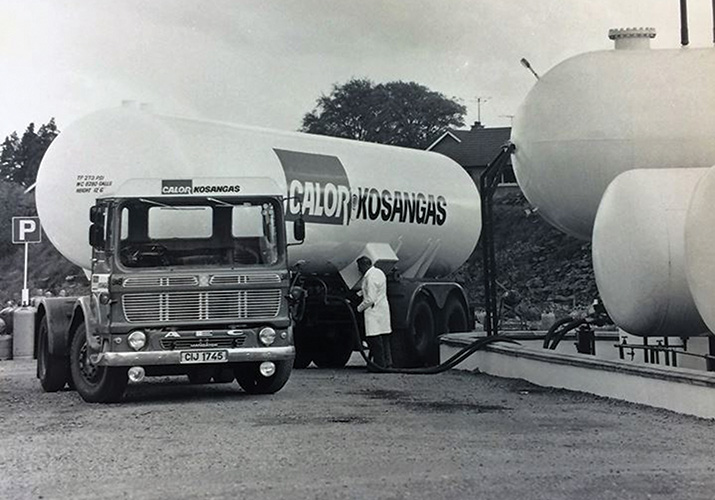 Celebrating 80 years in business this year, Calor Gas operates a stunning fleet of high-quality, safety-conscious vehicles and is one of the longest-established operators on the island. As well as providing fuel for cooking and heating, Calor is also at the forefront of the drive to supply LPG as an alternative, environmentally-friendly fuel for road transport. We contacted operations director Sean McCourt to find out more.
LPG is now a widely-used alternative fuel for vehicles, gaining in popularity worldwide, currently powering more than 16 million vehicles. Cleaner and cheaper than petrol or diesel, LPG can be used in cars, vans and commercial vehicles - or it can be combined with diesel in a dual-fuel system set-up.
Vehicles powered by LPG or dual fuel produce considerably fewer harmful emissions than those operating on petrol or diesel whilst also allowing owners to make significant cost savings when filling up.
LPG helps operators reduce their carbon footprint, producing 17-23% less CO2 compared to petrol. It has 50% less ozone forming potential, produces 40% less hydrocarbons and 40% less Oxides of Nitrogen (NOx). Furthermore, one diesel vehicle emits 120 times more damaging air particles than the equivalent LPG vehicle.
In conjunction with Alternative Fleet Ltd. and DAF Trucks, Calor Gas have formed an exciting partnership offering Irish hauliers money- and environment-saving LPG / diesel dual fuel conversions. Increasingly, dual fuel technology is becoming a no-brainer for fleet operators. Offering 13% fuel savings and reducing greenhouse gas emissions by almost 50%, a truck converted to operate on dual fuel –i.e. a combination of conventional diesel and LPG gas –can have a huge beneficial impact on the operator's bottom line.
An exciting joint venture between Calor Gas, Alternative Fleet and DAF Trucks now offers hassle-free conversions to Irish customers, making the switchover more convenient, transparent and attractive than ever.
The fact that major, pioneering, market-leading companies like DAF and Calor –who also jointly sponsored this year's Full of the Pipe truck show in Punchestown - have endorsed dual fuel technology speaks for itself. Operators in Ireland are offered the unrivalled, fully-warrantied engine technology of Mercury Fuel Systems at local level through Alternative Fleet Ltd. as well as the leading LPG fuel systems from Calor (who also work directly with companies to offer a unique tailored fuel supply for fleet owners, including on-site refuelling systems).
A dual fuel system can deliver savings of €6,000 per truck per annum, on average.
Under the terms of the joint venture, Alternative Fleet are the convertors, DAF supply the trucks and Calor provide the gas. Calor install dispensers into the hauliers'yards and the trucks will have a gas tank where the gas can easily be filled.
The dual fuel system can be installed in either new or used trucks and the savings are exactly the same. Vehicle performance will be identical. Only the fuel set-up on the truck is modified and the Bio LPG being used is made from renewable sources …Calor being the first to bring it into Ireland.
Calor Gas are the leading supplier and distributor of LPG (Liquefied Petroleum Gas) in Ireland, allowing customers who are located off the natural gas grid to use LPG gas for power in their homes and businesses. Experts in LPG procurement and commissioning, bulk gas storage, cylinder filling and storage, LPG transport and delivery, installation and maintenance, Calor also actively develop and innovate new LPG powered products.
Employing 260 people directly in six sites located throughout the island of Ireland (and at least another 200 indirectly), Calor serve approximately 50,000 customers across residential and industrial / commercial sectors. Calor pride themselves on the safe supply of butane and propane as well as offering the security of a fuel supply which doesn't have to rely on Middle Eastern or Russian imports. 25% of their LPG is sourced from the Whitegate Refinery in Cork, with the remainder sourced within Europe.
As befits a company which supplies one of the cleanest fuels available, Calor are fully committed to supporting best practice and sustainable development with regard to all environmental matters and are constantly striving to offer a cleaner, more sustainable energy source for now and in the future.
Established in 1937, Calor Gas was first sold in convenient steel cylinders as an alternative energy source for those in rural Ireland. Calor continued to focus on the domestic market until the mid-1950s, when the industrial division was established to bring an efficient fuel source to the commercial market. In 1972, Calor and its competitor, Kosangas, merged to become Calor Kosangas. Its head office was opened on the Long Mile Road in Dublin, where Calor is still based today. In 1996, Calor was acquired by SHV Energy, who operate in 28 countries and supply LPG to 30 million customers across three continents.
Calor Gas has been headquartered on the Long Mile Road for 45 years, with marine import and storage terminals in Cork (Tivoli), Dublin (Tolka Quay) and Belfast.
Regarding Calor's vast and fresh fleet, operations director Sean McCourt notes: "On the bulk end, we currently operate a fleet of 60 road tankers. We also run a fleet of 60 cylinder trailers. It's a very modern fleet, with nothing over ten years old, not least because they have to be remounted after six years anyway. We keep it very fresh and would be in the market for six-ten new vehicles every year. We're predominantly running MAN but we have also tried a number of other makes over the years."
To maintain the fleet –which is on the road nationwide seven days per week all year around, with an obvious peak in the wintertime - Calor own three garages, which are ran by third-party contractors.
"The LPG family is made up of propane and butane,"Sean explains. "Propane is the red one and it's used in homes and hotels, coming in 34kg or 47kg cylinders. Butane is the smaller 11kg, yellow cylinder that's used for cooking, spot heating, barbecues and leisure. As well as the cylinders, we supply bulk static tanks of propane at factories, hotels and buildings that need domestic central heating –basically anywhere customers need energy for cooking or heating or indeed cooling."
Earlier this year, Calor celebrated their 80th anniversary, having started out in Belfast as McMullans. Such longevity speaks volumes for the quality of the product and service provided. "Our oldest cylinder haulage partners –the Walsh family in Ballyragget –are also 75 years in business, while another one of our partners –SGI in Clonmel, who handle our tank installations –celebrated their 50th anniversary last year,"Sean adds.
Regarding the LPG conversions and the use of dual fuel, the company's personable operations director continues: "The technology has been there for years but it's only now that people are really trying to clean up their energy for transport and reduce their carbon footprint. Obviously, we would hope that the use of LPG fuel for transportation will become more popular. We run a couple of DAF trucks ourselves that have been converted to use LPG and they are running great.
"LPG is a very clean alternative fuel and greater use of LPG reduces the environmental impact of fossil fuels. There is a massive drive being made throughout Europe to replace petrol and diesel with LPG, including taxis in London, for example. LPG has a huge contribution to make where there is a concerted effort being made to keep cities clean and it could be the fuel of the future.
"The Government is pushing electricity for transport, which is fine if it's coming from renewable sources, like wind, but unfortunately this isn't always the case."
With eight decades of success recorded to date, Calor Gas is already an outstanding success story. Going forward, Sean says their goal is to continue to provide a high-quality product and an unbeatable service. Their exceptional fleet is central to this and Health & Safety is obviously a paramount concern:
"It has to be your No.1 priority,"Sean concludes. "All of the trucks have very elaborate shut-down features and safety features and are built and designed to ADR standards for the carriage of dangerous goods by road. Of course, you also have to have personnel who are competent, trained and experienced to carry out the operations and, in this regard, we are very fortunate to have excellent staff."
Sounds like Calor Gas and LPG fuel will continue to be a presence on Irish roads for many more years, decades and centuries to come.
Calor Gas,
Long Mile Road,
Dublin 12.
Phone: 1850 812 450
Fax: 01 450 6070
Web: www.calorgas.ie
Taken from Irish Trucker & Light Commercials magazine, August 2017, Vol 20 No 5