Three generations of outstanding service
06/12/2017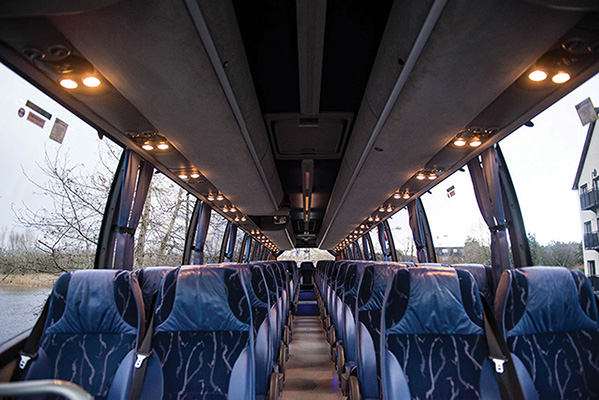 Operating a stunning fleet of luxury coaches, Corduff Travel is an exceptional third-generation, family-run passenger transportation business built on strong ethics, keen values and excellent service levels. We travelled to their Rossport, County Mayo base and caught up with Maria and Michael Corduff Jnr. to find out more.
Providing a first-class service for nigh on eight decades, Corduff Travel has established itself as the premier coach hire company operating within and from the West of Ireland. Running a truly fantastic fleet of fresh, well-maintained coaches –the most modern in Mayo - manned by experienced and conscientious drivers, they pride themselves on offering a safe and friendly, elite and luxurious private hire and touring service at an affordable price.
Proud transport providers to Mayo GAA, Corduff Travel also provide passengers with prompt, reliable and affordable, Department of Transport licensed transportation services from the West to music and sporting events nationwide. Every summer, they ferry countless Mayo supporters to major GAA matches both in Connacht and Croke Park. On May 27th, 2017, they brought thousands of fans to Guns N Roses'historic concert in Slane Castle.
Student transport is another key service, with regular services provided from Mayo to and from third-level colleges in Galway, Sligo and Limerick. Taxi hire and minibus services are also offered. At the heart of the operation is a spectacular fleet of first-class, RSA-approved coaches ranging from eight- to 53-seaters plus everything in between.
As well as providing secure, comfortable and competitive services, the Corduffs are known and respected far and wide as decent, hard-working, customer-orientated people who put their passengers first –leaving no stone unturned in their quest to guarantee the best-possible travel solutions.
Today, the proud, long-standing family business operates from hubs in Rossport (Erris), Westport (Castlebar) and Dublin; Rossport is where it all started and that's where we met Maria and Michael Jnr. to reflect on the history and current well-being of this superior service provider.
"The business was originally established by our grandfather, Michael Corduff, who started out in 1940 with a couple of Volkswagens,"reveals Maria. Founder Michael was an integral part of local community life, a man who lent himself to a bit of everything to help his neighbours out …part-time postman, part-time bus driver, full-time go-to man. His popularity preceded him and was instrumental in establishing the business in those early years.
"He did a lot of favours for people in the area and gave them the opportunity to travel at the time, which wasn't as readily available as it is today. Our Dad, also Michael, and our mother, Bernie, took over from him and they would have had the same values and views. They worked hard and still live locally."
Indeed, that same sense of strong ethics, sound morals, genuine decency and honest endeavour continues to underpin Corduff Travel today. "The business was initially set up to provide a service to the people of North Mayo and then went on to serve the West of Ireland. We now offer a customer-focussed service covering all of Ireland,"Maria notes
Regarding the make-up of the fleet, Michael Jnr., co-director alongside his father, Michael Snr., notes: "We have 53 vehicles this year, from eight-seaters and 16-seaters up to 24-, -37 and '53-seaters. The older coaches are used for student services, while the more high-spec, luxury coaches are dedicated to private hire for football teams, tours and corporate events, etc.
"We added five new vehicles this year. Two of those are luxury 16-seater Mercedes Sprinters, which are high-quality and extremely comfortable with TVs, fridges, WI-FI, air-conditioning, extra leg-room etc. We also purchased a luxury 53-seater Volvo and two luxury 40-seater coaches. Over the next five years, we will continue with this policy of upgrading the luxury vehicles in the fleet as we are extremely busy at the moment."
High-profile sports contracts with both Mayo GAA and the FAI are indicative of the tremendous esteem in which the business is regarded. "We have been providing transport services to Mayo GAA for the past five or six years, including their senior footballers, underage teams, hurlers and ladies,"says Michael Jnr.
"As we're Dublin-based, too, we also do tours to Liverpool and Manchester United matches while we have also been contracted to work with the FAI. We're proud to have been awarded these contracts and they reflect the quality of the service we offer. If you don't run a proper business with a great fleet and great drivers, then you won't get to drive these teams around Ireland. After that, it's down to dedication to maintain a good fleet on the road and to provide an excellent service in Mayo and Dublin, where we've had an office since 2007, when we started covering major sporting events in conjunction with Marathon Sports Travel."
Meanwhile, the thriving tour side of the business has now expanded to cover both the UK and Europe as well as popular destinations in Ireland.
"The business can be broken down into four areas –tours, student services, private hire, and concerts & events travel,"Maria continues. "Student services is a big one for us and Dad always says that if you work with the youth they will tend to stick with you –we have found that to be true. The private hire started predominantly in the West of Ireland but is nationwide now, while concerts and events travel is a relatively new departure for us, which has really taken off."
More than 70 years since its inception, the business is going from strength to strength –a real testament to the work ethic and drive of the Corduff family, and a source of tremendous pride too…"It's growing all the time and we have no intention of stopping at any stage. We feel very privileged to be in the position we're in,"says Maria.
"I think the fact that it's a family business has been a big contributory factor towards the success we've had so far. There are a lot of family members involved and we're all very close and we do take pride in promoting the family name. Our uncle, Padraig Corduff, who manages the Dublin depot, also has great pride in the family name and that same work ethic has been passed on to us all. This isn't an easy business to be in. It's 24/7 and it takes a lot of dedication so it helps when you have a vested interest in constantly improving the business and taking it to the next level."
As well as serving passengers, Corduff Travel also provides an invaluable boost to the local economy. "We currently employ 52 people,"says Michael Jnr. "That includes four mechanics in our garage in Rossport and full-time office staff. Maintenance of the fleet is obviously vital and Caroline is the girl in the office who oversees that."
Michael Snr., Michael Jnr. and Padraig manage operations, while Bernie takes the bookings and handles customer service. Based in the Castlebar office, Maria manages the concerts & events aspect of the business, as well as marketing.
Quality is at the forefront of everything Corduff Travel does. "It's very important,"says Michael. "The quality of the coaches is paramount and people are going for a quality experience now. They want good, experienced drivers. People like to travel in comfort.
"We have a team of top-class, experienced tour drivers, many of whom have been with us for 25-30 years. We give opportunities to good drivers and they are a huge part of the business because they are our point of contact with the public and deal with customers on a day-to-day basis.
"We carry National Transport Authority approved operator's licences for all major concert venues nationwide as well as the schools services in Mayo, Galway, Sligo and Limerick and we also plan to start a Westport / Castlebar - Dublin daily service at an affordable price. We'll be starting that in September at weekends before rolling out the daily service."
Corduff Travel has come a long way over the past 77 years and the signs are extremely encouraging that there's plenty more mileage left in this wonderful success story. "It'll be onwards and upwards from here on and we hope to expand further,"Michael concludes. "To have grown the business from one vehicle in 1940 to 53 now is a great achievement and we would be very proud to keep that going."
"We've been here for three generations and a lot of work has gone into the business during that time,"Maria adds. "Our grandfather did the groundwork and then my mother and father continued on and built up a great rapport with people here in the West of Ireland.
"A great deal of hard work and dedication continues to be invested into the business on a daily basis. Our drivers are all highly-skilled and they are one of the biggest assets we have in providing passengers with the most luxurious travel service possible."
The more things change, the more they stay the same.
Corduff Travel,
Rossport, County Mayo.
Tel: 097 88949 / 88064
Email: [email protected]
Web: cordufftravel.ie
Facebook: www.facebook.com/corduff.coaches
Taken from Irish Trucker & Light Commercials magazine, August 2017, Vol 20 No 5