A fantastic fleet for liquid waste solutions
24/11/2017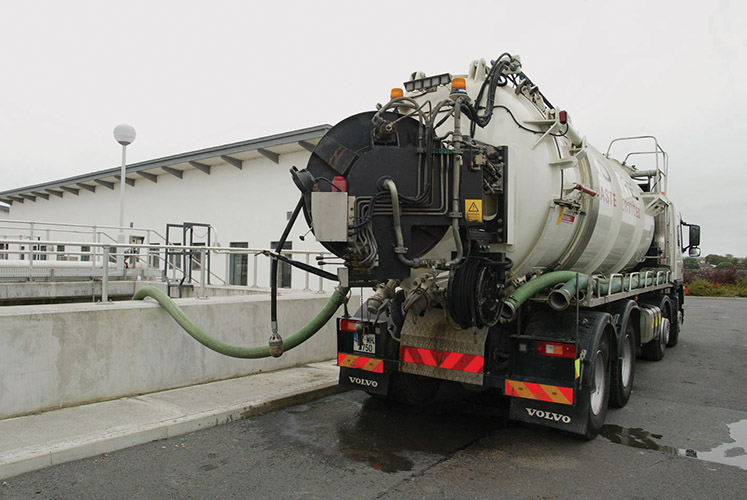 In order to provide outstanding industrial, commercial and domestic liquid waste transport solutions, Boyne Waste Services operate an exceptional fleet of specialist vehicles, including a spectacular new JHL SuperFlex unit fitted onto a Scania body. We caught up with director Terry Kearns to find out more about the fabulous fleet and the comprehensive range of professional services provided.
No expense is spared in ensuring that Boyne Waste Services' liquid waste management fleet is perfectly-formulated to deliver safe, efficient, rapid and environmentally-sound solutions nationwide, from bulk haulage, drain cleaning. grease trap and industrial sludge removal to the cleaning of interceptors, septic tanks and sump pumps.
Comprising artic and rigid bulk haulage tankers for liquid waste transportation, jet vac trucks equipped with state-of-the-art technology and CCTV units, the fleet is constantly evolving to optimise performance and safety levels, currently comprising 22 vehicles in total – 15 trucks and seven vans (typically used for smaller household jobs as well as CCTV camera units for locating and documenting blockages and pipeline defects, a traffic management van and a confined space unit containing tripods, breathing apparatus, safety lighting, gas monitors, etc.)
Traditionally, Boyne Waste Management have always run Volvo trucks, although the last three additions to their modern fleet have been Scania, including a truly top-of-the-range acquisition in March – the only one of its kind currently in use in either Ireland or the UK!
"It's a JHL SuperFlex on a Scania body and it can take sludge up from a deep sump without any need for men to go down under the ground," director Terry Kearns confirms. "We've speculated a lot of money in it but we're confident it's going to pay off as this unit is one of a kind and it's priceless from a safety point of view as you are keeping men out of the ground."
The magnificent 171-reg vehicle joins a six-line 161-reg and 142-reg Scanias in the fleet, which is clearly moving with the times. "The 142 was the first one we purchased and it's a lot safer, more efficient and quieter in built-up areas for jetting lines at night. They keep men out of the sumps and the bottom line is that they allow us to provide a safer and more efficient service to a wide range of customers including local authorities, Irish Water, meat factories, hotels and restaurants, builders, etc."
Investment in three new state-of-the-art trucks since the latter half of 2014 is certainly a clear case of Boyne Waste Service putting their money where their mouths are! "You have to do it," says Terry, who formerly worked with Panda and has accumulated a quarter of a century of experience on the ground. "You need to be updating and improving your equipment all the time. We send the right machine to every job and get things sorted out as quickly as possible
"It's all about the service factor. You get there when they need you, explain what you are going to be doing and what problems they have in their lines, and then do a good job in resolving the problem."
Meanwhile, Boyne Waste Services' artic suction tankers each boast a 6,500-gallon capacity while their rigid suction tankers can carry up to 4,500 gallons. Each with 4,000-gallon capacity, their jet vac trucks are equipped with state-of-the-art technology, jet heads and fully hydraulically operated suction booms.
Since its inception, Boyne Waste Services has always provided a high-quality service, using the best equipment on the market and fully embracing modern technology and the latest techniques to ensure that every job is completed as economically and safely as possible. Everything is geared towards providing excellent services using modern equipment operated by experienced and trained personnel to achieve 100% customer satisfaction at affordable rates.
From its Navan, County Meath HQ, Boyne Waste Services offers keen nationwide liquid transportation services, predominantly covering Leinster counties as well as parts of Connacht and Munster. "It's going very well at the minute and we're very busy, Thank God," Terry notes.
Boyne Waste Services have their own workshop and all their vehicles are maintained in-house in superb running order and also washed and cleaned regularly and presented immaculately. In total, gainful employment is generated for a crew of 28.
Boyne Waste Services provide the latest technology in CCTV drain / sewer surveying for checking the condition of underground drains quickly and cost effectively. Fully-equipped van units complete with CCTV push-rod cameras (with full pan and rotate facility) alongside computers and Wincan software for evaluation and reporting allow trained technicians to record blockages and pipeline defects accurately on site with no disruption to the business or property.
Boyne Waste Services is also equipped with high-spec drain cleaning equipment and offers premium drainage services. The fleet includes a combination of drain cleaning / vacuuming vehicles for removing unwanted material (grit, sludge, etc.) from drainage systems - quickly, cleanly, safely and efficiently.
The following drain services are offered: blocked drain solutions, septic tank / cesspool emptying; culvert cleaning; ditch dredging; gully cleaning grease traps cleaning; interceptor cleaning; jetting services; and motorway drain cleaning and maintenance.
Specialists in grease trap removal, Boyne Waste Services serve a large client base of hotels, restaurant and golf courses, etc. Grease traps are cleared quickly and efficiently, with the waste taken for disposal to College
Proteins in Nobber, County Meath. Interceptor cleaning and maintenance services are provided to petrol stations and garages, while Boyne Waste Services also offer professional solutions for the mechanical removal of residual semi-solid material from industrial, water treatment or wastewater treatment processes.
Jet-Vac Combination Trucks equipped with state-of-the-art technology, jet heads and hydraulically-operated suction booms ensure the expert removal of sludge and sediment that has collected on the bottom of tanks, reservoirs etc.
Having come through the recession relatively unscathed, Boyne Waste Services are investing in their fleet again and it's very much a case of onwards and upwards for this market-leading liquid waste transport solutions provider:
"So far so good and things are really starting to look up again. August is usually our quietest month because a lot of the Councils are away on holidays but generally we are very busy," concludes Terry, who runs the business alongside Fintan McGeough. "Fintan is an engineer and he oversees all the camera work as well as patching, repairing and sealing defective pipes.
"Fortunately, we weren't overly borrowed when the recession struck and we kept up all our payments on the fleet, so that left us in a good place. We'll keep moving forward now and continue to invest in the business so that we can offer the best possible service. Safety is paramount and that's one of the reasons why we've invested in the three new trucks, which will be central to the future development of the business."
Boyne Waste Services,
Rathdrinagh,
Beauparc,
Navan,
County Meath.
Tel: 046 9024860
Fax: 046 9024771
Mobile: 087 2708292
Email: [email protected]
Web: www.boynewaste.ie
Taken from Irish Trucker & Light Commercials magazine, August 2017, Vol 20 No 5