Offering a top class service
10/11/2017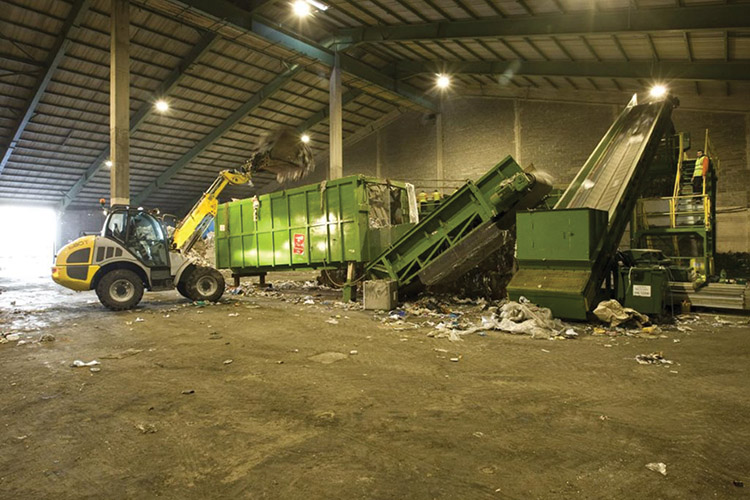 Loftus Recycling Ltd has been providing customers with a quality service for more than 20 years now from its base in Killala, Co Mayo. Irish Trucker caught up with company co-director Noreen Loftus to learn what they're all about.
Set-up by Garry and Noreen Loftus in 1995, Loftus Recycling Ltd provides waste and recycling collection services to commercial, domestic and industrial customers in the Mayo, Sligo and Roscommon areas.
The company can supply customers with domestic wheelie bins or skips in various sizes to suit each one of their needs.
Over the last 22 years, the business has developed a glowing reputation for listening to its customers and providing services to suit their needs at extremely competitive rates.
Noreen Loftus is Garry's wife and a director at Loftus Recycling Ltd and was good enough to take time out of a busy schedule to give Irish Trucker the lowdown on the family firm.
"Business has been picking up,"said Noreen. "We just had to work harder through the recession and thankfully things are starting to turn around.
"Right now we're employing 15 staff and I work in the accounts end of the business, so I'm happy to report that business has been on the pick-up lately."
The economic downturn had its effect on plenty of businesses across Ireland and the west of the country wasn't spared.
In the end, Loftus Recycling Ltd came through it with flying colours and are presently operating with eight trucks in their fleet, with three of those being skip trucks.
The company provides skips to private and commercial customers and building contractors throughout Mayo and Sligo.
They provide standard open skips but can also supply closed skips with lids. These skips may suit customers in urban areas who can lock the skip when it isn't in use, preventing any unauthorised use.
Loftus Recycling Ltd can provide customers with skips in the following range of sizes: 4 yard, 6' (L) x 4'3" (W) x 3'2" (H); 8 yard, 12' (L) x 5'6" (W) x 4' (H); 12 yard, 12'2" (L) x 5'10" (W) x 5'6" (H); 20 yard 20' (L) x 7' 9 " (W) x 6' 1" (H) and 40 yard 20' (L) x 7' 9 " (W) x 8' 2 " (H).
In 2015, the company launched their online 'Pay a Bill'service –something which Noreen outlined as being a major success for them since it was started.
"We started it two years ago and since that time it has been going great for us, I have to say,"she stated. "It's very convenient for our customers and we're hoping it'll continue to go well because the feedback we've gotten since it started has been fantastic."
Around the same time as 'Pay a Bill'was launched, Loftus Recycling Ltd also started to offer a new service which saw them providing female sani bins for toilets of schools and restaurants. It wasn't long before the venture brought various new clients on board and the hope is that it will continue to do so for the coming years.
The company also provides wheelie bins in various sizes to suit each customer's specific needs.
With bins ranging in size from 240 Ltr to 360 Ltr wheelie bins for domestic customers and up to 1100 Ltr for commercial customers, the choice is yours. Once contacted, Loftus Recycling Ltd will tailor a service to satisfy your needs and your budget.
They also operate a two-bin collection service for domestic customers to allow for separate collections of general waste and mixed recycling.
With such a wide range of different services, it's not hard to understand why customers choose Loftus Recycling Ltd ahead of other competitors.
Noreen let us in on why she feels the business has been first choice for so many around the western province.
"I think we're more understanding with clients,"she said. "We're patient with them and with us it's genuine and I think they know that and appreciate it."
Loftus Recycling Ltd also offers their commercial customers a wide variety services to suit their business specific needs and budget.
They can service all businesses from home offices to large industrial operations. Each customer's needs are catered for on an individual basis but all customers can expect to receive the same high level of service.
Loftus Recycling Ltd will tailor a package specifically for your business. Built around their competitive rates and prompt service they can guarantee that this package will combine value for money and top level service that is second to none.
In what has proved a popular move, the company is also delighted to be part of the movement towards greener waste management systems and recycling. Their sorting facility in Killala is another progressive step in this direction.
All recyclable material which they collect is processed at this location and that further reduces the amount of materials sent to landfill in your area.
Now at the halfway point of 2017, Noreen says that the hope right now is simply to "get busier and just keep our customers satisfied every day".
Loftus recycling has just launched a brand new service providing wheelie bin cleaning service for both domestic and commercial customers, this is a bespoke system where we call around with a specialised vehicle and wash the bins on site.
Everything is self-contained in the truck so there is no mess at the customers'site, this is raising huge interest as with health and safety issues people don't want a dirty smelly bin outside their door.
"With us being the only bin company in Connacht providing this service, not only for our own bin customers but also for other bin companies, this is one that's keeping us very, very busy,"Noreen concluded.
Why don't you call Loftus Recycling Ltd today to see if they can help with your waste management in a friendly manner?
Loftus Recycling Ltd
Tawnaghmore Lower,
Killala,

Co Mayo
Tel: 096 32500
Email: [email protected]
Taken from Irish Trucker & Light Commercials magazine, June/July 2017, Vol 20 No 4