Embassy Contractors celebrates 30 years
31/10/2017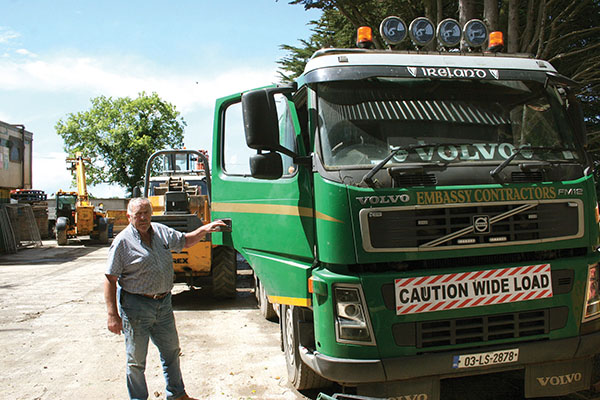 Embassy Contractors Ltd has been specialising in winter road maintenance since its inception in 1987. Managing Director Mick Beirne told Irish Trucker all about the Co Meath-based company during a "very busy"winter period business-wise.
Now celebrating 30 years in business, Embassy Contractors Ltd is as busy as ever and we were delighted to see Mick Beirne taking time out of his hectic schedule this time of year to give us the lowdown on his company.
Specialising in winter road maintenance, Mick's business also provides site development, ground work, general contracting, building and civil engineering and demolition for its clients.
A native of Co Leitrim now based in the Royal County, Mick has been involved in this line of work all of his working life, as he explained when we caught up with him recently.
"We're based in Hillview, Cappaghgreen, Dunboyne, Co Meath and the company is established 30 years in total,"he outlined.
"We have 15 staff working here right now, including my good wife Patti who is my life line …does all the office work.
He continued: "We're general engineers and work in demolition, sewers, site development, ground work and winter maintenance on roads. The winter roads maintenance on roads sees us working on roads from October until April.
"We have contracts throughout the country (in winter road maintenance). We've been working with Eurolink on their roads for the past five years now."
The Eurolink Motorway Operation Ltd has been trusting Embassy Contractors Ltd to maintain its road during the winter months (and more) for the last years now.
The winter maintenance period commences on October 1st and lasts until May 15th and Eurolink Motorway Operation Ltd, as the Public Private Partnership (PPP) Company on the M4/M6, has the responsibility for execution of the Winter Maintenance arrangements on the road.
The aim is to ensure the safe movement of traffic, road users and the general public on the road, and with the aim of minimising any delays caused by adverse weather conditions.
To ensure this, Eurolink monitor the road and weather conditions from the start of October until mid-May so that the necessary precautionary treatments are applied to the road, and a rapid response is made to any deterioration of prevailing weather conditions or forecasts.
Eurolink's winter maintenance policy is available and can be viewed by third parties at the Customer Services Office in their Enfield Maintenance building.
Embassy Contractors Ltd are one of Eurolink's trusted winter maintenance companies and when we spoke to Mick in February he and his staff were "flat out"providing them and other clients with the same excellent service they provide from October through to April.
Winter maintenance isn't what Embassy Contractors Ltd is all about though, as Mick outlined to us when we asked him how business was overall at present.
"We're very busy,"he said. "This company was never really affected by the downturn, thankfully, and we've managed to keep all of our clients.
"We've been building motorway fuel depos for Applegreen for over 20 years now. We do work for anybody and everybody. We'd do work for Topaz indirectly.
"I moved here from Leitrim originally and it's a business I've been in all of my working life. It's something I love doing and, thankfully, we're flat out here at the moment."
Providing general contracting gives the company a wide scope of clients, but good quality work still needs to be produced in order for the business to have been a success for more than three decades now.
So what's the secret to Embassy Contractors Ltd's success over the past 30 years?
Mick feels it comes down to the service that his clients have received, with some of them having stood by him since the company's birth back in 1987.
"I think it's because we give them a good service,"Mick stated. "We're on the phone providing our clients with a 24/7 call service here from October through to April when it comes to the winter maintenance."
Right now, Embassy Contractors Ltd is operating with eight trucks in its fleet, as well as 12 excavators and a handful of Hitachi diggers as well.
The way business is at the moment there may be plans to add to the fleet in the future, but for now Mick is quite content with what he has.
2017 has been good to the company so far and the plan at Embassy Contractors Ltd is to keep up with the demand and keep satisfying clients as well.
"Ah yeah, things are looking good so far so we can't complain. Once you have your health and a good team that's the main thing,"Mick concluded.
Embassy Contractors Ltd
Address: Hillview, Cappaghgreen,
Dunboyne,
Co Meath
Tel: 01 825 5298
Fax: 01 825 2965
E-mail: [email protected]
Taken from Irish Trucker & Light Commercials magazine, June/July 2017, Vol 20 No 4