Bus Éireann wins for customer service
27/09/2017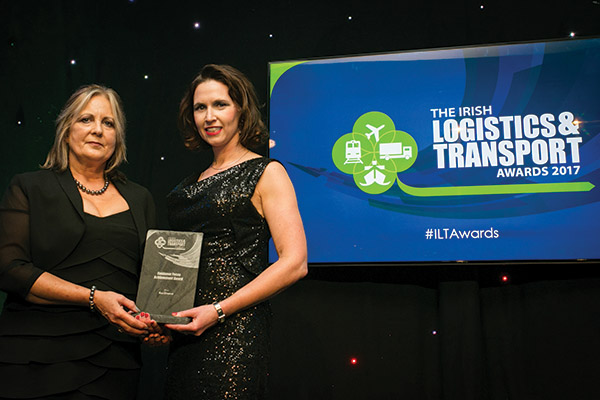 For the second year running, Bus Éireann was among the winners at the recent Irish Logistics & Transport Awards (ILTA), being honoured with the prestigious Customer Focus Achievement Award.
Now in its eighth year, the gala awards ceremony was held in the Clayton Hotel Burlington Road, Dublin on Thursday, March 30 last where the cream of Ireland's transport and logistics industry was recognised and feted in front of an audience of 450 senior executives. Hosted by comedian Colm O'Regan, 23 trophies were presented on the night with Nicola Cooke, media and PR manager, receiving the Customer Focus Achievement Award on Bus Éireann's behalf from Jane O'Keeffe, director of Supply Chain, National Maritime College of Ireland.
Last year, Bus Éireann scooped the Passenger Transport Company of the Year Award, which reflected its commitment to providing a high standard of services for all customers. The national bus and coach operator saw off stiff competition from Diageo International Supply Centre Ireland, Mars Multisales Ireland, Medicall Ambulance Service and worldBOX.ie to bag its latest award.
Celebrating 30 years on the road, Bus Éireann is an iconic Irish brand which comprises three business entities –Expressway, Public Service Obligation (PSO) routes and the School Transport Scheme. The company, whose logo is the Irish red setter, is committed to exceeding customer expectations, maintaining a competitive cost base, making best use of its public transport and network management skills, and making better connections with customers, stakeholders and communities.
Bus Éireann offers a wide range of services catering for different customer groups and market sectors. These include: Expressway inter-urban coach services; Eurolines coach services to Britain and Europe; town services in Athlone, Balbriggan, Drogheda, Dundalk, Navan and Sligo; commuter bus services radiating from Dublin, Cork, Limerick, Galway and Waterford; local bus services throughout Ireland; school bus services on behalf of the Department of Education and Skills; Ancillary services –coach and bus hire.
Since commencing operations in 1987, Bus Éireann has consistently performed well, both in commercial terms and in the delivery of the social services it provides. The company believes it compares very favourably with bus operators in other parts of Europe. It has the lowest level of State support and a wider range of services in a less favourable market environment than its counterparts in Britain and Europe. Bus Éireann has become more cost-effective while remaining focused on the delivery of quality customer service. Through better control of resources, it now carries more people using fewer buses. This means it has reduced the cost of maintaining buses while expanding its level of service.
Bus Éireann employs over 2,700 people directly, while a further 1,700 are sub-contracted in the School Transport Scheme. The company could not succeed without its skilled professional drivers who cover millions of miles every year over all types of roads and in all kinds of weather conditions. The drivers are supported by a team of highly-trained maintenance staff based at 15 depots around the country. Activities at these depots range from daily fuelling, washing and cleaning of buses to planned inspection and servicing procedures designed to maintain the fleet in top condition at all times. Safety is priority in maintaining the bus fleet.
The activities of both drivers and garage staff are coordinated by a team of supervisors. Bus Éireann's clerical and administrative staffs provide a wide range of services, including front-line customer service in travel centres and bus stations as well as support services such as payroll administration and revenue control. The business is divided into five regions –East, South, South-West, West and North-West –which are overseen by regional managers.
Bus Éireann operates a fleet of over 1,300 coaches and buses, of which 700 are allocated to school transport services. The remainder work on Expressway, rural and city services. By continually renewing and upgrading the fleet, the quality of service and standards of comfort offered to customers on all categories of services are second to none.
In recent years, the national bus and coach operator has invested in several new luxury Expressway coaches that included extra features such as WiFi, power sockets and child seat attachment points. Expressway investment in new Seat Sales and Student drives have been undertaken, while for PSO, the focus has been on regional cities and a 'Benefits'campaign to drive awareness and consideration of services in Waterford, Limerick, Galway and Cork. Enhancements to the Bus Éireann Real Time Information system with the upgrade of the Automatic Vehicle Location (AVL) Control Centre systems has allowed more customers to stay informed about service times and delays. A focus on customers has been key to many improvements.
Bus Éireann has inherited a proud tradition of public service dating back almost to the foundation of the State. The Irish Omnibus Company (IOC) was established in 1926 and developed a nationwide network of bus services under contract to the Great Southern Railways. Over a number of years and various amalgamations, the original pioneering services of IOC evolved, first as Omnibus Department of the Great Southern Railways and, from 1945 onwards, as the Road Passenger Division of CIE.
On the re-organisation of CIE in 1987, the bus services outside Dublin city once again became the responsibility of a separate subsidiary company, Bus Éireann, which continues to build on that tradition of public service and transport expertise to give Ireland a bus and coach system of which it can be justly proud.
Taken from Irish Trucker & Light Commercials magazine, June/July 2017, Vol 20 No 4