Quality assured at KC Commercials
20/09/2017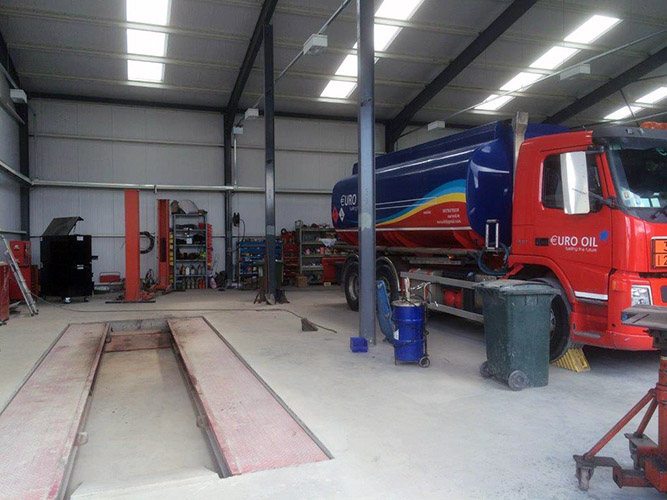 There are an array of rules and regulations to be adhered too when operating a tanker and the same applies with the standards of maintenance and service work being carried out on them. When it comes to tankers and other vehicles carrying hazardous materials, operations and engineering are very different to general road haulage.
Tankers which transport hazardous bulk goods (liquids, powders or gases, not just fuels) are specialist units, requiring specialist attention. And that applies equally to rigids, semi-trailers and the tractor units used to haul them. From the tanks themselves to the on-board pumping and discharge kit –but specifically also the vehicle inspection, maintenance and operational regimes –operators need to adhere to a wide range of hazard mitigation arrangements.
There are a few companies in Ireland that specialise in the maintenance and repair of tankers and for this month's edition of Irish Trucker, we profile the experienced Dublin based KC Commercials. Reaching their 35th anniversary this year, KC Commercials is regarded as one of the most experienced companies in its field of expertise in this country.
Established by Brendan Kealy and Robert Cray, the business has grown considerably over the years as has their customer base. Offering a comprehensive maintenance and repair service to commercial vehicle operators and specialising in the ADR sector, KC Commercials has the ability to adapt to the ever changing market as regulations and legislation change frequently.
"We are accredited to IPIA (Irish Petroleum Industry Association) for both safe load pass and tank testing. We are after-market service and sales partner for Emco Wheaton, Alpeco and Mechtronic fuel metering equipment; and have induction permits (e.g. safe pass) for all fuel terminals in Dublin Port,"said Brendan. "We carry out preventative maintenance inspections as per RSA guidelines and have a fully calibrated and approved rolling road for voluntary brake testing."
KC Commercials follow a number of guidelines and the company undergoes regular checks from the relative authorities.
"We are associated members of the FTA and would be audited by them, while the RSA carry out maintenance inspections. There is a lot of legislation to follow and we always keep on top of things in that regard."
Located in Kinsealy, the company operates from a purpose built five-acre site which has been upgraded on numerous occasions.
"We invest heavily back into the business and we would have all the necessary machinery and technology needed to carry out our work to the highest standard. Four years ago, we built on a four-bay workshop and we also have a CVRT test lane the exact same as test centres, which is used for the pre-CVRT test."
KC Commercials employ 17 highly trained people from office staff to mechanics and engineers, who along with Brendan and Robert have built a reputation of being the foremost experts in the Irish market.
"Our customer base includes many of the country's main oil distributors from multi-truck companies to single truck operators. We offer a service that is thorough and professional and we ensure that all repairs are carried out to the highest standards by our highly trained team."
As approved operators for pressure testing tanks, KC also provide leak-proof testing and thorough examinations on vehicles.
"A leak proof test should be carried out every three years after the tanker is put into service. This is where we clean the tank and make sure it is gas free, while we make sure there is at least at least six tank thickness tests per compartment. Air pressure tests are carried out on all compartments, while all relief valves in a test chamber are tested. Our mechanics would also monitor all outlets including man-lids, dip caps and sequential valves."
Welders are coded to standard BS EN 9606 for stainless ,aluminium and mild steel.
"In order to offer a full suite of services to our customers, we are building a state of the art gantry system to tank test in accordance with impending legislation on the carriage of dangerous goods by road and use of transportable pressure equipment ( S.I. No. 5 of 2017) within the ADR sector of BS EN 12972 :2007.This facility will open in June 2017 and will add to our philosophy of offering a "one stop shop "for all our customer needs.
"We work closely with all of the leading manufactures to ensure that we have the skills to maintain their equipment on your trucks to the highest standards. Our mechanics are highly skilled in all aspects of product pumping systems including electrics, hydraulics and pneumatics."
For the past 17 years, KC Commercials have been working in the aviation industry also as they provide aviation fuel maintenance services to the Irish Air Corp.
A 24/7 breakdown service is available to all customers in the greater Dublin area, while anyone with any issues further afield will be helped out by one of KC's many contacts around the country.
The hard work of the employees has not gone unnoticed by Brendan and Robert as the former admits that the success of the business is as much down to the staff as it is to them.
"A lot of the employees would be here many years and the experience that they have gathered is invaluable to us. One of our original directors Robert Cray has retired recently and we have appointed Mr Jimmy Monks as our new General Manager and he brings a wealth of experience to the company. Everyone works together for the good of the company."
Brendan feels that they have cornered a niche in the market with a new service being offered to customers. "We do some tanker-hire work. We found that if an operator has a breakdown and their vehicles is off the road for any length of time then they have nowhere to turn too as not many companies offer this kind of service.
"It is something that we will be looking to promote this year and already, we have had a lot of interest and it is going well, as is the business in general."
Contact Details:
K.C. Commercials
1 Posie Row,
Kinsealy,
Dublin 17
Phone: (01) 846 2777
Taken from Irish Trucker & Light Commercials magazine, Vol 20 No 3, May 2017