HGV and LGV Testing for Kildare and surrounding counties
14/08/2017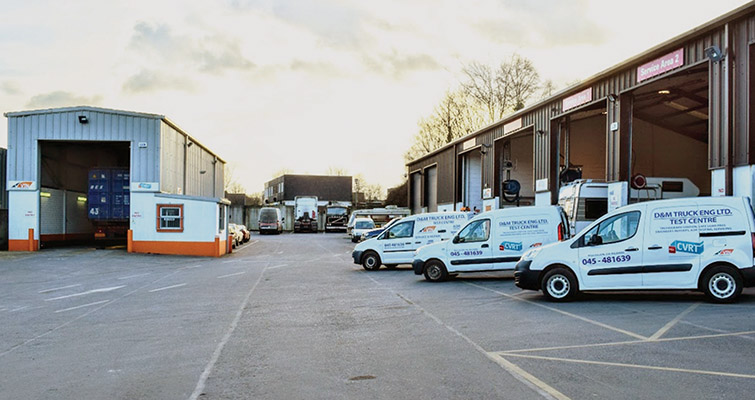 All commercial vehicles are required by law to have an annual commercial vehicle test. That's where D & M Truck Engineering of County Kildare come in. Irish Trucker spoke to director Nora Dunne who outlined the emphasis they place on satisfying their customers' needs at all times.
The Commercial Vehicle Roadworthiness Test (CVRT) is a roadworthiness test for all commercial vehicles, buses with more than eight passenger seats and ambulances, all over one year old.
The CVRT confirms that a vehicle satisfies basic safety standards on the day the test is carried out. It tests what is accessible and visible. It does not confer a warranty as regards the condition of the vehicle.
All commercial vehicles must be tested when they are over one year old and annually after that.
Commercial Vehicle Testing is one component of the preventative measures we need to have safer vehicles on our roads.
In order to ensure that vehicles are kept in good and safe condition through their life, it is essential that they are regularly maintained and serviced. Commercial Vehicle Operators now have explicit obligations to have maintenance systems in place and to conduct daily walk around checks.
Prospective purchasers of used vehicles should always have the vehicle thoroughly and independently checked by a qualified person prior to purchase or else buy from an authorised dealer with a warranty.
D & M Truck Engineering is an approved HGV and LGV vehicle test centre. They are part of the VTN, a network of test centres appointed in each county by the relevant Local Authority and are regulated by The Road Safety Authority.
Established in 1983 by Tom McGee and the late John Dunne, D & M's doors are open Monday to Friday, 9am to 5.30pm and they provide the full range of tests in their modern premises which is conveniently located in Kilcullen, Co. Kildare.
With a team of highly trained testers and a total workforce numbering 12, they boast an excellent reputation which is underlined by their efficient, friendly and courteous approach. They always aim to provide a swift and efficient service from beginning to end on their full range of services which includes: HGV Testing and LGV Testing.
In addition, they can take care of your vehicle requirements when it comes to ADR, Tachograph Calibration, Speed Limiter Calibration, Safe Load Pass, Vehicle Service & Repairs, RSA Compliant Maintenance Inspections, Engineer Reports, Type Approval and Modification Reports.
"We have an engineer on site who looks after all reports to ensure all vehicles meet approval,"explained company director Nora Dunne, wife of the late John.
Nora appreciates that CVRT requirements can be a burden on truck operators that have a busy schedule but believes they have an essential role to play in keeping a vehicle safe and roadworthy in the Republic of Ireland.
"Since the introduction of the CVRT in 2012, the upkeep of vehicles on the road has improved immensely so it does work,"she added.
The state-of-the-art equipment D & M Truck Engineering use allows them to pinpoint problems that helps to save on the cost of more expensive repairs further down the line. Meanwhile, their customers' needs are always D & M's top priority.
"Business is very good at the moment. We're a family run business and we greatly appreciate our customers. We always try to achieve a 100% satisfaction rate amongst our customers and facilitate them at all times."
Very much a progressive concern, Nora and the team at D & M Truck Engineering have no intentions of resting on their laurels. They are continuously examining ways of improving their customer offering.
"We currently have 10 lanes in operation and the plan at the minute that we're talking about is installing more lanes but that's not 100% definite. Looking ahead to the future, our main focus is on maintaining the high standards that we have set."
These high standards have been reached as a result of the hard work and dedication of the team at D & M and that had been a vital ingredient in the growth of the business. The staff under go constant training and skill development to ensure they are proficient in working on all modern commercial vehicles.
When you bring your commercial vehicle to D & M Truck Engineering, you can rest assured it's in the safest of hands. They have all the specialist expertise and equipment to cater for your commercial vehicle.
You can book online on their website (www.kildarevtn.ie) or, alternatively you can contact them over the phone.
D & M Truck Engineering
Kilcullen Industrial Estate
Kilcullen, Co. Kildare
Tel: 045 481 639
Email: [email protected]
Website: www.kildarevtn.ie
Taken from Irish Trucker & Light Commercials magazine, Vol 20 No 2, March/April 2017