An attention to detail that is second to none
26/07/2017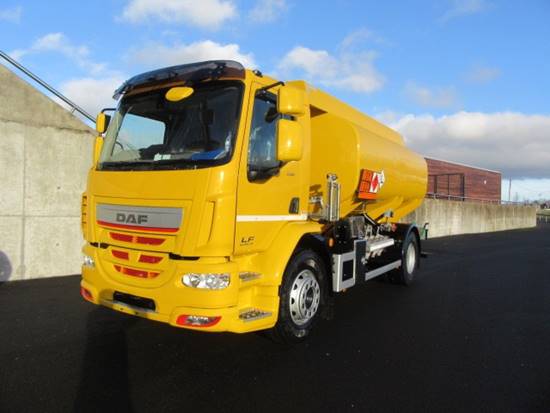 When Colin Morrow set up his home heating oil business – Morrow Fuels – back in 1987, it didn't take him long to spot a new business opportunity.
The absence of Irish manufactured tankers in the industry stuck out like a sore thumb so he took the decision to diversify and set up sister company Morrow Tanker Services.
Colin began designing and building new tanks on a small scale. He built his first tanker – a 5,000 litre mini tanker - 25 years ago and, on the back of a substantial investment in design and product development, he hasn't looked back since.
His son, Jonny, was 18 years old then and today he is General Manager of Morrow Tanker Services where he ably assisted by his brothers, Simon (Sales) and Philip (Stores & Workshop manager) as well as Managing Director Colin.
"Soon after setting up the fuel company, my father saw a niche in the market for building and refurbishing tankers because only English manufactured ones were available at the time," explained 43-year-old Jonny who left school at the age of 16 to join the burgeoning family business.
"That's where the idea came from initially. We specialise in the manufacture, refurbishment and servicing of fuel oil tankers. Servicing is a big part of the business because, obviously, our customers are keen to keep their tankers on the road."
Morrow Tanker Services has the capability to build your new rigid fuel tanker to your own specification.
They can offer a choice of axle configurations, choice of vessel materials in either aluminum or mild steel, choice of mechanical or electronic metering systems and a choice of all other ancillary equipment.
All tankers are designed and manufactured at their workshop, which is located at Hillsborough, Northern Ireland, to your individual requirements from the ground up to provide the optimal turn-key solution.
They pride themselves in building to the high possible standards with impeccable attention to detail and Morrow manufactured tankers can be found throughout the north and south of Ireland.
"A lot can also be found in Scotland and Wales too," Jonny pointed out, "we started exporting our tankers five years ago after a successful visit to a trade show in Harrogate.
"Business has been very good of late, we can't complain. We haven't been doing much work on the new tanker end of things. We sold 20 brand new tankers last year but most of our customers are going for the refurbished tanker option as we come out of the recession."
The extensive list of services that Morrow Tanker Services carry out at their modern and well equipped workshop are: Tanker remounting,Tanker vapour tightness testing, Leak proof testing, Hydraulic tank testing, Meter calibration checking, Mechanical meter repairs, Electronic meter upgrades, Temperature compensation, Bottom loading conversions, Safe loading pass preparation, ADR conversions, Tank fracture/leak welding in aluminum / steel andstainless steel. Foot valve to faucet pipe replacement, Pump replacement/repairs, Hose reel replacement/ repairs, General welding/ fabrication, Chassis alterations, Media blasting, Respraying and vehicle livery and Vehicle recovery.
"Attention to detail is something that we would be renowned for when it comes to our tankers as well as the fact that we specialise in bespoke tankers.
"There's no such thing as a standard build with us. Each individual tanker is built to our customers needs and we understand that those needs differ from customer to customer. Some will require tankers for long haul, others for short haul or bulk delivery etc. We always sit down with the customer and work out what tanker will work best for them."
Recently accredited by the UK's National Measurement and Regulation Office UK for the verifying and sealing of meters Morrow Tanker Services has 10 highly skilled employees currently on its payroll. Jonny is hoping to increase that number in the not too distant future.
"We also do an apprenticeship programme with a local training college where we take on one apprentice every year. Unfortunately, that seems to be the only way to get skilled staff nowadays.
"A tanker build currently takes eight weeks. We'd be hoping to trim that down to six weeks but the only way we can achieve that is by taking on more employees. We also have plans to recruit another two new employees to work on the new sales side of the business."
Jonny concluded: "We're very optimistic about the future. We're currently operating out of a rented premise but would have ambitions to purchase our own premises inside the next couple of years."
Get in touch today with Jonny by calling +44 (0)28 9262 1741 or +44 (0)78 9994 1424. Morrow Tanker Services are determined to supply products and services which meet or exceed their customers' expectations at all times.Our mantra is "Quality is doing it right when no one is looking
Morrow Tanker Services
49 Gravelhill Rd
Maze
Lisburn
County Antrim
Northern Ireland
BT27 5RW
tel: +44 (0) 2892 621 741
mob: 44 (0) 7899 941 424
www.morrowtankerservices.co.uk
Taken from Irish Trucker & Light Commercials magazine, Vol 20 No 2, March/April 2017