Solutions to your drainage problems
26/05/2017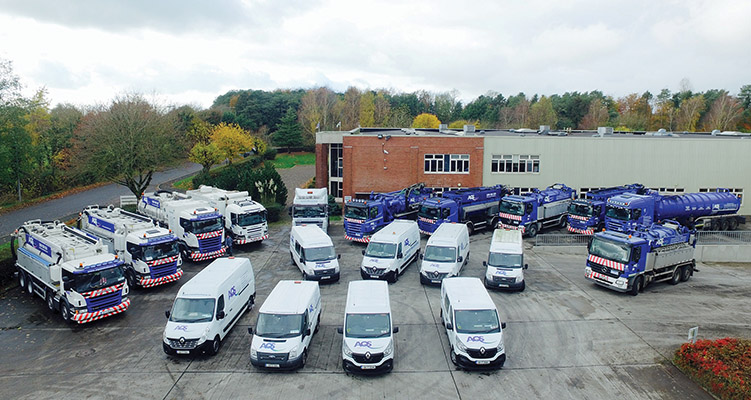 AQS Environmental Solutions offer a comprehensive service in waste water, drain cleaning, industrial cleaning, waste management tanker services and waste processing services in Ireland.
AQS focus on domestic, industrial and waste management services. With their headquarters in Thurles, Co Tipperary and a base in Limerick also, this is a nationwide service with a comprehensive fleet of vehicles on the road.
Commercial Director Stan O'Reilly gave us an insight into the day to day operations of the business and the services that they provide.
"Our customer base covers a wide spectrum that includes local authorities, private industry and residential customers across the country,"said Stan.
There are a number of key aspects that set AQS apart from their competitors. They have a large fleet at their disposal with 20 trucks operating on a daily basis. There has been major investment in specialist drain cleaning/industrial services machinery and equipment as well as staff training where their professional team includes health and safety officers, civil engineers, transport managers, environmental scientists and financial managers.
"Our drivers are so much more than just drivers. They carry out a number of duties and are highly trained in each discipline. They all have Haz-Chem licences and work to the regulations that are in place."
"Through the team, we can offer the best possible solution to the customers'needs and our experienced staff are there to offer advice."
Given the adverse weather conditions in Ireland, drainage is a situation that almost certainly affects us all at one stage or another, but Stan stressed that a bit of preventative maintenance can go along way.
"Our focus on environmental protection –along with our commitment to ensuring that our customers get the best value for money and peace of mind - has meant we've become one of the leading providers of end to end drainage services in this field."
In the industrial sector, AQS pride themselves in their experience and knowledge of the equipment and machinery within their portfolio. The ability to select the right equipment for every job is fundamentally the key to their success.
"Our specialist cleaning services are designed to cater for any project or challenge we may face on a daily basis. With our powerful DISAB vacuum machinery, we can clean a wide variety of industrial silos and material storage vessels."
AQS have the equipment to clean silos and hoppers, deep pump stations, reservoirs/retention ponds/sumps and tanks, filters - sand and activated carbon, interceptors, solvent storage tanks.
"In addition to our DISAB units, we are now in a position to provide all our clients with the best available technology in the area of materials handling, resulting in significant savings and minimal downtime."
Through their work, AQS generate waste materials and these are disposed of in the correct manner. The company has their own EPA licenced organic waste composting facility, which is situated in Littleton, Co Tipperary.
"We have developed our own EPA licensed, Acorn Recycling, to which we deliver organic sludge generated as a result of our contracting activities.
"This facility is EPA licensed (WO249-01) to treat 45,000 tonnes per annum of biodegradable waste. The premises is also a category 3 type facility with Department of Agriculture approval which enables the acceptance of commercial and domestic brown bin waste."
The recycling facility produces high grade compost and offers a product that can be used as a soil conditioner in commercial agriculture, landscaping, as organic fertiliser or as a custom growing media.
Of course, working in such an environment means that there is a massive focus on health and safety as the company strives to operate safely without any risk to their employees, customers, the public and general environment.
"Before any project starts, a Risk Assessment, Method Statement and Safe Plan of Action is drawn up to ensure safe working conditions. All road works are supported by comprehensive traffic management plans, and we regularly act as PSCS and PSDS on behalf of our customers."
In December 2015, AQS became part of Lanes Group plc group of companies. Lanes Group is the UK's largest independent supplier of specialist drainage and waste water maintenance solutions.
The company's acquisition by Lanes Group is allowing it to invest in Europe's most advanced drainage technology, including recycler jet vac tankers. These significantly reduce consumption of water and fuel during drain cleaning and unblocking operations.
"The support of our parent company and a robust strategic plan enables us to look forward to the future with a strong purpose and set of objectives.
"Our continuous investment in technology and people means we have the best equipment and most highly skilled workforce of any company in our industry sector. AQS Environmental Solutions is passionate about quality, service and the safety of its employees, customers and the public."
For its work to develop sustainable systems for transporting and managing waste, AQS Environmental Solutions were named the Environmental award winners at the annual Fleet Transport awards.
"We were delighted to have been named as the winner in these prestigious awards. Working with our clients and stakeholders to developing innovative and environmentally-sustainable services is central to our business strategy, and it's good to have this approach recognised."
AQS
Archerstown Industrial Estate
Thurles
Co. Tipperary
Republic of Ireland
Tel: + 353 (0) 504 57800
Fax: + 353 (0) 504 57801
Taken from Irish Trucker & Light Commercials magazine, Vol 19 No 10, Dec 2016/Jan 2017