SDC Trailers raise £130,645 for local children with cancer
25/04/2017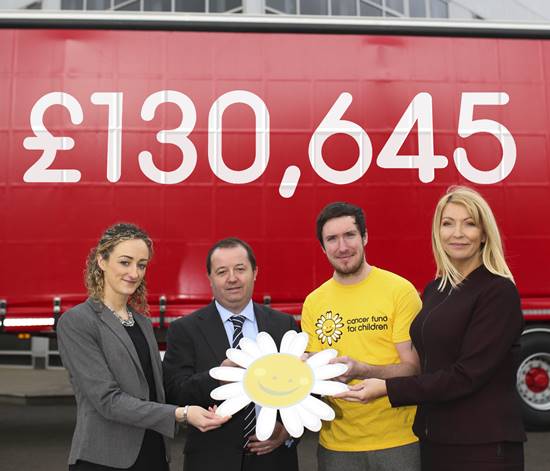 Toomebridge based trailer manufacturer SDC, has raised over £130,645 to support local children's cancer charity, Cancer Fund for Children over a three year corporate partnership.
Employees of the SDC Group, including MDF Engineering in Antrim, raised the funds through payroll giving, as well as a range of fundraising events including taking part in the Belfast City Marathon and organising a charity cycle.
Commenting on the end of a successful partnership, Mark Cuskeran, CEO, SDC Trailers said:
"We're really proud to have raised such a fantastic amount of money to help Cancer Fund for Children. They provide an excellent service to families who really need their help. I'd like to take this opportunity to thank Cancer Fund for Children for the work we've done together over the past few years and wish them well in their future endeavours as they support families affected by cancer."
Funds raised by SDC Trailers have enabled the charity's team of specialists to provide a range of practical, emotional and financial support, as well as free therapeutic short breaks to families whose lives have been impacted by cancer.
As the leading children's cancer charity in Northern Ireland, Cancer Fund for Children understands the devastating impact a cancer diagnosis and treatment can have on the whole family and that beyond essential medical care there is a family life that needs to be rebuilt.
Cancer Fund for Children's Corporate Fundraiser, Matthew Allen added:
"It has been fantastic working with SDC Trailers over the past three years. They really have went the extra mile to support children and young people affected by cancer. This phenomenal amount will make a huge difference to families who use our services, enabling our team of Specialists to help them cope with the impact cancer has on their lives.
"We receive less than 0.5% of our funding from the government so support from local organisations like SDC Trailers is vital in terms of ensuring we can continue to support local families in Northern Ireland living with a cancer diagnosis."
To find out more about the work of Cancer Fund for Children, go to www.cancerfundforchildren.com.