As good as new
10/04/2017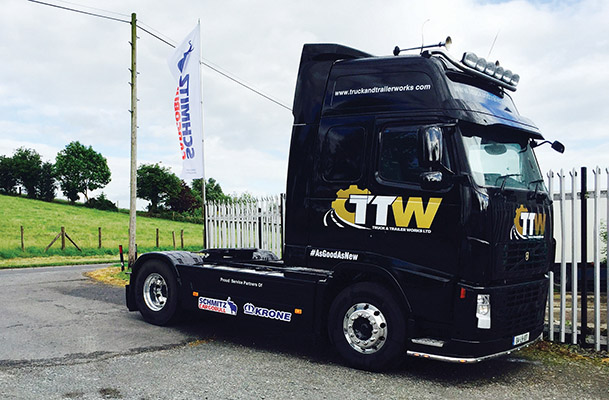 The genesis of Truck & Trailer Works Ltd. (TTW) occurred in February of 2016 following a buy-out of McLoughlin Coachworks, with a new workshop opened in Dublin Port to complement the original Dungannon HQ. We touched bases with shareholder Ricky Burke to get an update on this exceptional, progressive operation, which provides a comprehensive range of services, now catering for both trucks and trailers.
Renowned island-wide for trailer repairs, servicing, parts, refurbishments and sales, Truck & Trailer Works Ltd. are aggressively expanding their services to also include truck work, which will eventually see them establish themselves as a genuine one-stop shop for all truck-and trailer needs.
Subsequent to purchasing the business last Spring, the new stakeholders are implementing a considered course of diversification and expansion, which should see the impressive, rejuvenated operation thrive and grow by offering its ever-growing customer base an even wider selection of specialist services.
Main service partners in Ireland for Schmitz Cargobull, offering island-wide coverage through their well-appointed, strategically-located workshops in Armagh and Dublin, TTW also refurbish and sell second-hand trailers, which can be sourced, supplied and painted / finished to customers'exact requirements.
"Fridge body repairs was the main specialist area traditionally but we have branched into refurbishing pretty much any trailer, as well as trucks,"notes shareholder and general manager Ricky Burke. "Our motto is 'As Good As New'and we live up to this as we can breathe new life into any HGV trailer. We rebranded as Truck & Trailer Works (TTW) to acknowledge that we have started to take on truck work as well.
"Truck refurbs, including bodywork and paint jobs, is a relatively new departure and we have also taken on some mechanical truck work at the Dublin depot, which we intend to do more of going forward. We are evolving and developing the business and we intend to ultimately become a one-stop shop for the haulage industry. Our aim by the end of 2017 is to have fridges, tail-lifts and trucks all serviced and repaired here."
Consistently excellent services are provided by highly-skilled and –experienced personnel and customers can rest assured that there will be no hidden extras when they go to settle their accounts. "We employ two dedicated fridge engineers and we offer fixed-price fridge unit maintenance contracts. We have the skills and expertise to manage that programme,"Ricky confirms.
Regarding the breakdown of activities at the two depots, he continues: "Dungannon is primarily focussed on body repairs and we also provide shot blasting and painting services on trucks or trailers to any requirements or specification, as well as body changes or modifications. We can modify and enhance trailers whatever way customers want, including adapting them so that they can do two jobs instead of one.
"The Dublin depot is a hotspot in Dublin Port. We fly the Schmitz Cargobull flag there and handle all their breakdown and warranty work. The company has a long affiliation with Schmitz. We're their appointed agent in Ireland and have €100,000 worth of specialist tools at our disposal to provide repairs to their fridges, as well as parts, maintenance etc."
At the time of writing, Truck & Trailer Works –who had just acquired and breathed new life into a new Volvo FM truck and workshop van - were also in the process of opening a new maintenance unit in Annesborough, Lurgan, County Armagh, where they have invested heavily in a brake-roller tester and shaker tester and will have the capacity to carry out MOT checks and preparations.
This investment gives an insight into the intentions of the directors moving forward: "We have great plans and will continue to invest. By next year, we will also open a second bodywork unit in Dublin. If you hope to become the biggest and the best –which we do –then you have to move with the times and keep investing in tooling, facilities, equipment and personnel. We put money into the business every week and will continue to do so in order to get the name out there.
"We employ 23 people at the moment and they are all highly-skilled –from the welders, bodyworkers, mechanics and fridge fitters in the workshops to our excellent accountants and admin staff who also play a key role in the success of the business,"says Ricky, who has been working in the transport industry since 1999.
Looking to the future, Truck & Trailer Works Ltd. boasts the experience, expertise and versatility to dramatically increase its market share by offering truck-and-trailer operators an ever-increasing range of specialist services.
"We can do literally anything in trailers, all makes and models,"Ricky concludes. "That's what we have always done. The truck work is a relatively new thing but we are applying the same standards and professionalism across the board. We have the people here and will invest in the latest diagnostics and tooling in order to provide unrivalled service levels. When it comes to bodywork, we can do literally anything on any kind of truck. We're here to provide our customers with whatever solutions they need and will continue to improve out skillset, tooling and capabilities to make sure we can meet those demands."
Truck & Trailer Works Ltd.,
270 Battleford Road,
Dungannon,
BT71 7NP.
Tel: 028 37548418
Taken from Irish Trucker & Light Commercials magazine, Vol 19 No 9, October/November 2016