Suppliers of high quality stone
04/04/2017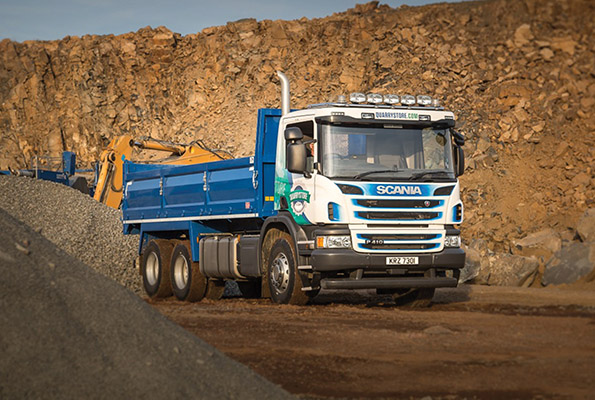 Having come through the tough times, Boville-McMullan Ltd in Ballymena, Co Antrim is now starting to experience the busy ones again. Managing Director Mark McMullan told Irish Trucker more.
They say family businesses often turn out to be the best ones. That old saying rings true when it comes to Boville-McMullan Ltd and Mark McMullan, for one, can testify to the facts.
Having taken over the business from his father Tom –a co-founder of the company –Mark has been heavily focused on Boville-McMullan Ltd's future.
The effects of the economic downturn saw them having to downsize a little bit in recent years but at present their experiencing an upturn, which Mark was happy to report when he gave us the lowdown about the company.
"We're based here at Tully Quarry, 116 Moorfields Road in Ballymena,"he explained.
"We're established 50 years now and currently have 13 staff. I'm the director of the company and our sister company –Antrim Construction –is run by my brother Philip."
Boville-McMullan Ltd is a second generation family run quarrying company which continues to be focused on its future under Mark's stewardship.
Their aim is to commercially exploit a reserve of Quality Basalt seeking to employ the best available practises, utilising the latest technology in quarrying equipment minimising the effects on the environment.
"We have a basalt reserve here, we produce aggregates and general construction and concrete products. We supply a number of road work materials as well,"said Mark.
"We also have a small division here called Quarry Store and its retail to the general products."
As aformentioned, Boville-McMullan Ltd is a sister company to Antrim Construction Company Ltd, both of which are part of the Ladyhill Holdings Group of companies whose main interests are private development and quarrying.
Prospect Private Nursing Home is also part of the Ladyhill Holdings Group.
The company commenced quarrying back in 1962 at Ladyhill Quarry near Antrim. From there aggregates, concrete and asphalt were produced for civil engineering projects which at that time were shaping the infrastructure of Co Antrim. Motorways, factories and housing are a few examples of the ambitious projects undertaken by the two directors Mr George Boville and Mr Thomas McMullan.
"My father was one of the founders of the company,"explained Mark. "It was jointly founded by George Boville and Tom McMullan back in 1965, they were cousins.
"George was killed in the quarry in 1982 and his son carried on in his place. Then he went into farming and my father bought the company as a whole in the late 1980s and kept the Boville name on it."
Mark began working with the company in 2001, after which they began to invest in a new crushing plant for the Tully Quarry.
Within a decade Mark would take over the running of the business and see it through one of its toughest periods, with the economic downturn having affected the Irish construction industry so severely.
For Mark though, the glass is always half full.
"Business has picked up very well and we've been very business the last couple of years,"he stated.
"From around 2008 to 2013 it was quiet, but thankfully it has turned around now. (During the downturn) turnover was reduced, we worked reduced hours, men were laid off and trucks were off the road. There were four years there where we didn't make any capital purchase.
"Now it's turning around. We've updated the machinery and are investing to move ourselves forward."
That's good news indeed.
Part of the investment has been into the company's impressive fleet, which is mostly made up of Scania trucks –a brand which Mark knows and trusts.
"We recently bought a Scania six-wheeler, a pull finger crane and a six-wheeler tipper,"he stated.
"We're running five trucks in our fleet and three of those would be Scanias. Pre-downturn we had all Scanias and sold them all bar one. We had to purchase a couple of trucks again and 20 years ago years ago we would have had 18 or 19 trucks here.
"In the early days we did asphalt as well, but we got rid of that in 1995."
Products at Boville-McMullan Ltd are available in current European specifications or individual client specifications.
As well as standard specification materials, a range of general quarry products can be produced to include general hardcore, sub base materials, quarry rubble, building stone, crusher runs, blinding and concrete aggregates.
These products are widely used in the development of the infrastructure, private housing, agricultural and commercial sectors both in Northern Ireland and also in mainland Britain.
Boville-McMullan Ltd are committed to meeting environmental legislation including regulations relating to waste management, planning controls and protected species.
The aim for the company is to continually improve performance, to set environmental objectives and review progress in achieving those environmental objectives. They also aim to prevent pollution of water, air and land from operations carried out at Tully Quarry and progressively landscape and restore worked out areas.
Boville-McMullan Ltd operate an Environmental Management System to BS8555:2003 Phase 1, 2, 3 & 4 and is also a member of the Quarry Products Association (QPA) Northern Ireland.
The company's clientele list also makes for impressive reading, with some customers dating back to when the original founders of the business ran things.
"We have a number of clients that would be with us a long time and have stuck with us through the tough times,"said Mark.
"White Mountain, Lyons Construction and Moore Concrete would be some of the long-time clients and I think the quality of service, as well as the quality of our stone, are some of the reasons why they've stayed with us for so long."
2008 saw permission granted to turn Ladyhill Quarry into a landfill site and it's an option still open to the company.
"The quarry here is on a 150 acre site and we have permission to start work on a new landfill site,"explained Mark. "We have the option to build it when we want so that's something to look into for the future as well."
Needless to say, the future of Boville-McMullan Ltd looks to be in very good hands.
Boville McMullan Ltd
116 Moorfields Rd,
Ballymena
County Antrim, BT42 3HJ,
Tel: 028 2589 2843,
Email:[email protected]
Web: bovillemcmullan.co.uk
Taken from Irish Trucker & Light Commercials magazine, Vol 19 No 9, October/November 2016