A solid foundation
29/03/2017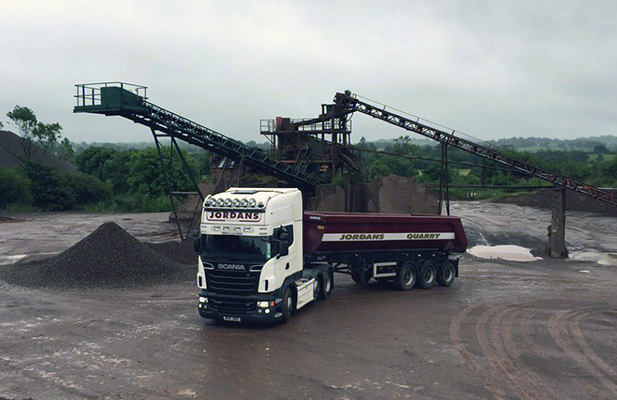 We profile one of the country's oldest quarry operators, Tyrone based Jordan's Quarry, which is a family run business that was first established by Billy Jordan in 1950.
From humble beginnings of providing sand, gravel and drainage stone to the local farmers from the quarry in Eskra, just outside Omagh, the business has evolved over the years and Billy's son Drew eventually took over the business from his father before in time his son Andy took the reins in recent times.
Andy speaks to us about the services that the business provides and how business has changed from his grandfather's day.
Being involved in business for so long, Jordan's Quarry are best placed than most to realise what it takes to come through a recession as they have experienced this on at least three occasions now.
Unfortunately for some businesses, the roar of the Celtic Tiger has long passed and many have been forced to close their doors, but for the ones that have survived, it is no surprise that they have been in business for many years as experience is vital in these incidents.
A lot of companies experienced the same economic turmoil in the eighties when a lack of work forced hundreds of thousands to emigrate, but through hard work and dedication, some businesses have continued to not only survive but thrive.
For the past 66 years the company has been delivering a quality service for both commercial and residential customers. With such a vast amount of experience for all their customers'construction needs, Jordan's have developed a reputation for delivering an efficient and reliable service and this is what they have maintained their large customer base.
Andy states that not being involved directly with the building trade or housing boom as it was more commonly known has played a massive part in the company's survival during these testing times.
"We never really got too big in with the builders as we focused more on the agricultural side of things, which has always being the main core of our business. We are in the middle of a large farming community here and fortunately for us, this is an area that is still bringing in the work.
"These days we operate from a quarry in Kelly's Inn which is a few miles from Omagh, but we process all our materials at Eskra still. We provide sand and gravel, decorative stone, which is brought in from the U.K and is a relatively new part of the business. We process different grades of gravel from 10, 18, 30 and 38, which are the most common grades."
This business built up a large customer base over the years and the experience they gained was invaluable. Andy Jordan and his family worked hard to build the business, but like so many other companies involved in the construction trade, they were hit hard by the recession.
"The customer base has grown considerably since we started this end of the business and we are actively trying to increase that. Our aim is to deliver the highest quality of work to all our customers and I'd like to think that we have earned a reputation of delivering that in a timely and cost effective manner.
"Quality is everything in this business and our customers know that they will get that every time that we are involved in one of their projects.
"We would have a lot of repeat custom, some of who have been with us many, many years and this is down to the relationship that we have with them as they know and trust us to do the work to the highest standard possible."
"We have gained over 60 years of experience working with clients ranging from small construction companies to the larger engineering organisations together with all of the local authority bodies and of course the farming community."
Andy revealed that the carry out their own maintenance, which is essential to the success of the business as breakdowns are something to be avoided as much as possible.
"We look after the plant ourselves. We added to the fleet of trucks recently with the purchase of brand new 6-wheeler DAF bought from TBF Thompson, while we also have an 8-wheeler DAF alongside two Hinos and a Scania."
Jordan's Quarry is very much a family run business and as Andy is the third generation of the family to oversee the day to day activities, while his mother Anne looks after the administration.
For any company to celebrate 66 years in business is a remarkable achievement, but it is an even more amazing feat when they are in the quarry trade.
Jordan's Quarry
199 Newtownsaville Rd, Eskra,
Omagh BT78 2RN,
United Kingdom
Phone: 028 82841812
Taken from Irish Trucker & Light Commercials magazine, Vol 19 No 8, September 2016