SDC reveal trailer line up at the CV Show
21/03/2017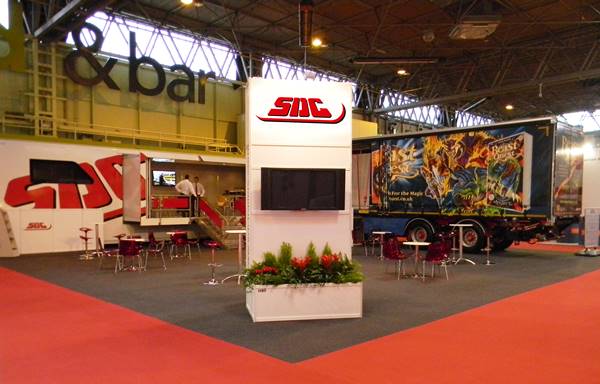 SDC Trailers have confirmed that they will return to the UK's premier commercial vehicle exhibition with five trailers representing the requirements of today's haulage industry.
First up is a 13.6M GRP parcel van in DX livery based on a proven design giving a robust and practical approach to an almost non-stop operation, fitted with a wide slat roller shutter and internal roof mesh to prevent internal damage this design is now a benchmark in UK parcel operations.
Recent years have shown a huge increase in the demand for 'urban' style reduced length trailers and this is represented by a tandem axle rear steer 10.6m curtainsider fitted with a BPW load restraint system, giving a practical and safe option in load security.
The third trailer lined up for SDC's show stand is a slimline neck skeletal trailer fitted with a Genmark UM4 Generator – the first in the UK with a remote unit - capable of carrying all combination containers at a lower than standard height.
Outside the NEC exhibition grounds SDC will have two rental / leasing spec curtainsiders, demonstrating their continuing support for not only bespoke design, but also the backbone of the haulage industry.
SDC's COO Enda Cushnahan said "We are very excited to be back at the CV Show in 2017, showcasing the latest trailer solutions from SDC. The CV show is an excellent networking event, giving us the opportunity to review the latest requirements from the road transport sector and look at how we can align our manufacturing accordingly.
The long awaited and much discussed confirmation of additional Longer Semi Trailer (LST) licences is encouraging news for the industry and with the experience of building over 40% of LSTs to date, SDC Trailers are better placed than anyone to design, build and advise on this innovation.
Our very own hospitality trailer will be on stand 5F101 to welcome new and existing customers, with our experienced staff on hand to discuss ways that we can maximise their transport operations and enhance the profitability of their business."
The Commercial Vehicle show is the largest road freight transport event staged in the UK, attracting over 21,000 visitors and everything fromtruck, van and trailer manufacturers through to fork lift trucks, insurers, tyre, telematics, training providers, fuels and lubricants suppliers. Visitors can gain access to the three day show free of charge by registering on the CV show website. The event kicks off on Tuesday 25th April to Thursday 27th April, with SDC Trailers exhibiting at stand 5F101 and in the outside exhibition area.