Wi-Fi in motion
08/03/2017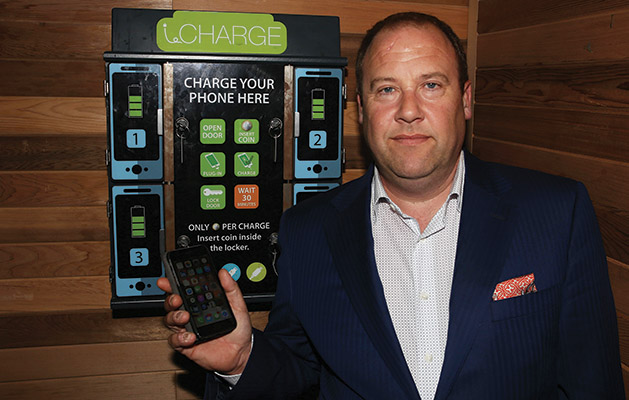 As the leading Irish provider of wireless communication products and services, FleetConnect has developed an award-winning service over the past eight years. Company founder and managing director Patrick Cotter told Irish Trucker more.
Set up in 2008, FleetConnect has grown into a real success story in the short space of eight years, providing free internet access across the entire Iarnród Éireann network.
Founder and Managing Director of the company Patrick Cotter came up with the idea for the business having come from a background in static Wi-Fi. He brings extensive experience in the IT sector with more than 18 years of Business Development, Sales management and Consultancy Positions in various Blue-chip organisations such as Eircom, Verizon and Energis.
Before setting up FleetConnect, Patrick worked as an IT Consultant specialising in taking new technologies and services to the Hospitality Industry. From there, he went on to launch IPTV in Ireland to a number of five star hotels and got his passion for W/LAN technologies.
"I was in an IT background and back then I was one of the first to start putting Wi-Fi into hotels in Ireland," explained Patrick.
"I was on a train to Cork and the idea hit me – there was no reason why a Wi-Fi system couldn't be put into the train and it just went from there."
He continued: "Basically, I was in a big steel box without internet so I decided that it was worth trying. We were driving the idea that you could have internet for a day for less than a cup of coffee.
"I had seen a company in Sweden that were doing the same thing and kind of followed the same model."
Indeed Patrick saw a gap in the market for utilising the 3G/HSDPA networks to deliver high speed broadband and so FleetConnect was born.
"We're established since 2008 and we've 22 full-time staff working here at the moment," said the Managing Director.
"We introduced on-board Wi-Fi to buses and trains throughout the country and we were the first in Ireland to do so. Our system comes with tracking as well and we have five million people a month now logging into our service."
Since the company's inception, it has always had a specific focus on passenger transport, public safety, and indoor and outdoor network applications. FleetConnect has already established itself as the leading provider of industrial-grade in-vehicle systems for fast broadband access, delivering passengers Wi-Fi (free internet access) and GPS vehicle tracking, as well as connectivity to enable live CCTV and e-ticketing.
Along with big name companies such as Iarnród Éireann, Dublin Bus and Translink, other customers include JJ Kavanagh & Sons, Aircoach, Go Bus, Butlers Buses and Matthews Coaches.
"We're recommended by many customers and we've a very strong and stable system that is fit for purpose," said Patrick.
"The next thing for us is to start monetising for our customers so they can click into advertising. I want to stress that anybody can give us a ring for our service."
The company's three main partners are Vodafone, O2 and Icomera AB – a Swedish based firm which has grown to become the world's leading provider of cellular broadband gateways delivering Internet connectivity for passenger transport, public safety and enterprise applications.
Over the last few years, mobile operators have been deploying wide area cellular networks that are capable of transferring data at broadband speeds.
These next-generation networks are available in many countries worldwide and, where coverage is available, offer transport operators the opportunity to deliver high-speed internet connections to moving vehicles. The technology most commonly used to deliver this service is 3G HSPA (high speed Packet Access).
Typically, download speeds of 1 to 2 megabits per second are achievable in static sites, metropolitan and suburban areas, and along major roads between towns and cities. Within a few years, it is expected that speeds will increase to over five megabits per second, comparable to a home or business broadband connection today.
While the predominant users of mobile data services will be individual business or consumer subscribers, the new generation of wireless networks can deliver broadband connectivity to locations where wireline services cannot (such as to moving vehicles) or where wireline is impractical (such as to outdoor or temporary locations) or has not yet reached.
With FleetConnect's broadband gateway these connections can be used to 'bridge' between the cellular data network and a wide variety of services including Wi-Fi hotspots, outdoor public safety IP-CCTV, and vehicle telematics systems.
From humble beginnings, business has really taken off for Blanchardstown-based company over the past few years and its achievements haven't gone unrecognised.
In 2011, FleetConnect won the National Enterprise award for 'Best New Business' as a part of the Fingal Enterprise Week. At the same event, they were also awarded the Fingal Enterprise award, which came as a massive honour to Patrick and his staff at the time, considering the business was just three years old.
Two years later, the company added another gong to their collection when they won the 2013 Wi-Fi Alliance Award and there's likely to be more to come for the world's leading provider of cellular broadband gateways down the line as their business continues to evolve.
"Back when we set up we started working with a few small coaches and from there it began to grow. In the last year or so it has really taken off for us," said Patrick.
"Right now we're signing up a lot of American companies and different firms from limos, buses, coaches and we're also in the process of looking for more engineers and support staff at the moment."
Along with their headquarters in Blanchardstown, FleetConnect has set up a second base of operations in the UK in the city of Birmingham.
One of their most high-profile dealings across the Channel thus far came back in 2009 when they announced that Eavesway Travel Ltd equipped luxury team coaches for football clubs, including Manchester United and Wigan Athletic FC, with FleetConnect's award-winning Moovbox M200 mobile gateway.
The Moovbox M200 mobile gateway provides an in-vehicle Wi-Fi hotspot connectivity at broadband speeds and its installation allows access to the Internet and email on the move, while also enabling Eavesway to communicate with drivers and send operational information such as schedules and itinerary amendments.
Needless to say, FleetConnect only provides the best when it comes to cellular broadband gateways.
FleetConnect Ltd
Address: 13B, Blanchardstown Corporate Park 1,
Blanchardstown, Dublin 15.
Tel: +353 (01) 8991070
Fax: +353 (01) 8991089
Web: fleetconnect.ie
E-mail: [email protected]
Taken from Irish Trucker & Light Commercials magazine, Vol 19 No 7, August 2016