The Wilker way
25/01/2017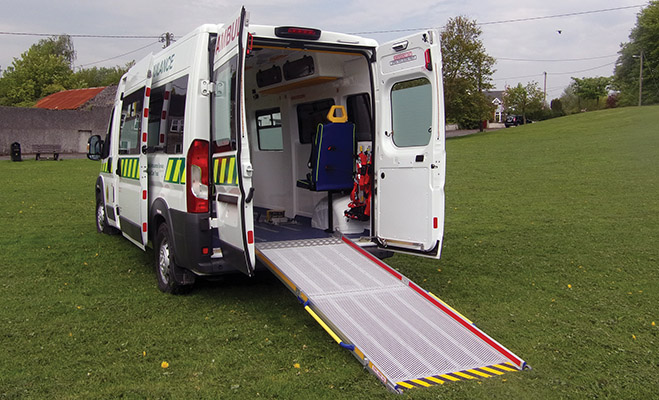 The Wilker Group is synonymous with the supply of frontline ambulances, specialist vehicle conversions and rapid response vehicles not only to the Irish and UK markets but as far away as Abu Dhabi, Trinidad & Tobago and the Falkland Islands. Sales director Greg Kerrigan explains more.
Just like the professional golfer Shane Lowry, the Wilker Group – also known as Wilker Auto Conversions – is helping to put the Co. Offaly town of Clara on the world map. Renowned for its thoughtful, innovative vehicle designs and partnership approach, Wilker has over 60 years' experience in the design, build and delivery of world class ambulance and specialist vehicle conversions.
If you spot an ambulance on your travels today, there's a good chance it was designed and built in Clara. Wilker is proud of both its heritage and the high degree of credibility it has been afforded by its public sector and corporate fleet clients. To cater for its large UK customer-base, which accounts for about 60-70 per cent of its overall business, Wilker operates a second plant in Sandbach, Cheshire, England. While recognised as one of the manufacturers of choice for emergency vehicle applications, the company is also a leader in the design and build of a full range of cost-effective vehicle applications to meet the rigours of everyday life.
Wilker's highly-skilled technicians and service support teams are proud to uphold the company's tradition which is to "deliver customer expectation and intelligent vehicle solutions that really work".
From humble beginnings when William (Billy) Kerrigan – who was an upholster by trade and from who the company name is derived – began building buses and Hearses, Wilker has grown substantially to employ 85/90 staff in Clara and a further 40 in Sandbach. Another substantial number are employed by local businesses who Wilker sub-contract work to.
"We are very proud of the spin-off employment we give, most of which is in the local area," explains Greg, who is a nephew of the aforementioned William and is a director of the company along with his brother Martin (commercial director) and Donnacha Hurley (CEO).
"All of our engineering, sign writing, spray painting and powder coating work, for example, is sub-contracted locally. Quinn's of Athenry are one of our main subcontractors. They build the ambulance box bodies and all other box bodies for various types of work for us. The ambulances we convert can be Mercedes Sprinters, Ford Transits, Iveco Dailys and VW Crafters on the Voyager Box Body range and Fiat, Renault, Peugeot, Opel, Nissan, Ford, Citron, Mercedes, VW, Iveco on the Van Ambulance.
"We take a concept from design to reality through the latest design software and state-of-the-art technology. We have built up a lot of partnerships and a loyal customer base by giving our clients what they want and by hoping to exceed their expectations.
"It's a very competitive field, but more often than not our reputation in the areas of price, quality of vehicle, back-up service and delivery helps to win us the contract. We have built many relationships by working hard to excel in these four key areas."
The ambulance and PTS (patient transfer service) applications are designed for a wide range of chassis and feature everything from one touch electrical systems and recessed beacons to programmable locking functions and integrated roll cages. In addition, Wilker provides utility, personnel vehicles, minibus, accessibility, Fire, Police and defence force applications.
One of the company's main Irish customers is the HSE (Health Service Executive). In recent times, Wilker has won contracts to supply new vehicles to the national ambulance service. One such contract saw the Offaly firm provide 50 new ambulances, 35 refurbished ambulances, 10 intermediate care vehicles and rapid response vehicles.
"These contracts are difficult to win. You're coming up against other companies from places like Germany, Poland and the UK and our own market, but thankfully not all but many of our tenders have been successful," Greg adds.
Other Irish customers include the Order of Malta, Red Cross, St John Ambulance, Garda Siochana, ESB, Fire Services and the Defence Forces as well as private customers like Lifeline Ambulance Service and Beaumont Ambulance Service and more. In the UK, Wilker's clients include the Welsh, Scottish, Northern Irish, East England, South-East Coast, West Midlands, South Central, Jersey, Guernsey, Alderney and Isle of Man Ambulance Services. The MOD (Ministry of Defence) is another good customer, while Wilker recently supplied eight ambulances to the RAF in Cyprus. When we spoke to Greg, the Georgian ambassador was visiting the plant in Clara to see how work was coming along on an ambulance which the country is donating to Grenada.
"We are among the top ambulance builders in the UK. Our first depot in the UK was in Crewe before we relocated to Sandbach about 15 years ago. Originally a service agency, it is now a fully-fledged production facility like Clara."
From your first enquiry to delivery and beyond, the Wilker Group support functions are designed to give peace of mind and reduce the costly impact of vehicle off-road time. Wilker offers a comprehensive warranty package, emergency call out, technical support function, rescue and recovery services, vehicle repair and parts facilities along with refurbishment programmes.
It goes without saying that only top quality materials are used in every build to comply with very stringent in-house quality and testing standards to fulfil all regulatory and customer standards and specifications. The company is ISO approved and accredited to EU Regulation CEN 1789-2007 and ECWVTA for Accident and Emergency Vehicles and Patient Transport Systems.
Wilker Ireland
Frederick Street, Clara, Co. Offaly.
Tel: +353 57 93 31252 Fax: +353 5793 31319

Wilker UK

Units 1&2 Millbuck Park, Millbuck Way, Springvale Industrial Estate,
Sandbach, Cheshire, CW11 3HT
Tel: +44 1270 765 999
Fax: +44 1270 765 007
Web: www.wilkergroup.com
Taken from Irish Trucker & Light Commercials magazine, Vol 19 No 6, July 2016