30 years and counting for Dennehy Commercials
20/01/2017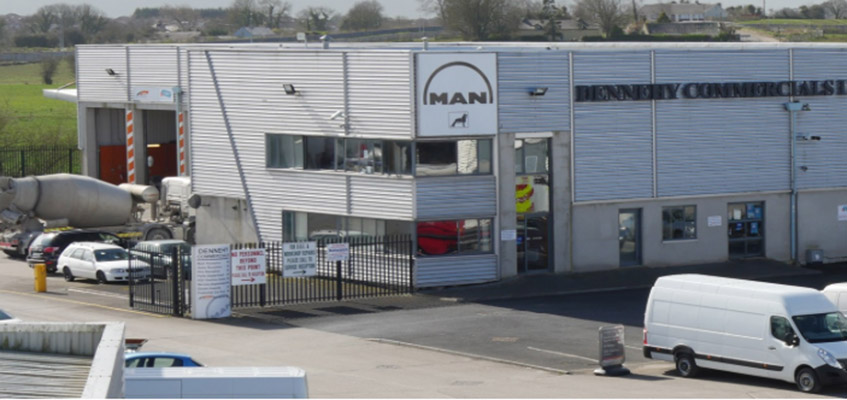 Dennehy Commercials Ltd has been providing its customers with the products and services they need for more than 30 years now. Irish Trucker felt it was time to find out more about the Limerick-based company from Service Manager Brian Nolan.

Staying a success in the sales and hire industry is no easy feat, but for 30 years now the owners and staff at Dennehy Commercials Ltd have managed to make it work.
Brian Nolan has been a part of the team at Dennehy Commercials for more than two years now and has quickly adapted to the hectic routine at one of the leading 'one-stop shops' in the country.
Indeed the company supplies a range of different services which includes Truck and Van Sales, Truck and Van Hire, DOE/CVRT Testing, Service and Parts, Truck Breakdown Assistance, Promotions and Finance.
"We're based in Riverside Business Park, Dock Road, Co Limerick," explained Brian.
"We're established 30 years now and have 25 employed in the commercials end of the business. I've been the Service Manager here for the last two years."
Dennehy Commercials prides itself on the strength of its products, the dedication and experience of its staff, which has a wealth of experience in every aspect of service within the commercial vehicle industry, giving their customers long term peace of mind in the form of exceptional after-sales support.
The company's success is based on its ability to orient their products and services to the needs of customers. It is their aim to increase profitability for their customers through innovative and reliable vehicles with low operating costs and efficient service and to optimise driver safety and comfort.
Dennehy Commercials has recently upgraded its computer system incorporating the best operating systems in the industry. This will enable the company to meet the challenges ahead as regulations become more stringent and the industry becomes more demanding.
They view these changes and demands as a challenge and look forward to serving their wide customer base in the years ahead by becoming the customer's number one business partner with the best transport solutions.
'The best' is exactly what Dennehy Commercials aims for and it's the reason why they've invested in a new state-of-the-art workshop which caters for all of their customers' needs, as Brian explained.
"We have a modern state-of-the-art workshop which caters for trucks and we've a CVRT Centre as well," said the Service Manager.
"We're main agents for MAN trucks and Renault trucks and are very much gaged towards road safety here."
Dennehy Commercials has been the main agents for MAN in Ireland since the early years of its inception, with Renault having come on board last year.
Full services for MAN trucks include – Full Inspection, Replacement of Air, Oil and All Fuel filters. Castrol Low Saps engine oil replaced and all levels topped up, Environmental Waste Charge and Greasing.
Any other defects found during inspection will be advised to customer. Any additional repair work must be authorised by the customer before being carried out.
As for the DOE and CRVT testing which takes place at the base at the Riverside Business Park, Dennehy Commercials carry out both LCV (light commercial vehicle) and HCV (heavy commercial vehicle) tests to include vans, trucks, trailers, camper-vans, buses, ambulances.
They also offer Tachograph Installation/Calibration, Speed Limiter Installation/Calibration and Weight Plate Fitting.
The DOE test is carried out on behalf of the Road Safety Authority (RSA) and is an annual test which ensures all commercial vehicles are maintained to a safe and roadworthy standard.
The testing equipment used is compliant with all relevant regulations and legislation and all tests are carried out by the company's professional, certified and experienced technicians, with a facility to also carry out LGV and HGV tests.
While customers wait for their vehicle they are able to relax in in the comfortable customer waiting room; with Tea/Coffee, Vending Machine, Satellite TV and Wi-fi.
"We test to very high standards and have a wide customer base between Limerick, Clare, Tipperary and some parts of Cork," Brian pointed out.
"We have a 24-hour recovery service as well, so really we're kind of a one-stop shop for our customers and I think that's another reason why they choose us first."
So with numerous different departments and services on offer for its customers, how is business overall at the moment at Dennehy Commercials?
"Business is quite busy at the moment and it has regularly picked up along with the market picking up," said Brian.
"The whole country felt the downturn – there's no questioning that. But for us you had a lot of trucks coming in for servicing because nobody was buying new, so we couldn't complain about that."
The service and parts department at Dennehy Commercials has been busy too as of late.
It provides a full range of services to keep the customer's commercial vehicle running safely and efficiently on the road. The experienced technicians are fully qualified in all aspects of commercial vehicle maintenance and the total care philosophy at Dennehy Commercials means that we they provide a versatile maintenance package to suit a customer's individual requirements.
Operators can select the exact level of maintenance package they require, paying only for those elements best suited to their individual operation's needs.
The company are also authorised to service repair centres for MAN, ISUZU and IVECO; as well as providing specialist service for all other makes of commercial vehicles.
In 2014, Dennehy Commercials gained some well-earned recognition for its efforts when they were awarded the prestigious LCV Dealer of the Year award for Ireland.
The award was handed out at the annual Renault dealer convention in Athlone and was in recognition of exceptional customer service from the dealership and outstanding sales results spearheaded by Pat Reeves, the Fleet Manager.
Also recognised was the investment made by the company two years previous, when the dealership became one of the four Renault Business plus dealers in the country.
*Testing times at Dennehy Commercials are between 8am and 7pm from Monday to Friday and from 8am to 1pm on Saturdays.

Dennehy Commercials
Address: Riverside Park, Dock Road, Co Limerick
Phone: 061 229900
Web: www.dennehycommercials.com
E-mail: [email protected]
Taken from Irish Trucker & Light Commercials magazine, Vol 19 No 5, June 2016