EVM proud to be Irish
18/01/2017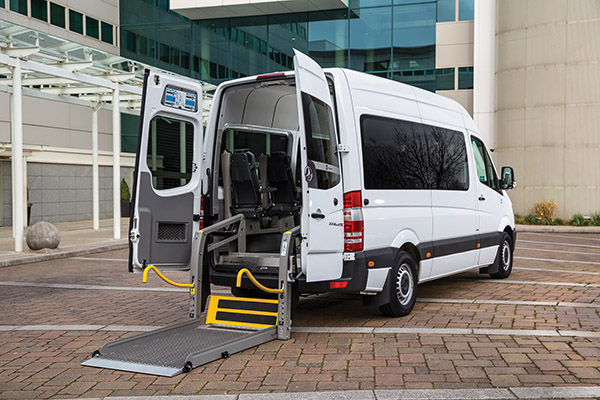 Despite its success in the UK and further afield, EVM remains an Irish company at heart with every vehicle it sells being built in Kilbeggan, Co. Westmeath.
The well-known custom vehicle builder recently underlined its commitment to its customers on this side of the Irish Sea with the appointment of PJ Keoghan as its new sales manager and the launch of a 19-seater with a large boot space in a van conversion.
Established as recently as 2009, EVM manufacture bespoke Mercedes-Benz Sprinter minibus and minicoach from eight to 22 seats in low and high floor variants and accessible options. Its success is built on core values of creativity, commitment, enthusiasm and keeping customers' desires at the heart of everything. EVM offer their customers the vehicle they want, when they want it and built to their specifications, with comfort, reliability and safety all in mind.
The company is constantly investing in the latest technology and business techniques to make it stand out from the competition. EVM's state-of-the-art manufacturing facility enables it to have in-house production processes and to ensure tight quality control, cost effectivity and the ability to be flexible with customer requirements.
EVM is recognised as the industry leader in designing and engineering custom-built Mercedes-Benz Sprinters. Numerous Sprinters are converted in Kilbeggan every year with most of these being exported via the company's UK-based sales outlet and showroom in Crawley, West Sussex. There are currently 54 staff employed between Kilbeggan and Crawley, with sales director Danny McGee, production director Ivor Jones, sales and marketing manager Peter Flynn and financial controller Patrick Farnon spearheading the minibus producer's continued growth and expansion.
"The UK market accounts for between 70 and 80 per cent of our overall sales," explains Peter, who is based in the Crawley office.
"But what is often overlooked is the fact that we have a huge share of the Irish market as well. We wouldn't have got to where we are now without the support of our Irish customers. We've a new Irish sales manager in PJ Keoghan and have introduced a new 19-seater with a large boot space in a van conversion, which we are sure will be well received by Irish client base.
"We're an ambitious Irish company whose long-term goal is to be a world leader in vehicle conversion manufacturing. Every week, we are building partnerships that will enable us to provide a complete package across the globe.
"We have a new website www.evm.ie will all our latest products and the ability to build a quotation request for your new vehicle online."
EVM recently became one of the first minibus manufacturers to be awarded European Community Whole Vehicle Type Approval (ECWVTA) across its range. The European approval scheme is based on the concept of 'type approval'. This approval ensures that all EVM minibuses, systems and components meet stringent European Community environmental and safety standards on every single EVM model.
This certification is accepted throughout the EU without the need for further testing and EVM have now processes in place to produce a Certificate of Conformity (COC) for each vehicle manufactured. What this means to the customer is that there are no lengthy waiting periods for IVA tests of COIFs etc. They simply insure their vehicle and drive away.
EVM is also proud to be on the first minibus manufacturers in the world to have been awarded with ECE R66 Rollover Protection. Peter explains: "As with the ECWVTA, this approval ensures that all our products meet European and worldwide environmental and safety standards. We were even ahead of Mercedes themselves in achieving Rollover Protection approval."
There is no doubt that EVM's decision to use the excellent Sprinter as its base vehicle has been a major factor in its success. EVM's main products – the X-Clusive, Avantgarde, Elegance, Grand Tourer, Classic and Shuttle – are huge sellers in the UK. Its two latest models – the Cabrio Sprinter and the M1 Sprinter – have also caused quite a stir.
The Cabrio has a retractable glass roof which opens and closes at the touch of a button. It is the ultimate in open top luxury touring for city and scenic tours. The new M1 is a medium wheelbase eight-seat accessible Sprinter. This means it can be driven on a car licence with no tachometer or no speed limiter. All of the seats fold out of the way to allow it to take four wheelchairs or mobility scooters. All restraints are built into the floor and controlled by the driver with minimum training.
The hub of the EVM operation is in Kilbeggan, where Ivor Jones oversees a professional and dedicated team who produce approximately 200 vehicles a year between them. There are over 30 shop-floor workers and 10 in the mezzanine office.
"We have staff who have been building buses for 15 or 16 years. There is a wealth of experience here and we also have a training programme for new staff," he says.
"Our staff consists of assemblers, fabricators, engineers, painters and electricians as well as body work, valet, quality control and air con personnel. We started off with only 10 staff, so that gives you an idea of how far we've come in the past seven years."
Things have never been busier, with Ivor adding: "Our premises are 50,000 sq. ft. and we're operating at full capacity. We will soon have to start thinking about adding another production line. All our business is secured through word of mouth. We build good stuff and this has led to us securing a lot of repeat business. Some of our customers are running 60 vehicles on a five-year cycle, which means they have to change regularly."
By focusing exclusively on Sprinter conversions, EVM can fill orders within 16 weeks. So standardised is this flow that EVM focuses its buying on three popular colours – white, silver and charcoal metallic. Nine times out of 10, the customers go with the factory paint and vinyl.
Having said that, no two vehicles are the same as Ivor points out: "Every build is different. Everything is built to order.
"One of our key strengths is our close working relationship with Mercedes. We only build on Sprinter chassis and all our sales are fully backed by one of the stronger aftersales dealer networks in the world. Our business is built upon developing long-term relationships with our customers and providing them with the vehicle that fits their specific business model."

EVM Ireland
Comagh Business Park,
Kilbeggan,
Co. Westmeath.
Telephone +353 (0) 5793 32699
Fax: +353 (0) 5793 32691
Taken from Irish Trucker & Light Commercials magazine, Vol 19 No 5, June 2016