A cost-orientated and quality driven approach
06/01/2017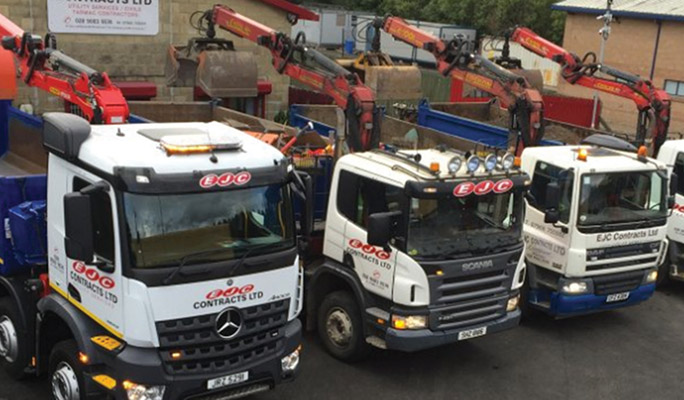 Based at 60 Trench Road, Mallusk, Co Antrim, EJC Contracts is a highly respected utility company currently working for leading companies in Northern Ireland such as Farrans, Morrows, Lagan, McNicholas, KN Networks and many smaller contractors.
Founded in the late 1980s, EJC Contracts commenced operations in the tarmacadam industry. By adopting a cost-orientated and quality driven approach from its foundation, they have seen this organic growth spread into other divisions.
Today, EJC Contracts has a presence across a broad spectrum of utilities such as water, sewers, telecommunications, gas, electricity and urban renewal.
The company has the full-time services of more than 50 highly experienced and skilled operatives and the services they provide range from tarmac contracts, both domestic and commercial, through to utilities installation, civils and grab hire.
"We also do a vast amount of private work for members of the general public, such as the resurfacing of driveways," explained company founder Edward Connolly who added that the current economic climate is shining favourably on the company's trading conditions.
"Business is extremely healthy at the moment, we are busy on all fronts and have lots of work in the pipeline. The future prospects look healthy as we speak, we're currently contracted to undertaking long term rehabilitation projects for both Northern Ireland Electricity and Northern Ireland Water.
"As a company we wish to continue to grow organically year on year so we will continue to reinvest heavily in labour, plant and back office resources."
Through its programme for labour and staff training, EJC Contracts personnel strive to deliver projects which surpass clients expectations.
The client base, while still continuing to grow, maintains a core of repeat customers. These clients continually return to achieve the solutions and quality of finish to which they have become accustomed through their relationship with EJC Contracts.
"We are a respectable company with many years of experience, we guarantee a high standard of workmanship with a high quality, professional and reliable service.
"We pride ourselves on the quality of work produced which often takes place in challenging locations in busy areas. We will always ensure a top quality end product is delivered to our clients.
"We offer our clients a 24 hours a day/7 days a week service. All our personnel are highly skilled operatives with years of experience."
Working with their clients from concept to completion, EJC Contracts ensure your needs are understood perfectly before carrying out any work.
There's no hidden charges so they will also discuss your budget with you and make sure all parties are kept informed throughout.
Their expert team has been carrying out commercial surfacing work since 1989 and will complete all jobs to a high standard with satisfaction guaranteed every time.
EJC Contracts are renowned as one of the leading utility service providers in the Greater Belfast area. They work with utility companies in all different sectors including gas, water, telecommunications and electricity.
In addition to this, EJC Contracts has a proven track record for the successful installation and maintenance of underground infrastructure for both public and private sectors.
They are qualified to complete the whole process of the installation of the utility service from excavating the trench, laying and connection service, final reinstatement and testing and commissioning where necessary.
Having their own multi-skilled accredited operatives enables EJC Contracts to lay multi-utility services on new development projects which saves the client time, money, disruption and gives the greater control of health & safety and quality.
Working on long-term projects, they have become experts in the trenching and ducting methods, open cut and pipe bursting techniques and have one of the premier pipe bursting teams in Northern Ireland.
EJC Contracts also offers a grab hire service to both the construction industry and domestic customers undertaking construction work. Their aim is to provide a fresh and forward thinking service based on the principle of good customer service, good communication and reliability.
All of their vehicles are kept clean and well-presented and adhere to strict maintenance schedules. Their drivers are also well-presented and are all HIAB-trained personnel.
As well as the removal of muck (spoil), hardcore and other types of waste, they also supply a wide range of aggregate materials delivered loose.
With their own in-house health & safety consultant and Safe-T-Cert accreditation, they ensure all work is carried out efficiently, with the safety of members of the public and staff being of paramount importance.
From tarmac contracts, utilities and civils right through to private work and site clearance, they offer a range of specialist services to their clients.

To arrange a survey and receive a no-obligation, free quotation, call 028 9083 9574.
EJC Contracts Ltd
60 Trench Road, Mallusk, Newtownabbey
Co Antrim BT36 4TY
Tel : 028 9083 9574
Mobile : 07968 755 002
E-Mail : [email protected]
Website: www.ejconctracts.com
Taken from Irish Trucker & Light Commercials magazine, Vol 19 No 5, June 2016