Deme Macarale uses FlexMAX to transport concrete beams
13/12/2016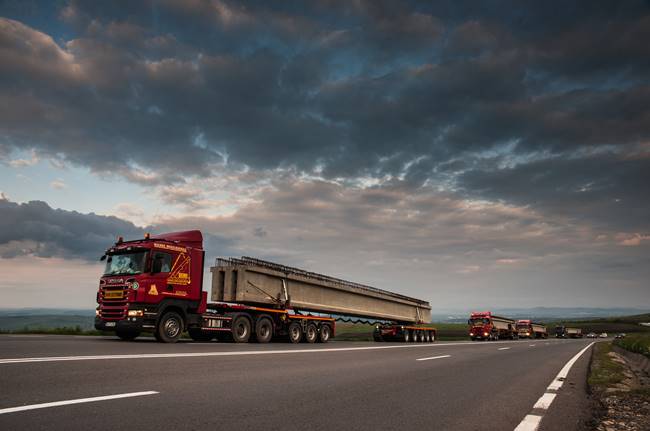 Long and heavy – when you have to transport something that fits that description, using a FlexMAX self-steering trailer is the ideal solution. Deme Macarale from Romania also uses this Faymonville product for its purposes.
With a total of ten operating sites throughout the country, within just a few years the family company from Oradea has attained a substantial size. "We offer mobile and crawler cranes with a weight-carrying capacity of up to 750 tonnes. In addition, special transports for the concrete industry constitute our core business, where we also handle the installation of the transported goods", as General Manager Cristian Deme describes the company's demanding fields of activity.
In the spring, two 3 plus 5-axle FlexMAX self-steering trailers of Faymonville made their way to Eastern Europe. "We use these vehicles to transport concrete beams to their destination. These colossuses attain lengths of 24 to 46 metres and weigh between 20 and a maximum of 70 tonnes".
It is precisely prerequisites like these that are tailor-made for Faymonville's FlexMAX. Thanks to its autonomously-following steering system, roundabouts and tight corners are no obstacle. Even the most extreme weight loads can be transported without any difficulties.