The heavy specialists
28/11/2016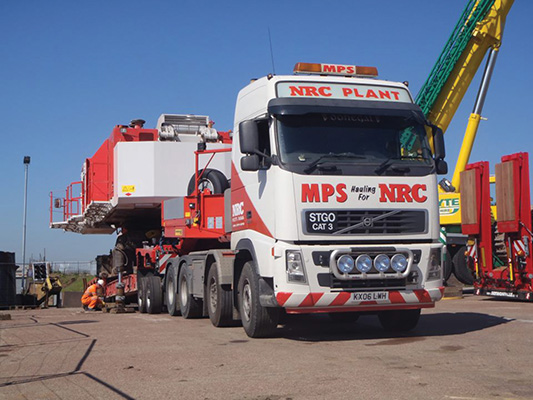 MPS Enterprises Ltd was established 18 years ago by Clare native Finbarr McMahon, who had a number of years' experience working in the haulage industry before deciding to set up his own business.
The company specialises in the movement of construction plant and abnormal loads. Their customer base covers all of the UK and Ireland as their reputation for providing an excellent service now precedes them.
Based in Grays, Essex, the company is ideally located and has access to all the major roads around London, where a lot of their work takes place.
"Operating from a one acre site just off the M25 at J30/31, giving easy access to the motorway network and London, we are well placed to react to our customers' needs," said Operations Manager John Doyle who spoke to Irish trucker about the success of the company.
"We provide a national service also hauling to/from the continent and Ireland when required by clients. We would have done a lot of work with Gallagher Quarries in Kent over the years and continue to do so."
MPS Enterprises Ltd operate a fleet of 18 trucks which are made up of Scania, Volvo, Mercedes, MAN and Hino, while they also have a wide range of trailers to transport their abnormal and heavy loads.
Specialising in such a specialised area takes a lot of planning and preparation according to John. "Traffic management is a big issue when transporting heavy loads. In a lot of the cases, we have to work at night and ensure that certain areas of roads are closed so we can get through. There is a lot of planning and legislation to be addressed before a truck even leaves for its destination.
"You have to deal with all the highways, counties, railroads and London Underground in some cases depending on the type of work, but the experience we have gathered over the years certainly helps us."
"We pride ourselves on giving a personal service to all our customers. MPS operates an extensive and diverse fleet of modern vehicles to handle all types of abnormal loads. We specialize in transporting all types of machinery and industrial plant."
MPS provide a top quality service including a highly skilled and motivated workforce; a comprehensive health and safety orientated environment, while they also provide escort vans to accompany heavy loads; an equipment workshop, equipment storage facilities and a truck breakdown recovery service.
"We are continually expanding and offering a flexible and cost effective service, able to operate 24 hours a day 7 days a week to suit customer requirements."
Efficient management, programming and routing, permit approval and liaison ensures that their clients' needs are met.
At MPS Enterprises they have an impressive fleet of haulage vehicles and experienced drivers many of who have been with the company a number of years.
"Some of our tractor units have lorry mounted cranes. We continually update our fleet with new and additional equipment to meet the needs and demands of our expanding client base.
MPS specialise in heavy and abnormal load transport on a national and international basis. Such loads may include all types of machinery as well as construction and industrial plant.
The company also offers a diverse range of plant and haulage equipment to their clients, items such as Tractors, Road brushes, Water Bowsers, and a large range of Trucks and Trailers are all available for hire.
Whatever load you have to move MPS Enterprises guarantee that it will be moved quickly, safely and on time. No load is too large or too small. "We would never turn down work, no matter how small or big a job is, we will do it to the best of our abilities.
"As part of our service we also provide vans and lorries to transport various items across a wide variety of industries nationwide. Efficient management, programming and routing of our fleet, coupled with efficient utilisation of our storage facility result in a cost effective logistics solution for our client base."
John added that the company also offer storage facilities to some of their customers when needed. "Many of our clients undertake projects in areas of the country far removed from their home bases, which means that between jobs they often require short-term (and sometimes longer-term) storage for their plant and equipment. We have secure yard storage facilities on site at our headquarters in and we will arrange transportation between sites, via our yard if required."

MPS Enterprises Ltd,
10 Cliffside Industrial Estate, Askew Farm Lane, Grays,
Essex, RM17 5XR

Telephone Information:
General Telephone: 01375 383500 - Fax: 01375 383502
Accounts Telephone: 01375 382612 - Fax: 01375 382818

Email Addresses:
[email protected]
[email protected]
Taken from Irish Trucker & Light Commercials magazine, Vol 19 No 3, April 2016