Roadbridge playing its part in Galway road scheme
23/11/2016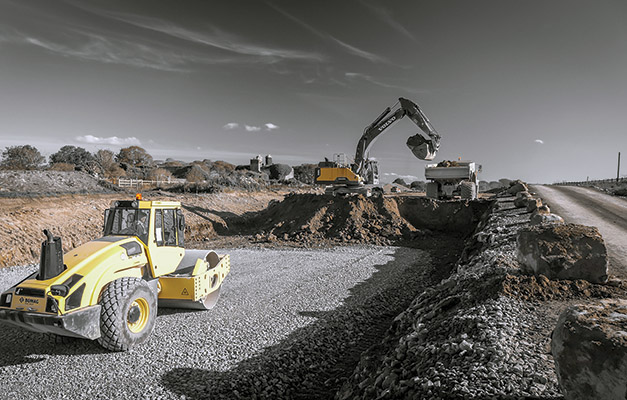 As part of DirectRoute (Tuam) Ltd, Roadbridge is currently involved in one of the biggest road projects to take place in Ireland in recent years – the N17 / 18 Gort to Tuam PPP Scheme.

A consortium comprising Marguerite Fund, InfraRed Capital Partners, John Sisk & Sons (Holdings) Ltd, Lagan Construction Group, Strabag SE and Roadbridge, DirectRoute (Tuam) Ltd signed a contract with the Transport Infrastructure Ireland (TII) in April 2014 for the financing, design, construction, operation and maintenance of the scheme, which is valued at €257 million.
As part of the outgoing Government's Infrastructure Stimulus package, the project was procured via a Public Private Partnership (PPP) model. The N17 / N18 Gort to Tuam PPP Scheme forms part of the Atlantic corridor outlined under Transport 21. It involves the design and construction of a new road to replace the existing N17 and N18 between the Co. Galway towns of Gort and Tuam. The existing N17 and N18 will thereafter be reclassified as regional roads.
The scheme bypasses several adjacent towns, including Athenry, to remove traffic bottlenecks. It is designed to accommodate national through traffic flows and will significantly improve safety and reduce journey times for traffic travelling north-south along the West of Ireland. The new road will also improve connectivity between the Western Region and Dublin and will significantly assist the economic development of the BMW (Borders, Midlands and Western) regions.
The project road commenced at the northern end of the N18 Crusheen to Gort scheme which opened to traffic in November 2010. The route will be of motorway standard from Gort to the junction at Kilmore, just south of Tuam, which is a distance of 53.2km. The alignment then continues with a dual carriageway Type 2 cross section, following a route to the west of Tuam town centre, to its end point on the N17 north of Tuam at Mountpotter, which is a distance of just over 4km.
The alignment follows a largely green-field route with mainly grade-separate junctions at Kiltiernan Interchange (connecting to the existing N18), Rathmorrissey (connecting to the M6 Dublin-Galway motorway), Annagh Hill (connecting to the N63), Kilmore (connecting to the N17) and Ballygaddy Road interchange (connecting to Ballygaddy Road).
The construction of the project road commenced in March 2015 and will take approximately three years to complete. It is planned to have the new road open to traffic in its entirety in early 2018. Works on regional and local roads traversing the mainline will in general be open to traffic once they are complete.
"We are delighted to be associated with this scheme," Paraic McCarthy, project manager with Roadbridge explains.
"There are around 800 people employed overall and 180 of those are directly employed by Roadbridge. We enjoy an excellent working relationship with the other companies in the consortium. DirectRoute was formed over 10 years ago and in that time has completed a number of PPP schemes, including the N8 Rathcormac to Fermoy Bypass and the M7 Limerick tunnel. But this is our biggest road project to date."
DirectRoute are pleased with the progress to date on the project. In November 2015, the company passed a significant milestone in achieving one million working hours on site without a reportable injury.
While the earthworks have progressed very well to date, the emphasis changed to rock extraction and processing with the onset of winter. In cut areas, the soft cut excavation is substantially complete. The peat removal is also substantially completed, vertical drainage has been installed and consolidation works are ongoing with further layers to be in these areas in the first quarter of 2016. Earthworks fill has been completed in a number of sections across the project and is being followed by the placement of capping layers.
Work on structures across the project is very well established and the levels of activity have increased through the winter period with work currently underway on 27 structures.
Arising from a Health & Safety incentive scheme run on the N17 / 18 project, DirectRoute recently made a donation to Pieta House West. The Safety Observation Reports (SOR's) for the project are assessed on a monthly basis and the best suggestion each month is awarded a prize for their initiative. Pieta House West is a suicide and self-harm crisis centre based at Bishop Street, Tuam that serves the whole north-west region. The centre has fully qualified staff providing a professional one-to-one therapeutic service for people who are experiencing suicidal ideation or engaging in self-harm. Anyone can access the service, which is completely free of charge.
Founded in 1967 by the late Pat Mulcair, Roadbridge is a leading and award-winning civil engineering firm operating in Ireland, the UK, Poland, South Pacific and the Middle East. Headquartered in Ballysimon, Limerick with sub-offices in Galway and Naas, it has the experience, capability and a proven track record in delivering major projects across a range of sectors on time and budget. Roadbridge's core ethos is not just to meet client expectations, but to exceed them, making them the partner clients want to work with.
The company has completed major projects to the highest standards of quality for clients in the transport, renewables and energy, utilities, commercial, industrial, waste management and leisure sectors. Roadbridge has adopted a team approach and focus on value engineering and innovation in order to achieve best results for its clients. Roadbridge's client base is ever expanding and it pride ourselves in maintaining strong customer relationships and ensuring client and end‐user satisfaction.
Roadbridge Civil Engineering & Building Contractors
Crossagalla,
Ballysimon Road,
Limerick.
V94 X2E1
Tel: 00353 (0) 61 414874
Fax: 00353 (0) 61 414767
Email: [email protected]
Taken from Irish Trucker & Light Commercials magazine, Vol 19 No 3, April 2016