Ground breaking work
21/11/2016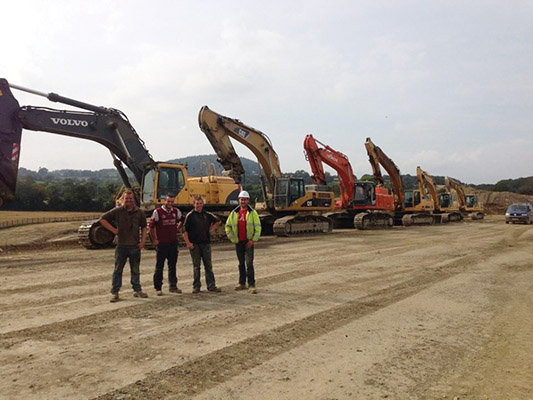 The construction industry has certainly improved over the last year or two as there are more and more jobs springing up all over the country.
While, the housing sector may still be slow enough, there is work ongoing in other areas of the industry as the development of schools, corporate businesses and roads are keeping the majority of those involved in this sector busy.
There are many different trades within the construction industry and one of these is plant hire and ground works, which are a specialised area catered for by a few companies around the country.
When it comes to providing a top quality service in this sector, there are few to rival Clare based Atlantic Plant Hire & Contract Crushing Ltd.
Established in 2005 by Gearoid O'Callaghan, this firm has grown over the last eleven years and from its base in Kilkee, a nationwide service is on offer that covers a wide range of work.
The background to the business has seen Gearoid diversify from one sector to another over the years.
"I would have had a background in Agri-hire, but I always had an interest in construction and decided to offer a service in that and the business grew from there," said Gearoid. "These days all our work is construction based."
Gearoid and his sister Catriona who is also a director of the company have worked hard over the years to develop the business into what it is today.
Services include providing a comprehensive range of plant and machinery like a range of diggers from 13 to 70 tonnes, different types of crushers including jaw, impact and cone. Rock breakers, screeners, bull dozers, loading shovels and low loader shovels are also available for hire with or without an operator.
"Our broad range of equipment for hire includes excavators, rock-breakers, dump trucks, tractor & dump trailers, bulldozers, drilling rigs, crushers, screeners and Low-loaders.
"We have a massive range of machinery and one thing we have going for us is that we are sure to have the machine that fits the customers' needs.
"We are competitively priced also, while we have a highly trained staff with all of our drivers being fully trained and having the proper certs necessary to operate the machinery.
"We operate nationwide, providing a full service of plant hire, contract crushing, drilling and blasting and low loader services, for contract or hire, but the majority of our work would take place in the Munster and Connacht regions."
Gearoid revealed that major investment has been placed into the business with the machinery being upgraded on a regular basis.
"Our machines are maintained regularly and updated yearly to reduce breakdowns and increased durability and productivity. Just before Christmas, a new Sandvik Crusher was bought as well as a 52 tonne excavator and that came from Whelan Plant Sales in Ennis. We would do a lot of business with them and find them very good to deal with."
Gearoid added that they have a number of contracts ongoing at the moment which is keeping them busy for the foreseeable future.
"At the moment, there are jobs ongoing in the Galway Wind Park, which is located between Moycullen and Oughterard. We are also working on the N17 Tuam motorway where we are doing a lot of blasting and crushing.
"The crushers are brought to the site and the rock is recycled for the base of the roads. Another job we have on at the moment is at the Moneypoint Power Station which is Ireland's largest electricity generation station and only coal-fired power station."
Atlantic Plant Hire uses the motto that no job is too big or small and they are happy to take on any work no matter what the size of the task may be.
"Our work varies from job to job and nothing would be too small for us. We would still do a lot of work for a number of quarry businesses in the area and these are customers that have been with us from the very start."
Through their own quarry, they can offer all grades of crushed stone, all grades of clean stone, drainage stone and shale, which means that on any given job, they can offer a full range of services.
Drilling and blasting is a skilled service that takes a great deal of preparation with safety being paramount throughout this procedure.
"We provide a complete blasting service. We have drilling and blasting licences as well as a shotfirer licence. Health & Safety is of the utmost importance to us and all our employees are very experienced when it comes to this area."
Atlantic Plant Hire also does land reclamation, site work, bulk earth moving, making them one of the leading providers of this type of work.
"We are happy with the direction that the business is going. We can certainly notice an upturn in the industry and hopefully that will continue for some time to come. I feel that if we can continue to provide the level of service that our customers have become used too then we will be ok. We have come through the recession and managed to keep going, so we have learned a lot from that.
To get a quotation from Atlantic Plant Hire feel free to use the contact details below.
Atlantic Plant Hire
Dough,
Kilkee,
Co. Clare

Plant Hire
Gearoid - 087 242 4111 - [email protected]
Quarry
Catriona - 087 269 8889 - [email protected]
Taken from Irish Trucker & Light Commercials magazine, Vol 19 No 3, April 2016