A Crushing Experience
11/11/2016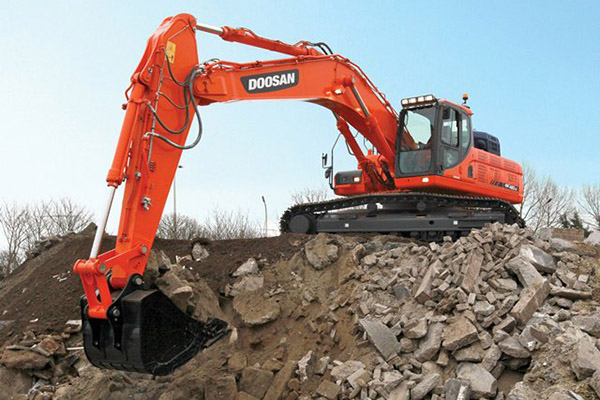 Demolition and site clearance are specialised areas of the construction industry that require an experienced team to carry out a project.
There is certain legislation needed and rules and regulations to be adhered to in this sector, but that has not stopped some rogue operators from continuing to ply their trade.
However, the majority of companies play by the book so to speak, and they are the ones who offer a better service to their customers.
One such firm is Down based F McParland & Co Ltd who has been providing a loyal and efficient service to their customers for 55 years now.
The company was established in 1960 by Felix McParland whose initial focus was on supplying sand and gravel to the local builders and other customers.
This remained the businesses main service for many years, until, they slowly began to diversify into demolition and plant hire.
Around 25 years ago, Felix's son Frankie came on board and has helped bring the company forward ever since. For this month's edition of Irish Trucker, we profile F McParland & Co Ltd and find out how does a business last so long in such a competitive industry.
"My father always said 'a wee fire will keep you warm, while a big fire will burn the arse off you' and what he was referring too was us not getting too big, we are a small enough operation and try to keep the overheads down and I think that is one of the main reasons that we have lasted so long," said Frankie.
As stated the company specialises in site clearance, demolition and plant hire. This involves the hiring of diggers, track machines, rockhammers and tipper lorries all of which come with experienced and skilled drivers.
F McParland & Co Ltd also provides clay, topsoil, screened topsoil, crushed stone as well as demolition salvage and site clearance.
Based in Newry, this experienced company offer more than their competitors as not only will they do demolition work, but they have the option of removing all waste from the site to their licensed transfer station if the customer wishes.
"We use the sand quarry as a landfill now for all the waste materials. We have our own crushers and screeners that are used on site. We recycle as much stone as possible too.
"This is an extra service that helps the customer save some money. When they come to us, they know they don't have to contact another firm to dispose of the materials as we will do it all in the one package and it saves them all that hassle."
Frankie admitted that they are currently very busy and an ongoing project is the demolition of an old creamery in Armagh where a new Tesco's will be constructed.
"We are very busy. In saying that, we have 12 lads working with us now, compared to 20 a few years back, but we're happy enough with the workload. The majority of lads have been with us for years and they are very experienced and skilled at what they do. This is a family run business and apart from the lads on site, we have Ann and Denna in the office looking after the administration side of things."
F McParland & Co Ltd is a professional outfit, and they have all the necessary legislation needed to carry out their duties to the highest standard.
"We have all the ISO's and certificates that we need to run the business properly and there are about eight or ten companies in the north here who would do the same. All these cost money, but you have to have them."
One of the company's biggest customers is the DOE in Northern Ireland who look after the roads and they have a contract to draw their construction waste, while they would also do work for many of the local authorities in the north.
To carry out their duties to the highest standard, Frankie and his team need reliable machinery and this is an area that they pay close attention too.
"We would upgrade the machinery every few years and we would do all our own maintenance work. Recently, we purchased a new High Reach Demolition Machine. It is essential to keep the machinery in good working order as you don't want it breaking down on a job, as it's not only a bad reflection on us, but on most jobs, you have time constraints and the last thing you want is breakdowns.
"We have our own trucks to move the plant. I actually collect vintage trucks and have four old Scanias at home, which I bring to truck runs."

F McParland & Co
44 Glenn Road, NEWRY, Down,
BT34 1SW
Tel: 028 3082 1260 Fax: 028 3082 1260
Email: [email protected]
Taken from Irish Trucker & Light Commercials magazine, Vol 19 No 2, March 2016