Mar-Train are one of a kind
26/10/2016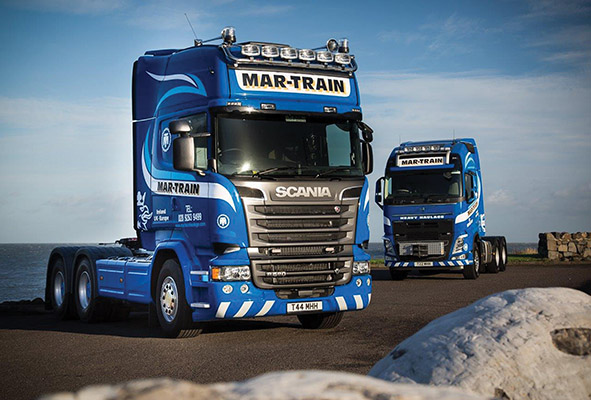 Heavy haulage is one of the most skilled areas of haulage as attention to detail, health and safety and concentration levels are paramount in order to ensure a load reaches its destination.
To carry out this type of work a top of the range fleet of trucks and trailers are needed to see the job through. To this end, not many can rival heavy haulage company Mar-Train Heavy Haulage Ltd, who have set high standards for the type of haulage.
In recent years, Mar-Train have become the first heavy haulage company to have bases both in the north and south of Ireland. Their Northern base being established in 1979 by Sammy Martin, while two years ago, a depot was opened on the Docks Road in Limerick under the business name of Mar-Train Heavy Haulage Ireland Ltd. They provide their services throughout Ireland, the UK and Europe.
Sammy's son Tim and his wife Sonya have looked after the day to day running of the business for over 20 years now and they have continued the ethos of the elder Martin for hard work and customer satisfaction, which has stood them in good stead over the years.
This year was another first for the company as they became the first haulage firm in Ireland to own the new Mercedes Benz Actros SLT.
The SLT is larger, longer, tougher and stronger that any of its predecessors. It is an 8x4 tractor unit which has been systematically designed and built for heavy haulage enabling it to carry up to 250 tonnes.
This new model has set new benchmarks in comfort, vehicle performance and flexibility and it brings heavy haulage into a new dimension, while the cab alone delivers the living and working comfort needed by heavy haulage drivers.
"We are delighted with the new truck. It is an Actros SLT 4163 GigaSpace 8x4 tractor unit which has the Style-Line interior design equipped with driver and co-driver ventilated suspension seats, auxiliary hot water heater, luxury bed top and bottom and leather steering wheel," said Tim.
"Our drivers are away for weeks at a time so it is essential for them to have their comfort as the trucks are their 'homes.''
Mar-Train operate a fleet of 22 trucks between their two depots with Scania, Volvo, Mercedes and DAF making up the fleet.
"We also have an extensive range of trailers. The majority of our semitrailers are Andover and Broshuis Trailers and we actually have a brand new Andover arriving shortly. We were the first company in Northern Ireland to operate modular equipment and after continual investment we now boast 30 axle lines, clamp sets, vessel bridges and beam trailers.'
The company has maintained and indeed extended its customer base over the years with the latest addition to the client list being the McAvoy Group.
"Business is going well and we've grown year on year. However, in saying that, each year is a challenge with the continued increase in overheads. Fortunately we have managed to expand our customer base.''
"A lot of planning goes into the transport of heavy equipment and abnormal loads. We have a great experienced team to look after every aspect of the business from the traffic and accounts staff, drivers, to steersmen and in house mechanics. The drivers we have are very experienced and they are excellent at what they do. You know that when they head off with a load, it will get to its destination on time."
There is a great emphasis placed on maintenance and ensuring that the fleet is kept in pristine condition at all times.
"Reliability is a key factor in this industry and we operate a tight maintenance schedule for all vehicles and try to maintain a young fleet by changing them regularly.''
Carrying such extreme loads means that a great deal of attention has to be given to the health and safety of not only the drivers but other road users and the load itself.
"We would be very pro-active when it comes to health and safety. Each project dictates bespoke risk assessments and method statements. We are continually updating our systems to ensure compliance with all the Health and safety regulations. We are members of the The Fleet Operator Recognition Scheme (FORS) which is an accreditation scheme that aims to improve fleet activity throughout the UK and beyond."
Tim added that no two jobs were the same, so different approaches have to be taken for each of them.
"I suppose in one respect it never gets repetitive as all jobs are generally different. Our goal is to make sure the customer is satisfied with what we are doing and so far we seem to be doing that. Hopefully we can continue to do so for many years to come."

Mar-Train Heavy Haulage Ltd
5 Ballycarngannon Rd,
Lisburn
BT27 6YA, United Kingdom
Phone:+44 28 9263 9499
Email:[email protected]martrainhaulage.com
Taken from Irish Trucker & Light Commercials magazine, Vol 19 No 2, March 2016