Playing it cool with South West Refrigeration
11/10/2016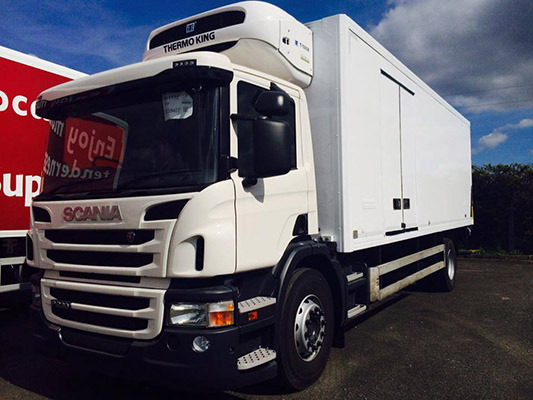 Operating out of Annacotty Business Park in Co Limerick, South West Refrigeration are truck and trailer specialists in transportation refrigeration sales and service. Irish Trucker magazine met up with Frank Quin to discuss the history and current well-being of the business.
Every truck and trailer, but especially the refrigerated unit, needs regular maintenance and inspection.
As agents for ThermoKing, South West Refrigeration provide their customers with a comprehensive service ranging from vehicle insulation and refrigeration to computerised fault finding.
Established in 2003 by Frank Quin, South West Refrigeration is a trusted and respected company specialising in the management and control of temperatures.
Along with expert advice, they use quality components and equipment at sensible prices to meet all your refrigeration installation, repair and maintenance needs.
Offering second to none knowledge and service, South West Refrigeration's 5000 square foot workshop, complete with all the mod-cons, is located in Annacotty Business Park, Co Limerick and they have the might of ThermoKing to fall back on.
Industry leaders ThermoKing offers a comprehensive range of product solutions specifically designed for the transport temperature control industry.
They pride themselves in the research and development of market-leading innovative solutions to ensure they continue to offer their customers the most reliable, efficient and effective products.
"I'm a qualified fitter and went working for ThermoKing making units. I spent five years there and they were looking for someone to take on an agency down here so I went for it," replied Frank when asked the background to the setting up of the business.
"The competition is slowly fading out because if you are not a main dealer or a sub dealer, you're always going to be fighting a losing battle.
"Martin Liddane has been with me since the start and we've been based here in Annacotty Business Park for the past 15 years."
Highly trained in service and repair on all makes of transport refrigeration units, Frank and Martin are available 24 hours a day, 365 days a year to help with any issue their customers may have.
Qualified CERTI-TECH technicians, they have service plans to suit their customers needs and budgets and are the perfect service partner.
Frank strives to ensure that the customers are happy with the service that South West Refrigeration provide and is always looking at ways to improve their work ethic.
He stocks an excellent inventory of parts to minimise downtime and get your refrigeration units serviced and back on the road. They understand the value of their customers time and getting your unit up and running in the absolute shortest time possible is their number one priority.
"We are dedicated to providing a top quality service and we try to go that extra mile for our customers. If they are not happy with us, they will go elsewhere, but fortunately we have a good relationship with all our customers.
"Service and cost effectiveness would be the two things that we pride ourselves on. We're in the fortunate position to have a lot of loyal customers from Limerick, Tipperary and part of Clare who are happy with the service we provide and long may that continue."
Technology has transformed the way the transport industry conducts its business and Frank's line of work is no different.
"It's a challenge every day because software and computorised equipment is changing so rapidly. It can be hard to keep on top of it but myself and Martin attend training courses every year."
With an eye on the future, Frank is happy with the scale of the operation at present and there are no plans for expansion. Indeed, his primary objective is to continue to provide a friendly, co-operative and flexible service, overcoming any potential obstacles along the way to ensure that any completed jobs meets the requirements of the customer.
"Expansion is not at the cards at the moment," he revealed. "Some days we're busy but two is enough here to cope with the workload as things stand."
South West Refrigeration's aim is to exceed their customers' needs and expectations and ensure they are completely satisfied. Customers can be assured of honest value for money when they call in to Annacotty Business Park.

South West Refrigeration
Unit 4A
Annacotty Business Park
Annacotty, Co Limerick
Tel/Fax: (061) 338611
Mob: (087) 2755803
Taken from Irish Trucker & Light Commercials magazine, Vol 19 No 1, February 2016