One of Irelands premier coach/commercial vehicle repair, servicing and bodywork centres
07/10/2016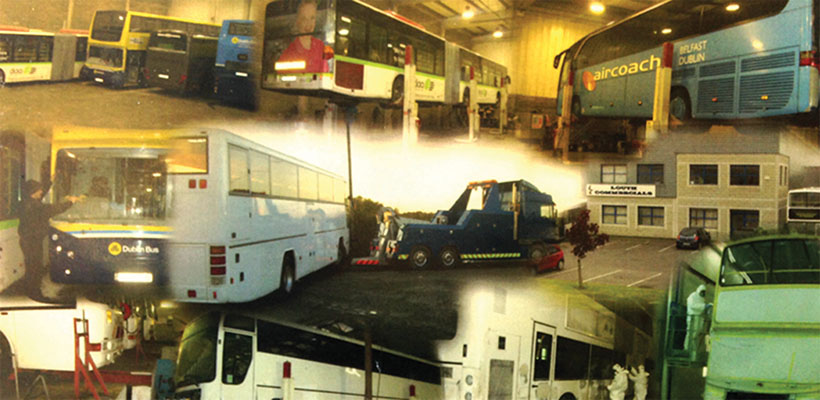 With state-of-the-art depots in Readypenny, Dundalk and Airport Business Park, Dublin, Louth Commercials specialises in the servicing, repair and maintenance of coaches, buses and commercial vehicles. We caught up with director Paul Mullen to find out more about this exceptional family-run operation.

Louth Commercials offer a full range of repair services to the bus and coach industry as well as the haulage sector. Core activities include the servicing and repair of all PSVs and HGVs; accident repairs; body refurbishments (floors, seating glass etc.; structural work and fitting); modification work; auto-electrical; anti-corrosion treatments; and computer diagnosis.
Operating two fully-equipped commercial vehicle workshops in Dundalk and Dublin, with a vast range of cutting-edge equipment and tools to provide optimal fault-finding and repair solutions on coaches and trucks, Louth Commercials employ a team of experienced mechanics / technicians who are City & Guild / Fetac qualified.
To ensure a complete one-stop-shop under one roof, a fully-compliant spray booth has the capacity to paint all types and sizes of buses and commercial vehicles. Meanwhile, an around-the-clock mobile call-out service specialises in mechanical, electrical and pneumatic systems.
Highly-regarded in the industry as an independent repair centre for HGVs and PSVs for 35 years, Louth Commercials have been undertaking work for Bus Eireann / Dublin Bus / CIE for most of this time, having carried out regular maintenance on both school and service fleet vehicles and currently maintaining a portion of the school bus fleet in the Dundalk, Drogheda and Cavan areas as part of the existing school bus maintenance contract.
In addition to mechanical maintenance, they also carry out body repairs, accident damage and re-finishing work for both public and private operators.
Paul Mullen is co-owner and director of the family business which was established in 1980 by his parents, Frank and Rosaleen Mullen. Regarding the genesis and early years of the company, he reveals: "It started off centred around repairs and breaking vehicles for parts. We also operated a transport company at that time.
"Indeed, Louth Transport Ltd. is our registered name, as we were a transport company initially. We started doing our own repairs and maintenance and then started to do repairs for others. By the mid-80s, the volume of repairs had overtaken the road haulage. We continued with the haulage up until 1993/94 and then sold that end of the business to our then transport manager. We've been concentrating solely on the commercial repairs ever since."
Louth Commercials have the facilities and capacity to carry out literally any work on a coach, bus or commercial vehicle, from general maintenance and repairs to crash repairs, diagnostics, respraying, refurbishments, fitting etc. etc. Skilled personnel play a key role in the success and sheer professionalism of the operation:
"All of our technicians would have served their time with us," says Paul. "For example, Paul Durnin, who runs the Dublin depot, started here as an apprentice in 1987/88 and has been with us ever since, bar a year in Australia. A number of our mechanics also served their time here.
"We have brought in dedicated HGV specialists who are ex DAF and Mercedes guys and others who worked previously in the agri end with McGees in Ardee."
Between the two workshops, employment is generated for a team of 26, plus the directors. "The auto electricians and the guys who specialise in crash repairs can be transferred between the two depots as and when required."
The fact that Louth Commercials boast a long-running partnership with Ireland's largest internal transport company speaks for itself. "We have been working for CIE since the early '80s and that work has continued with Bus Eireann and Dublin Bus," Paul confirms. "This work is the backbone of our business and we're very proud to be associated with them.
"We maintain a section of Bus Eireann's school fleet as well as a crash repairs, bodywork, respraying programme. We also implement an underbody corrosion protection programme, a refurbishment programme and carry out modifications to buses.
"For Dublin Bus, one of our main contracts is the vehicle refinishing / repainting programme. We do other work for them as well from time to time, including refurbs and conversions etc. For example, we were recently commissioned to build a recovery vehicle for them.
"As an agent for Alexander Dennis Ltd.'s warranty work, we have specialist knowledge of looking after those vehicles when they go out of warranty as well."
While the work carried out is primarily in the bus and coach sector, a considerable amount of commercial vehicle servicing and repairs is also completed.
"About 75% of it would be bus and coach," Paul estimates. "We also work for local haulage and oil companies, close to the depots."
To run a cutting –edge operation such as Louth Commercials necessitates huge investment. "Things are evolving very quickly in terms of the technology that's in the vehicles, so you have to invest in the latest diagnostic gear and also keep all of the lads up to speed," Paul agrees. "We do on-the-job familiarisation, with back-up from the likes of Alexander Dennis.
"If you haven't got the right equipment, you can't do the work. We are continually investing in equipment, installing new facilities and upgrading existing ones – you have to if you want to remain in operation in this business."
Considering that every euro counts, how difficult is it to provide a quality service at a competitive price? "You have to try to strike a balance but you can't ever compromise on safety when it comes to vehicles. Cost is always a factor but safety has to be the No.1 priority. We will never compromise on safety to meet a budget.
"You just can't paper over the cracks when it comes to public service vehicles. Obviously, you do everything in your power to keep costs down to the minimum, but safety is at the forefront of everything we do."
In addition to the aforementioned public contracts, regular work is also done on behalf of Aircoach as well as local private companies such as Collins Coaches, Matthews Coaches, McCabe Coaches and Halpenny Travel.
Looking to the future, Paul Mullen promises that Louth Commercials will continue to deliver the high-quality services for which they are renowned. "We'll keep doing what we do best," he concludes. "We have a couple of irons in the fire regarding expansion and the future development of the company, which could see us diversify further. We'll see how that goes.
"Our staff have played a massive role in the success of the business. Key staff and good people are very important and we've been lucky in that we have been able to delegate accordingly. Paul Durnin runs the Dublin depot; Alan McCourt is financial director; Enda Sweeney looks after customer care and logistics; Gerry McMahon is the workshop manager in Dundalk. All of those lads have been here with us for a long time now and we really appreciate the work they have done is getting us to where we are today."

Louth Commercials,
Readypenny, Dundalk, County Louth.
Tel: 042 9379168
Dublin depot: 01 8447513
Mobile: 086 3845352,
Email: [email protected]
www.louthcommercials.com
Taken from Irish Trucker & Light Commercials magazine, Vol 19 No 1, February 2016