The road surfacing suppliers and specialists
05/10/2016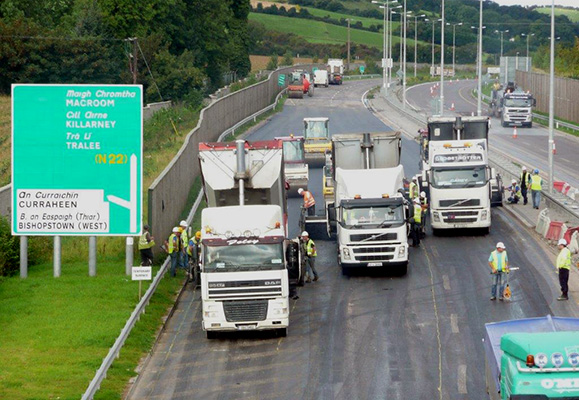 Lagan Asphalt Group Ltd is a leading provider of road surfacing and contracting services, based in Ireland and the UK, and operating internationally in both the public and private sectors.
With a heritage spanning over 50 years, the Lagan Group companies rank among the leading quarry materials, bitumen, construction products and civil engineering companies in the market. Lagan has evolved from a successful quarrying company to become a diversified and leading Group of independent and privately-owned construction, manufacturing and civil engineering companies. Products include bitumen, asphalt, aggregates, special surfacing products, sand and screeds. Contracting services span diverse civil engineering activities with notable expertise in the construction and surfacing of highways and airfields.
Lagan Asphalt carries out asphalt contracting in conjunction with the supply arm, Lagan Macadam. Asphalt manufacturing plants are strategically located throughout Ireland to provide nationwide coverage as follows: Cladybeg, Co. Armagh; Aughamore, Co. Sligo; Tulla, Co. Clare; Aughnacliffe, Co. Longford; Kinnegad, Co. Westmeath; Ballycoolin, Dublin 11; Bennettsbridge, Co. Kilkenny; Carrigtwohill, Co. Cork.
James McManus is contracts manager of the Armagh Asphalt (Lagan North East) plant in Cladybeg which produces approximately 40,000 tonnes of asphalt surfacing for footpaths, cement bound pavements, carparks, roads and motorways each year, and employs 20 people. In existence since 1998, Armagh Asphalt is a 2.25T batching plant with the capacity to produce 150 tonnes per hour. There are hot storage bins for 250 tonnes of materials and a fully-equipped laboratory for the testing of aggregates and coated materials.
James' role entails pricing works and laying out a programme for completing works. He also coordinates the supervision and completion of the contracts liaising with customers. "We source our aggregates from Loughran Quarries and bitumen from Lagan Bitumen. We supply to a wide range of customers in the border counties, from local authorities and County Councils to private clients," said James.
Rather than running its own fleet, Armagh Asphalt subcontracts its transportation work to well-respected haulage operators. The company has implemented strict requirements for hauliers in relation to vehicle maintenance and compliance with road traffic regulations.
The Armagh depot has been involved in the construction of some of the country's largest road projects. It supplied the M1/A1 Newry to Dundalk scheme with approximately 200,000 tonnes of asphalt materials and also supplied to the N3 upgrade scheme.
Internationally, Lagan Asphalt Group has recently completed production and installation of 15km of A1 highway in Poland at a cost of €23 million. The UK division of the company is currently working on a €80 million surfacing package of the M8, M73 and M74 in Scotland. It has also secured a €6 million contract to supply polymer modified bitumen for an expressway in Oman on the Arabian Peninsula.
The Lagan Asphalt Group is always mindful that it operates in a community and therefore has a valuable role to play in supporting and engaging with its neighbours and making sure its operations make a positive contribution to the locality. Aside from the social and economic benefits of offering local direct and indirect employment, the management at Lagan are very focused in practical terms on ensuring that there is minimal potential for nuisance of any sort for the local community arising from their activities.
Committed to protecting the environment, Lagan Asphalt Group has implemented an Environmental Management System which is third party certified as meeting the requirements of the ISO 14001:2004 standard. On all contracts, the company implements impact assessments to mitigate any or potentially adverse environmental impacts.

Lagan Asphalt Group (Head Office)
Rosemount Business Park
Ballycoolin Road
Dublin 11
+353 (0)1 885 9999
www.Laganasphaltgroup.com
Taken from Irish Trucker & Light Commercials magazine, Vol 19 No 1, February 2016