JJ Griffith - standing the test of time
28/09/2016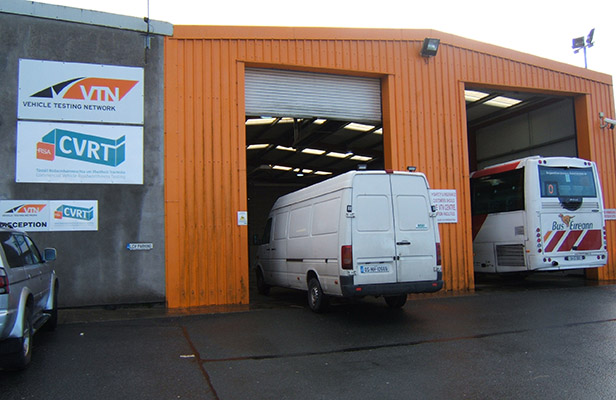 As well as being main Ford dealer for Mayo / Roscommon, JJ Griffith Ltd. also provides an outstanding CVRT service from its well-appointed Claremorris base. We caught up with service manager Kevin Hora to find out more about the full range of services provided to commercial vehicle owners in the west.
As service manager with JJ Griffith Ltd. on Main Street, Claremorris, Kevin Hora oversees the on-site CVRT test centre as well as the workshop and bodyshop. With a second outlet in Castlebar, the Griffiths Motor Group supplies customers in the west with an outstanding range of new commercial vehicles, 4x4s and passenger cars as well as stocking a great selection of pre-owned vehicles.
The aftersales service is second to none, incorporating everything from servicing and maintenance to parts & accessories, crash repairs and – of particular interest to readers of this magazine – light and heavy commercial vehicle testing.
Friendly, professional and efficient solutions are provided at all times in a cost-effective and hassle-free manner. This is why JJ Griffith Ltd.'s reputation for excellence has spread far and wide, with a large number of repeat (and new) customers from counties Mayo, Galway and Roscommon availing of the services on a regular basis.
Kevin has been part of the close-knit, experienced team at JJ Griffith for a quarter of a century. "We've been providing the HGV and LCV testing for 23 years and are the only heavy goods vehicle tester in the region," he notes. "So we attract customers from a pretty wide catchment area, including all of East Mayo and parts of West Galway – Clifden, Connemara etc. – and West Roscommon - Ballaghaderreen, Castlerea etc."
The test centre, which was newly-built from scratch six years ago, is located adjacent to the garage / workshop on a large and convenient site on the edge of town. "The new facility was built in 2008/09 - a brand-new test centre on a greenfield site with two drive-through lanes – one for light commercials and one for heavy vehicles – as well as all the latest testing equipment and tools. We're on a 20-acre site on the outskirts of Claremorris, on the Ballinrobe Road, offering ease of access to our customers and no delays whatsoever."
Considering the customer-orientated nature of the service provided, it's no surprise to learn that JJ Griffith's commercial vehicle test centre is extremely busy. "We're completely booked up a minimum of one week in advance and even longer during busier periods of the year," Kevin confirms. "I would always recommend people to book early because there is big demand for the tests."
Any advice for those who are taking their vehicles in for the annual test? "At this stage, most people are familiar with the test and what it entails and what it requires. We get a lot of repeat business. People know what's going on and they have learned a lot down through the years. Commercial vehicle owners and operators are generally looking after their vehicles and it's very seldom that they will dispute anything that arises during the test."
As they also operate a full, state-of-the-at commercial vehicle workshop, JJ Griffith can also provide a repairs service if required, in the event of a vehicle coming up short. "We do repairs on all commercial vehicles in our main workshop. We are equipped to work on any commercial vehicle up to 7.5 tonnes or any coach or bus up to a 25-seater."
In keeping with the group's status as main Ford dealer for Mayo and Roscommon, commercial vehicles are much more than a mere afterthought at JJ Griffith Ltd. With the Fiesta Van, Focus Van, Kuga Utility, Courier, Transit and Ranger featuring prominently amongst the most sought-after LCVs in Ireland, Ford is renowned for high-quality, economical commercial vehicles and the Claremorris / Castlebar dealership boasts substantial commercial vehicle expertise.
"Commercials would account for a very big part of the overall business," the service manager continues. "We are the main supplier of vans to Irish Rail, Dublin Corporation and Galway Plant & Tool [which is also owned by JJ Griffith Ltd. MD Jim Hughes].
"We've experienced a good pick-up in business in the last two years and we've been employing an extra tester in the workshop for the last 18 months. On the testing side of things, we currently employ three full-time, plus one in admin, out of a total staff of 23 in Claremorris."
While the recession posed obvious difficulties, the CVRT centre came through largely unscathed. "There was a definite drop-off in heavy testing during the downturn, because a lot of owners were gone out of business, but that was compensated for by the introduction of the one-year tests," Kevin notes.
One of the great strengths of JJ Griffith Ltd. is the vast experience and knowledge of the staff. "Nearly all of our employees have been here a large number of years. For example, two of the testers have been here since we started testing in 1992, while the sales manager is here over 30 years, the parts manager has been here for 23 years and I'm here 25. So, as a team, we have been here a long time and everybody knows their part in the business."
There's no doubt that the business as a whole is in a very strong position going forward. "We opened the new bodyshop 15 years ago and the new test centre in '09, so we are in a good place," Kevin concludes. "We also opened the second branch in Castlebar four years ago, so – despite our experience - we are still a fresh, young business, moving with the times, as the market demands.
"We are the sole repairers for Royal Sun & Alliance and have a modern spray booth, paint shop etc. We have every base covered, even valeting – so every vehicle leaves here like new.
"Ford is always running a number of very good offers and special deals, which we are happy to extend to our customers. We sell a lot of second-hand LCVs and we also have a wholesale parts van out on the road covering Mayo, West Roscommon and East Galway. At the end of the day, we are here to offer our customers whatever products and services they demand."
JJ Griffith Ltd. has been a great success for three decades and more. One gets the distinct impression that there's plenty more to come from this outstanding operation!

JJ Griffith Ltd.,
Main Street, Claremorris, County Mayo.
Tel: 094 9371055
Email: [email protected]
Taken from Irish Trucker & Light Commercials magazine, Vol 18 No 10, December 2015/January 2016