Donnell & Ellis - the weight specialists
21/09/2016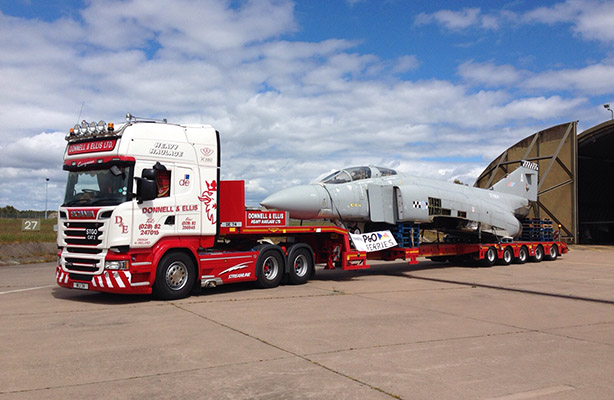 To say the haulage industry is underestimated by people would be an understatement, but the fact is that without trucks on our roads, the global economy would come to a halt.

Big trucks are the bane of motorists for many years, but without the transportation of goods, where would we be today.
The haulage industry is arguably the most competitive business to be involved as margins between success and failure are a very fine line.
There are so many issues to deal with on a daily basis that anyone outside and never involved in the industry would beg to ask the question why bother?
But for those that are involved, the majority possess a common trait which is that it is in their blood as many of the more successful haulage operators are family run businesses that have been on to go for at least one generation.
Many would say that you would want to be mad to work with family and obviously it brings its own problems on occasions, but in the main, the one type of person that you can always rely on is indeed family.
Transporting abnormal and heavy loads can be daunting task, but not for the experts and leading the way in this field of expertise is Donnell & Ellis Heavy Haulage Ltd.
Specialised in heavy and abnormal loads, Donnell & Ellis operate throughout the UK and Europe and are well respected in the industry for their reliability and unrivalled service. The experience of their management team, combined with the capabilities of their specialised haulage equipment, means that this company can fulfil a wide range of haulage needs and find a cost-effective solution to every transport problem.
The company cover every aspect of transporting wide and heavy loads and this includes: conducting route surveys, obtaining necessary permits, removal of obstacles (temporary or permanent), liasing with police and the organisation of third party equipment such as cranes.
Owner of the company is William Donnell who established the business in 1991 and for this month's edition of Irish Trucker, we profile the Omagh, Co Tyrone based company and speak to Transport Co-ordinator and William's brother Trevor about the company's move to a larger premises.
Donnell & Ellis Heavy Haulage are now in a new location after the company bought the old Nestle factory in the town and converted it into their headquarters, which they moved into last May.
A big investment was placed into this and it is a work in progress, but Trevor revealed that they are delighted with the move.
"We only moved a few hundred yards up the road, but it is to a much larger premises. It is actually an eleven-acre site, We have developed a two-bay workshop which includes a 25 metre pit as well as a rolling road and top of the range machinery. We have four mechanics there full time and they not only look after our fleet, but we do outside work as well.
"The office space is also completed, while we have a warehouse let out that facilitates cold and chilled store rooms."
Trevor admitted that the work done has improved the landscape of the town as the factory had been lying idle for a number of years.
"The locals have been impressed by the buildings and the way they have brightened up the town. There is still plenty of work to be done, but it will happen through time."
On the road, Donnell & Ellis Heavy Haulage Ltd have developed a reputation for offering an experienced service and the fact that 95% of their customer base is repeat custom tells its own story.
"The experience of our management team and equipment operators, combined with the capabilities of our specialised haulage equipment means that we can fulfil a broad range of haulage needs and find a cost effective solution to every transport problem.
"Mostly, we would be transporting machinery associated with the quarry industry, but we also do general haulage as well, particularly groupage between Ireland and the U.K.
The fleet consists mainly of Scania trucks with a couple of Mercedes also operating on a daily basis. The trailers consist of low loaders and flats including some 44 metre trailers with both hydraulic and air suspension and have interchangeable and extendable components. In addition, Donnell & Ellis operate their own maintenance service to ensure that all equipment is serviced and maintained to the highest standard and will be fully operational when required by a customer.
"We keep the trucks and trailers fairly fresh and they all undergo the six-weekly checks which are now necessary. Maintenance is a key part of this operation."
Being involved in the heavy haulage industry means that no two jobs are the same and from time to time they are involved in hauling something unusual.
"Earlier this year, the Ulster Aviation Society brought in and RAF Phantom plane which they got us to transport for them. The plane was originally from the U.S and we transported the fuselage for them. It was an iconic job to be involved in and we're delighted to say that everything went smoothly."

Donnell & Ellis Heavy Haulage Ltd
46 Beltany Road,
Omagh, County Tyrone,
Northern Ireland,
BT78 5NF
E-mail: [email protected]
Tel: 028 8224 7015
Taken from Irish Trucker & Light Commercials magazine, Vol 18 No 10, December 2015/January 2016