A Model operation
14/09/2016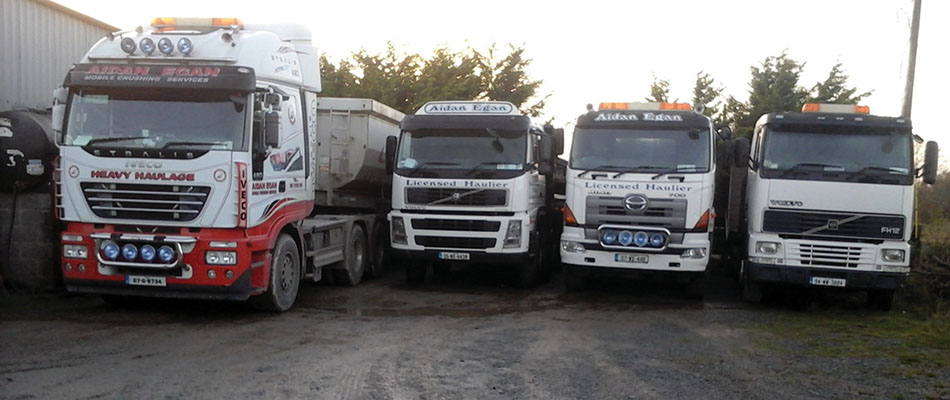 Established in 1994, Aidan Egan Sand & Gravel specialises in quarrying, mobile crushing, heavy haulage and low loader hire, muck shifting and site clearance. The Enniscorthy, Co. Wexford-based concern is run by husband-and-wife Aidan and Patricia Egan.
When it comes to the supply of top quality sand, gravel and stone, Aidan Egan Sand & Gravel has few equals in the South-East. But there is much more to this busy family-run business than its name suggests.
Mobile crushing, heavy haulage and low loader hire, muck shifting and site clearance are just some of the other services provided. The company has come a long way since Gorey man Aidan packed in his job as a driver and started out on his own at the age of 24 with a second-hand Hino ZM tipper. He now operates a fleet of four trucks as well as a range of trailers, quarrying and crushing equipment and track machines.
"We're currently running Volvo, Hino and Iveco trucks. We have Volvo and Hino tippers, the Iveco is a double-drive, while the other Volvo is a beavertail. The tipper trucks have white cabs with blue bodies. We recently bought a new Faymonville low loader from Joe Mooney in the Ashbourne Truck Centre and are looking forward to taking delivery of it and putting it into use," Aidan explains.
Aidan always makes sure his vehicles are in pristine condition so that they give a good impression of his company. He employs two full-time staff and others on a part-time basis. Customers are on first-name terms with Stephen O'Reilly, who doubles up as a driver and a machine operator, and John Breen, who is a mechanic and driver. Aidan's professional, efficient, reliable and friendly staff have undoubtedly played their part in the company's growth and success over the years.
Other equipment / plant operated by Aidan Egan Sand & Gravel include Pegasus mobile track crushers, Powerscreen track screeners, two 50 tonne track machines (one New Holland and one Hitachi) with six tonner rock breakers and a Volvo L150 loading shovel.
Maintenance is carried out in-house by the aforementioned John Breen, while the trucks are sent to Somers Commercials in nearby Camolin for their annual CVRT (Commercial Vehicle Roadworthiness Testing) test. Aidan usually buys his parts from Gethings in Enniscorthy or Penders in Bunclody.
The workshop, office and yard are located in the townland of Finchogue, which is only a stone's throw from the sandstone quarry Aidan rents in Drumgoold. From here, he extracts and supplies a wide variety of crushed stone, gravel and aggregate types to hundreds of farmers and small builders throughout Co. Wexford for drainage, filling, road-making and construction purposes.
Crushed stone grades are categorised by the size of the stone after it has been crushed. The size of the stone determines what application it will be best used for. Aidan Egan Sand & Gravel has the capacity to produce several grades of crushed stone, including 4" down, 3" down, 2" down (Clause 804) and 2" clean.
"We like to think that we supply the best stone in Wexford. We have a growing customer-base and won't be beaten on quality, service or price," the affable company director says.
Aidan's mobile crushing service has proven to be a great success, with Conway's Concrete in Kildavin, Bunclody and Kilmurray Precast Concrete Ltd in Mullingar among his best customers in this regard.
"I saw an opening for this service during the recession when things had gone quiet in our own quarry. Instead of selling our crushers and screeners, I decided to hire them out to other quarries. We offer specialist crushing and screening services to a number of well-known companies throughout the Leinster region," he continues.
Aidan is also delighted to be able to offer heavy haulage and low loader hire, muck shifting and site clearance services to his clients. He has the equipment to move anything from heavy plant to timber products.
"While most of the heavy haulage and low loader work we do is for ourselves, we also get a lot of requests from local businesses to carry out similar work for them. No job is too big or too small. Whatever they want moved we'll move it for them. Great care and attention goes into every job we undertake."
He concludes by saying: "Patricia and I would like to take this opportunity to thank our customers for their support and loyalty over the past 20 years. We look forward to attending to their needs for many more years to come."
Aidan Egan Sand & Gravel
Finchogue,
Enniscorthy,
Co. Wexford.
Telephone: 053 9238203
Mobile: 087 2466650
Email: [email protected]
Taken from Irish Trucker & Light Commercials magazine, Vol 18 No 10, December 2015/January 2016