Premium raw materials from the Garden County
23/08/2016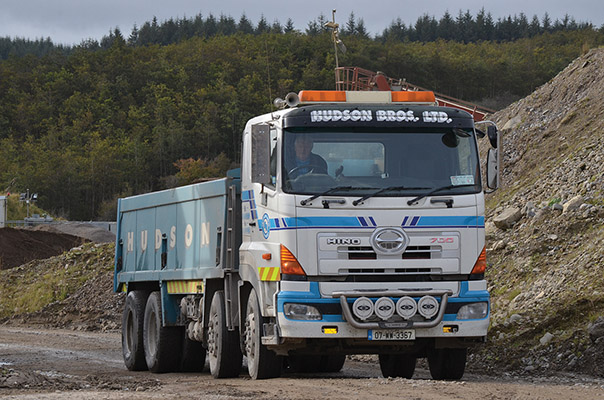 On October 2nd, 2015, Hudson Brothers – who supply the construction sector with high-quality building raw materials - took delivery of a brand-new Renault Range C430 Night & Day cab tipper complete with Thompson body.

The stunning new vehicle represents a statement of intent from the long-established County Wicklow headquartered family-run operation. We travelled to their well-appointed quarry in Blessington and met up with sales and aggregates manager Tom Hudson to find out more.

Hudson Brothers Ltd. was established in 1971 to supply raw materials to the civil and construction industries. During the intervening decades, the business has grown organically, providing products and service levels that are second to none.
The state-of-the-art materials production facility at the company's Phillipstown Quarry in Blessington, County Wicklow incorporates modern grading and washing plants for the production of sands and quality limestone pebble, while an immaculately-maintained in-house distribution fleet can meet even the most demanding of schedules.
The Phillipstown site also boasts a static rock crushing plant, which is used to produce crushed graded materials from a sandstone source also at this site. Various grading and crushing mobile plant is also deployed throughout the quarry in addition to a large mobile fleet of dumpers and numerous excavators.
The range of building materials supplied to the civil engineering and construction sectors in the greater Dublin area includes aggregates (maintained to EN13242 standards), topsoil, washed grit sand, mortar sand, plastering sand, pit rejects and one-tonne bags.
Reflecting on the genesis of the superb second-generation family business, Tom Hudson notes: "It was started up in the early 1970s by Paddy, Peter and Sean Hudson. Today, the second generation is in charge – Devin (MD), John, Peter Jnr. and myself
"All materials are produced here in our quarry in Blessington – sand & gravel, crushed rock and one-tonne bags. We have built up a substantial client base supplying to the civil and construction industry, builder providers and private householders. The vast majority of our work is in Dublin and we're currently doing a lot of work for John Paul Construction, Joe Miley & Partners and Rattigan's."
While the construction sector still has a long way to go before a complete recovery can be confirmed, Tom sees signs of a slight pick-up: "Activity in construction has increased and it's recovering slowly. Things have definitely improved slightly and there are signs that the industry is moving in the right direction again."
A fleet of eight trucks delivers materials from the quarry in the Garden County to sites in and around the capital. Up until recently, the fleet comprised Hinos exclusively but in early October, a brand-new 152-reg Renault C430 8x4 tipper was collected from Setanta Motors on the Longmile Road. Explaining the thinking behind the new acquisition, Tom comments: "Our fleet were showing signs of ageing, as we last purchased trucks in 2007, therefore its essential that we start to upgrade our fleet and the warranty offered with the Renault was something that nobody else could match.
"Setanta gave us the opportunity to test drive a demonstrator truck which we found to be to our liking. We carried out a lot of research before deciding which one to buy and everyone we spoke to had great things to say about Setanta and the levels of service they provide. They came highly recommended and the four-year warranty means a lot. It's a big investment but we are confident there will be plenty of work for the truck and we have the peace of mind in knowing that it's covered by an unrivalled warranty and back-up.
The fuel economy seems to be very good on it as well. There's a good likelihood of adding a second new truck to the fleet next year. We'll be looking to continue updating the fleet because after the first five years maintenance and repair bills start to become frequent."
Including subcontractors, employment is generated by Hudson Brothers for a team of 30 people. All in all, Tom is confident that the future is bright for this long-running family operation. "We still have ample reserves of material, so there's plenty of life left in the quarry itself," he concludes. "We'll continue to provide our customers with a good quality product and an excellent service to ensure we remain as a main provider to the market.
"We're at this a long time now and we've earned a solid reputation in the industry. Even before this business was set up, my grandfather Tom was also involved in the same line of work, so we like to think we know what we're doing."
Hudson Brothers Ltd.'s outstanding record for supplying the highest-quality and certified raw materials proves that this is most certainly the case!
Hudson Brothers Ltd.
New Paddocks,
Blessington,
County Wicklow.

Tel: 045 865880 Fax: 045 857017
Email: [email protected]
Taken from Irish Trucker & Light Commercials magazine, Vol 18 No 9, November 2015