Close Brothers increases financial support in Ireland with five key appointments
04/08/2016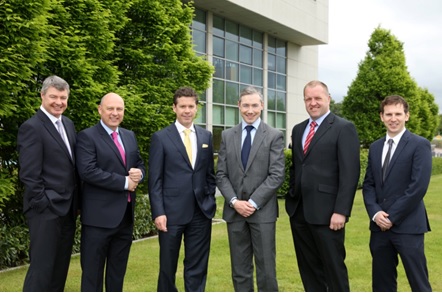 Close Brothers Commercial Finance, part of Close Brothers Group plc, has appointed four new Sales Directors and an Area Manager to provide asset finance solutions to the SME sector in the Leinster and Munster regions.
These new positions, reporting into Regional Sales Directors Gavin Smith and Robert Keane, boost the existing asset finance team which now comprises 15 Sales Directors supporting businesses across Ireland.
Pat Buckley (Sales Director), Matthew Dolan (Sales Director), Kenneth Havelin (Sales Director), Anthony Aylward (Sales Director) and Darren Robinson (Area Manager) bring a wealth of experience to Close Brothers from a wide range of industries, including motor and commercial vehicles, farming, technology and engineering. It is this extensive understanding of businesses in Ireland that will enable them to work with SMEs to create uniquely structured, bespoke finance packages.
Adrian Madden, Head of Sales at Close Brothers Commercial Finance said, "I am thrilled to welcome the lads to the Close Brothers team. Businesses in the Leinster and Munster regions will benefit hugely as we have strengthened our team. I am excited to see the difference that they will make in helping firms to invest in the future."
Close Brothers Commercial Finance helps hundreds of companies across Ireland achieve their objectives by offering a wide range of flexible funding solutions, including asset finance, invoice finance and asset based lending. Asset finance is now the fastest growing finance option on the market and Close Brothers tailors products such as hire purchase, leasing and refinancing to enable the purchase or refinance of capital equipment.
Madden continued, "We are experiencing ever-increasing demand for funding while our own research indicates that almost 60% of all Irish firms plan to invest at least €25,000 in their business over the next 12 months.
"According to the Close Brothers Business Barometer, almost a quarter (23%) of all Irish SMEs expect their business to expand in the next 12 months. At Close Brothers, we continue to demonstrate our commitment to local businesses - and their growth plans - through our award-winning alternative finance solutions."
For more information about Close Brothers Commercial Finance, please visit https://www.closecommercialfinance.ie/