Exciting times for Proudfoot Motors CVRT
13/06/2016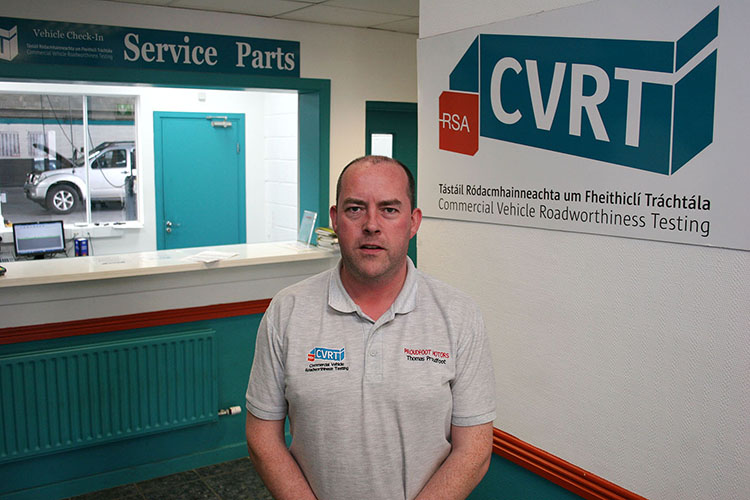 Proudfoot Motors, formerly Nobber Motors, has relocated to state-of-the-art new premises at Beechmount Home Park in Navan, with a superb new drive-through CVRT facility at the heart of the rebranded operation.
We caught up with proprietor Thomas Proudfoot to take a closer look at one of the Royal County's premier light and heavy commercial vehicle testing sites.
Twenty-fifteen has been a landmark year for Proudfoot Motors – a one-stop shops for all commercial vehicle testing and servicing needs - who have moved their previous Nobber and Navan operations lock, stock and barrel to a well-appointed new location in Beechmount Home Park, just off Navan's Trim Road.
To coincide with the Road Safety Authority's appropriation (from County Councils) of responsibility for overseeing Commercial Vehicle Roadworthiness Testing, a state-of-the-art new CVRT is at the hub of the new Proudfoot Motors facility.
Proudfoot Motors / Nobber Motors have been providing commercial vehicle testing services for a quarter of a century and they are now better placed than ever to continue to offer customers a prompt and efficient testing solution that is second to none.
The CVRT Commercial Test Centre in Beechmount Home Park carries out annual inspections on behalf of the Road Safety Authority on all types of light and heavy commercial vehicles – vans, trucks, trailers, jeeps, minibuses, coaches, camper vans etc. Embracing state-of-the-art technology, the modern testing equipment used by professional, certified and experienced technicians is compatible with the latest EU regulations.
In January, 2015, Proudfoot Motors announced on their Facebook page that they would be collating their two Nobber Motors outlets in Nobber and Navan under one roof in Beechmount Home Park, with the new LCV and HGV test lanes to open in March and the same vehicle sales, servicing, repairs and parts services for which the Proudfoot name is known far and wide to be retained.
Main dealer for Isuzu and SAAB, Proudfoot Motors provides sales, service and CRVT testing from 8:30am until 5pm Monday to Friday and also from 8:30 am until 12:30 pm on Saturdays. These hours can be changed if required to suit specific customers and avoid downtime, with out-of-hours, early-morning appointments possible by special request.
They can also service vehicles on the same day as the test and carry out any repairs required to ensure that the vehicle passes. When a vehicle fails initially, it is possible to have the necessary repairs carried out on the same day.
Proudfoot Motors stocks a comprehensive range of original SAAB and Isuzu parts along with various other brands. Using their electronic parts catalogue, they can conveniently identify any part within a matter of seconds. From new and second-hand sales to servicing, repairs, parts and testing, a personal touch is provided at all times and excellent customer relations are guaranteed across all aspects of the business.
Proudfoot Motors are a Stoneridge tachograph fitting centre, capable of fitting, repairs and calibration as well as vehicle dimension plates and speed limiter calibration.
When it comes to commercial vehicle testing, Proudfoot Motors puts 25 years of experience to good use at its stunning new facility. "We started testing in Nobber, as Nobber Motors, in 1990 but Proudfoot Motors is a brand-new business," Thomas Proudfoot explains. "In conjunction with the RSA's overhaul of the testing network, we took the opportunity to relocate and reinvent our business. We have formed a new company and opened a brand new CVRT testing facility which meets with all RSA regulations and we have ceased operations at the previous two sites."
The spacious and conveniently-accessible test centre comprises one HGV test lane and two LCV lanes, all of which are drive-through. "The testing area is a stand-alone area and we also have extra workshop facilities to carry out any repairs or general servicing on any type of vehicle, from a car to a truck," Thomas notes.
The impressive 33,000 square foot premises – which is a retrofit of a previous business – was completed at a significant investment over a nine-month period and will be central to bringing this long-running family business forward into the future. "We would like to sustain what we have and also to increase our business as we are centrally located now in the county town. We are the only commercial test centre in either Navan, Kells or Trim and we should get a lot of new business for that reason."
At the time of writing, a team of twelve was employed at Proudfoot Motors but Thomas is confident that this figure will rise to twenty in the not-too-distant future. Regarding the changes which saw the RSA assume responsibility for regulating testing, he adds: "It met with resistance across the network in the beginning, but once it is standardised and consistent across the board, it can only be a good thing.
"Commercial vehicle testing has always been busy here and it feeds work into your garage as well. One complements the other and we are a one-stop shop providing the full solution, including new and used vehicle sales.
"The real beauty of this new test centre is its accessibility. We are close to the town centre yet there won't be any issues with HGVs getting in an out as we are in an industrial estate with total ease of access. We've been testing here since March 19th and we're very happy with how it's going so far."
Readers of this magazine will be pleased to learn that Thomas intends to further expand his services to commercial vehicle owners and operators. "I have recruited a couple of HGV mechanics and we are picking up a lot more fleet work now," he concludes. "This is definitely an area we'll be expanding into more and more."

Proudfoot Motors
Beechmount Home Park
Navan, County Meath
Phone: 046 9096100
Email: [email protected]
www.proudfootmotors.ie
Taken from Irish Trucker & Light Commercials magazine, Vol 18 No 7, September 2015