Testing, testing, 1,2,3 ...
17/05/2016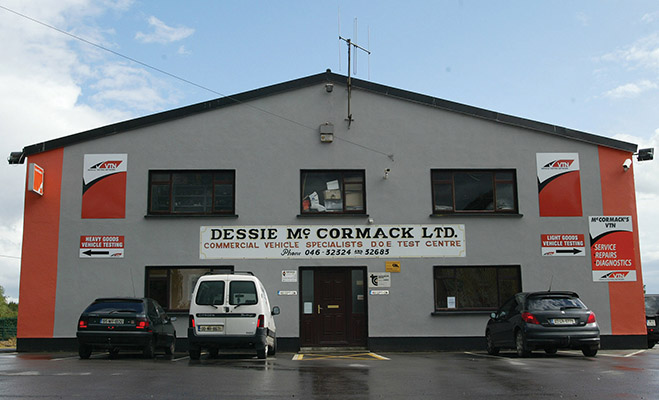 It's been a challenging time for the commercial vehicle industry in general since the economy went belly-up some seven years ago, but Dessie McCormack Commercials Ltd. in Athboy, County Meath has come through the downturn unscathed and is in fact busier than ever. We met up with manager Leslie McCormack and got an update on day-to-day activities at this exceptional, family-run commercial vehicle workshop which doubles up as Meath's longest-serving commercial vehicle test centre.
There have been huge changes in the commercial vehicle testing sector in recent years. Since the Road Safety Authority assumed responsibility for the supervision of commercial vehicle testing from the local authorities, with the CVRT (Commercial Vehicle Roadworthiness Test) superseding the VTN (Vehicle Testing Network), a brisk increase in testing activity has been recorded at Dessie McCormack Commercials Ltd. in Athboy, which has been testing for 30 years and as such is Meath's longest-established commercial vehicle test centre.
"Since the change came in, with the RSA taking full control of the testing in October 2013, we have experienced a 15-20% increase in the volume of testing," Leslie McCormack confirms. "Obviously, this also has a knock-on effect on repairs in the workshop and the garage has been busier too.
"Operator compliance testing is also up since the changeover, so at the moment we are actually busier than we've ever been. The figures will obviously level off at some point but, for the time being, there has been a surge in activity at all the test centres.
"Commercial vehicle sales are also up again since the worst days of the recession and that has also benefited us. Overall, things are busy and the emergence of the CRVT has been a great development. When we were presented with the projected figures before the changeover took place, we were sceptical and didn't really believe them, but we have been pleasantly surprised and can certainly have no complaints."
The new ten-year commercial vehicle testing licence was secured in June, 2014 and it's now full steam ahead at Dessie McCormack Commercials. No major changes were required to bring the test facility up to the standards required by the RSA as the long-standing County Meath centre already had virtually all the requisite equipment and procedures in place. Thus, the changeover was seamless.
"We've invested in tidying the place up a bit, a few tweaks here and there but nothing major," Leslie confirms. "We've installed a new drive-through and a new headlamp tester for the HGV lane, for example."
Employment is provided to a team of eight. Founder Dessie McCormack still oversees the operation, while Leslie handles heavy and light commercial vehicle testing and Thomas and Mark Cloone are also on hand as testers. A fourth tester will be introduced in the foreseeable future.
Having served his time in Smithfield Motors in Dublin, Dessie set the business up in 1972 and operated as a sole trader up until 1980, before moving into the current premises on the Dunderry Road. It was all repair work up until the mid-1980s, when Dessie took over from Tara Motors and started doing testing.
Providing a premium service throughout every facet of the operation and operating out of a state-of-the-art 5,000 sq ft workshop, Dessie McCormack Commercials Ltd. also specialises in servicing and general repairs of light and heavy commercial vehicles and trailers.
As it handles both testing and subsequent repairs, Dessie McCormack Commercials Ltd. is very much a one-stop shop for all mechanical and electrical maintenance and testing needs. With convenient access and a quick turnaround in a spacious facility, the keen family business provides an efficient service at an affordable rate, ensuring optimal customer care at all times.
As well as servicing, repairs and CRVT testing of HGVs, LGVs and trailers, Dessie McCormack Commercials Ltd. is also a fully-approved tachograph (Siemens VDO digital tachographs) and speed limiter centre (using Groeneveld-manufactured digital speed limiters), boasting the latest diagnostic equipment and a team of highly-skilled technicians to complete every task with the minimum of fuss and maximum client satisfaction.
A 24-hour recovery service is also provided, as well as brake tests, wheel alignment and pre-tests.
In terms of workmanship, Dessie McCormack Commercials Ltd. is a versatile and dependable concern, able to provide the discerning haulage fleet operator or owner-driver with a full range of services. No job is too big or too small and every task is treated as a priority, with a professional and affordable solution guaranteed on trucks, vans and trailers, from diagnosis to repair, servicing to maintenance.
In terms of diagnosis, the latest diagnostic equipment is used, including Wabco and Texa for trucks, trailers and coaches and Autocom for lighter vehicles. "We're also doing van and car repairs now and have joined the Automester network of independent garages for cars and LGVs which is run by Hella Ireland and offers a viable alternative to main dealers. As a member of Automester, you maintain your complete independence but have access to the latest technological information and diagnostic tools for all vehicles," says Leslie.
All mechanics and technicians are experienced and fully-trained, with an in-depth knowledge of all aspects of ABS, EBS, engine management etc.
Dessie McCormack Commercials is in a central location to take in the nearby County Meath urban areas of Navan, Kells and Trim, all of which are within a ten-mile radius of Athboy. Business also goes into neighbouring Westmeath, including Delvin, Raharney, Clonmellon, Castlepollard etc..
Leslie McCormack, who joined the family business in 2005, having served his time as a HGV mechanic with Harris, main Hino agent on the Naas Road, is cautiously optimistic about the future prospects of the business: "Like every other garage, we have noticed an upsurge in repairs and in servicing work. We have also been busier than ever with test work and we will be adding more staff members if this trend continues.
"The average age of a car or light commercial vehicle in Ireland is up to eight or nine years old now and that has a positive knock-on effect for independent garages.
"We also provide commercial and car tyres and are in the process of being approved as an NSAI-approved centre for type approval of vehicles and trailers.
"Traditionally, our area of expertise has been commercial vehicles – trucks, trailers, coaches – and this remains the case, but we also started to do cars during the downturn and continue to do that as well."
If it's got wheels, Dessie McCormack Commercials Ltd. will look after it!

Dessie McCormack Commercials Ltd.
Dunderry Road,
Athboy,
County Meath

Tel: 046 9432324
Taken from Irish Trucker & Light Commercials magazine, Vol 18 No 6, August 2015