T Nolan for all your trucking needs
01/04/2016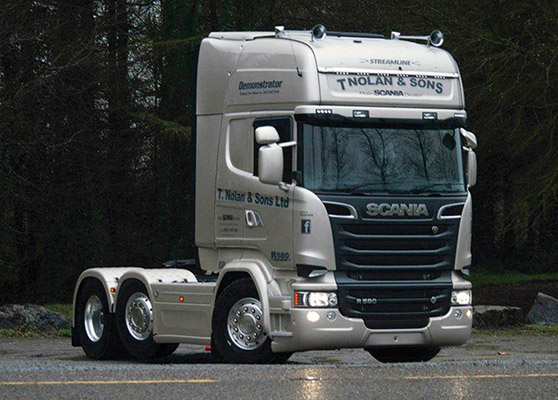 When it comes to a one-stop shop for all your trucking needs, then the hauliers of Kerry and surrounding counties don't have to look any further than Castleisland based T Nolan & Sons.
This family run business has been providing a top quality service to a large customer base since the company was first established by Tom Nolan in 1980.
For this month's edition of Irish Trucker, we are going to profile the business and speak to Tom's son Diarmuid about the services that they provide.
T Nolan & Sons offers a wide range of services that include CVRT Testing, Scania dealership, 24hr breakdown service, parts department, service and repairs, analogue and digital tachograph along with many more services.
"When the business was first set up by my father, he was repairing and maintaining trucks. A few years later, an opportunity arose for him to take on the Scania dealership and ever since we have been selling new Scanias, while we also have a strong second hand market," said Diarmuid.
"He then got the licence for the test centre and we have been testing trucks ever since. About eight years ago, the R.S.A took over the CVRT and we had a new test centre built on the premises.
"This has two bays, one for heavy and one for light commercial vehicles. Two years ago, we started A.D.R testing. Time have changed dramatically over the years and there is a lot more legislation attached to the testing of vehicles, which has helped make the industry more legit and this can only be a good thing."
T Nolan & Sons is very much a family business as Diarmuid's brother Tom and sister Mary are also involved in the day to day running of the business.
"I think customers like dealing with a family run business more so than any other as we offer that personal touch. We would be on good terms with all our customers, many of who have been with us for years now.
"We will always endeavour to help the customers as much as possible and in any way that we can. We know that they don't want their trucks or vans off the road for any longer than is necessary.
"That is why we offer 13-week inspections where customers bring their trucks in and we give them a look over and fix any problems on them. This is very beneficial to the customer as cuts down on unnecessary costs for them and then generally when they come in for the CVRT, they pass no problem."
Diarmuid revealed that their wide range of services means that their customers can get almost anything done with them.
"We perform legal inspection and repair of analogue tachographs in-house. Analogue tachograph inspection and repairs are also carried out.
"We maintain and repair Scania Buses and Coaches. All requested work can be arranged for. This service is available after hours and/or at your location on request.
We download data from driver cards and digital tachographs. We perform legal inspections of digital tachographs. Digital tachograph legal inspection. We maintain and repair Scania Industrial and power generation engines.
"We provide brake performance tests on a roller brake tester. We are authorised to sell Scania Parts and Scania Accessories. We provide towing and recovery service in-house with our own personnel and our own vehicle. We maintain and repair trailers. The company is authorised to sell Scania trucks.
"Maintenance and repair of Scania Trucks is another service provided by us. We sell used vehicles and provide a heavy vehicle washing service.
"Laser tracking, calibration, trailer maintenance and all aspects of tachographs are catered for here and customers know that the work will be carried out to the highest standard."
With 25 employees in the firm, Diarmuid acknowledged that without them, none of the success that the company has had over years would have been achieved.
"A lot of the staff that is here would be with us many years now. They are all highly trained in each of their areas and I would like to thank them for their efforts and hopefully we can continue in that trend for many years to come."
Diarmuid admitted that business had picked up in the last couple of years following a some lean times during the last recession. "Between 2009 and 2013, sales were down, but we came through that and there has been an improvement year on year since. The future certainly looks bright for us.
"I would also like to thank our customers who have stood by us over the years. They know what to expect when they come to us and that is a high level of service and as long as we can continue to do that then they should be happy and once they are, so are we."
T Nolan & Sons
Limerick Road,
Castleisland ,
Co. Kerry
Day phone: +353 (0)667141140
Fax: +353 (0)66 714 1777
Taken from Irish Trucker & Light Commercials magazine, Vol 18 No 5, July 2015