A long road
14/03/2016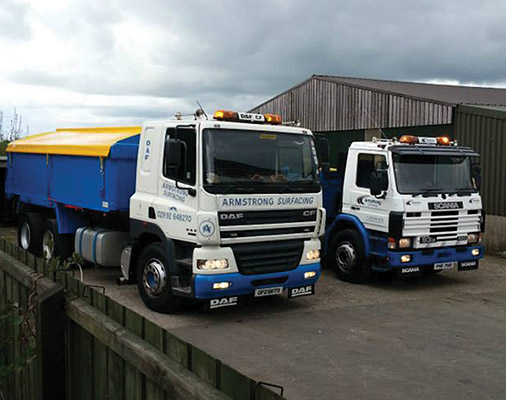 Lisburn based Armstrong Surfacing (also known as Robert Armstrong) has been supplying a service to the people of Northern Ireland since the early 1900s.
These days this family run business specialises in the laying of asphalt and brick paving along with numerous other services that include hard landscaping, coloured pebbles, spraying and sealing, kerbing and drainage works, car parks, shop forecourts, civil engineering works, building sites, site preparation, laneways, driveways and utility work and patching.
However, when the Armstrongs first went into business, it was in the quarrying industry when John Armstrong began to supplying sand and gravel from their Whitemountain quarry to local customers.
When the quarry was then sold to Lagan, it could have been the end of the Armstrong business, but three generations since John first began the business and the family name is still going strong today.
John handed the business to his son Robert who in turn passed it on to his first born Robert and now the latest generation sees Robert's sons Richard and Robert Jnr look after the day to day running of the business.
"The name Robert is very prominent in our family alright," joked Robert jnr who spoke to this month's edition of Irish Trucker about the services that they provide.
"The business dates back to the early 1900s when my great grandfather John first opened the quarry in Whitemountain. These days, we specialises in the laying of asphalt and other services."
Robert revealed that they offer a turnkey service in that they will go in and do all the work from start to finish i.e turn a green field site into a carpark.
"We would do all the work from start to finish. This saves the customer from having to source different contractors so each stage of the job, so they can avoid that hassle."
Working in conjunction with the customer is something that Armstrong Surfacing has always prided itself on. "Being a family run business, we understand that each customer is unique with individual requirements. We offer free quotes and work closely with them from consultation to completion of work; ensuring their satisfaction at all times," added Robert.
"With over 80 years' experience in the surfacing business, The Robert Armstrong family has built up an excellent reputation for our exceptional customer care and expertise which has resulted in many new and returning customers."
The company has seven employees and all are highly trained in what they do, ensuring customer satisfaction on every job that they complete.
"Our highly experienced team are experts in the laying of asphalt and bitmac surfacing throughout the commercial, industrial and domestic fields and are all fully qualified through the CSR – Construction Skills Register."
Armstrong Surfacing are proud to be one of the leading surfacing companies in Northern Ireland and their customer base covers the private and public sectors.
"A lot of our customers would be with us year and we would have a lot of repeat work from them. Of the projects that we are currently working on, we are doing a Car Park for Avenue Recycling in Belfast, we are also working on 8km of water mains for Loughside Transport, while we have completed a number of projects for the DOE here in Northern Ireland.
"Armstrong Surfacing can provide you with a prompt and efficient service and we always start and finish our jobs on time. We promise to deliver an exceptional standard of service and we have the tools and knowledge to meet any customer requirements, no matter how large or small the job may be. Armstrong Surfacing has worked alongside many companies including HBS, Piperhill Construction, Colas and McQuillan to name just a few."
Robert puts their longevity down to the level of service they provide and to the fact that they never got too big, meaning they could keep their overheads down.
"We were never interested in getting too big and focused on keeping things tight, which I feel has stood to us over the years. It would be easy to get carried and take on a load of work and more employees, but we are happy with the direction that the business is heading and once the customers are satisfied then so too are we. Our reputation precedes us at this stage and as long as we can maintain the level of service that our customers are used too, then I don't think we will have any problems going forward."

Armstrong Surfacing
35 Stoneyford Road
Lisburn BT28 3RG
Tel: 028 9264 8270
Email: [email protected].co.uk
Taken from Irish Trucker & Light Commercials magazine, Vol 18 No 5, July 2015