Keeping cool in WestCool Refrigeration
15/02/2016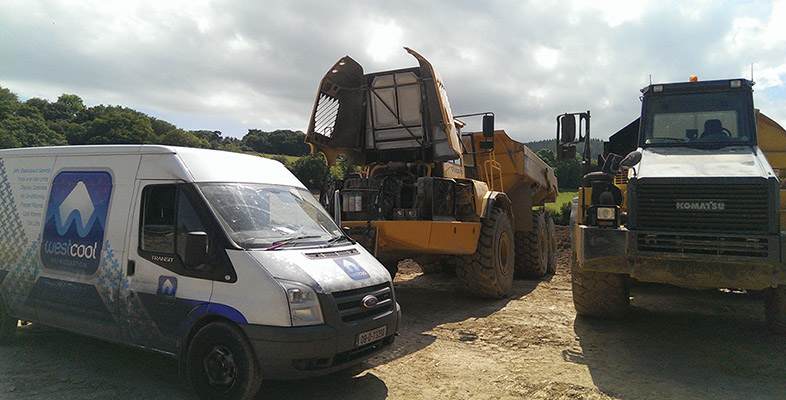 In less than a decade, Patrick Diskin has developed WestCool Refrigeration into Connacht's leading supplier, installer and repairer of transport and commercial refrigeration systems. We travelled to Knock to get an insight into the history and current well-being of this exceptional business.

WestCool Refrigeration is a flexible, customer-focussed transport and commercial refrigeration business based in County Mayo and providing sales, installations, servicing and repairs for all types of refrigeration units - as well as the installation and repair of air conditioning units and hydraulic tail lifts.
As a local west of Ireland business, WestCool can guarantee a same day response time and offer a 24-hour emergency breakdown service for its main catchment area of counties Mayo, Sligo, Galway and Roscommon. In addition to this, the Mayo company also operates a nationwide repair service and has clients as far afield as counties Donegal, Clare and Dublin.
The range of products / services provided includes: installation, fit-out, serving and repair of transport refrigeration and insulation for trucks, trailers, box bodies and panel vans (including a lot of fleet work); industrial / factory equipment and cold stores; agricultural bulk tanks for dairy farmers and creameries; commercial, retail and display units; air conditioning units and hydraulic tail lifts
All types of transport refrigeration units, roof-mounted condensers, monobloc refrigeration systems and direct drive units can be sourced and supplied including Thermo King, Carrier Transicold, GAH, Hubbard, Coldchain, Konvekta. WestCool Refrigeration carries a large range of parts for these units and offers an affordable servicing and repair service.
They can also provide cold stores services to the industrial and agricultural sectors, including meat factories, food processing plants, dairy farmers and creameries. Furthermore, they can repair, service and maintain a wide range of industrial equipment such as large chillers and freezers, pharmaceutical and chemical storage, abattoirs etc. as well as installing, servicing and repairing a range of tanks for dairy farmers, creameries and factories.
Meanwhile, a wide variety of commercial and retail refrigeration equipment is supplied to supermarkets, shops, butchers, fishmongers, pubs, restaurants and hotels. Through everything they do, WestCool Refrigeration pride themselves on a high-quality, reliable service at competitive prices, made possible by low overheads and extensive experience of refrigeration servicing and repair gathered by the business founder over the past two decades.
Reflecting on the genesis of his multifaceted operation, founding proprietor Patrick Diskin notes: "I started out in 2006 on a part-time basis providing transport refrigeration repairs, service work and a bit of installation – mainly for people I knew. At first, I did it alongside my job but as I got more and more customers I decided in '09 to go at it full time."
Having served his apprenticeship with Ballinlough Refrigeration as well as a stint with Athenry Refrigeration, Pat has a vast knowledge of the refrigeration sector. "As well as the transport refrigeration, we also supply and fit a lot of cold stores - walk-in freezers and cold rooms," he confirms. "We go wherever the work is for these and have fitted in Derry, Dublin and Offaly, for example. There's huge demand at the moment for second-hand cold rooms and freezer rooms and I'd always have a good stock as we take trade-ins."
As he is 100% independent, Patrick and WestCool are not indebted to any particular manufacturer and can provide free, impartial advice to customers as to what is the best unit for their individual needs: "Some customers already have a preferred unit in mind and some don't," he states. "We will talk to each customer about what exactly he needs and will give them advice on what is the best way to proceed. We actually sell a lot of GAH (UK) transport and vehicle refrigeration units as they are competitively priced and parts are readily available. You don't have to go through a main dealer to get the parts and that's a big consideration.
"Generally speaking, we will talk to the customer and see what they want to do with their van or vehicle, what products they are carrying and how many drops a day they intend to make. These are all factors. Some customers might come to you and just say they want a fridge to do chill work and that price is their main consideration, but you have to weigh up everything because this is a major investment and the refrigeration unit becomes part of the van. You want to get the fridge that is going to perform best for your particular needs – this will obviously save you money in the long run."
While a nationwide service is offered for transport refrigeration, most of this work is concentrated within the local region. "We'd be more locally-known,"
Patrick admits. "We'd concentrate a lot on Galway, Mayo, Sligo, Roscommon, Donegal and Athlone – which is only an hour away. This is an area we can easily cover from the west and the closer your customers are the more convenient it is to offer the best back-up service possible in terms of servicing and repairs.
"But smaller refrigeration companies tend to work together and help each other out. There is a network of smaller companies throughout the country and we can all work together, whether we're based in Mayo, Cork or Wexford."
Thankfully, the recession didn't have any adverse effect on business. Patrick is exceptionally busy - and glad to have things that way… "With the fact that we supply a lot of second-hand cold rooms and freezer rooms, we have been up-the-walls busy for the last few years," the company founder relates. "The hours we are doing are long. I'd put in six or seven days a week, every week and during the summer you could start at 6am and still be working until one in the morning! When there's a hot week, you are flat out but that's the nature of the beast and it's good to be busy."
Servicing is a big part of the operation. "We sell a lot of fridges for smaller vans but not so many for trucks and trailers," says Patrick. "It's really when the truck units are older and out of contract that we come into the equation because our parts and labour rates are much more competitive than the main dealers - but every bit as good."
Looking to the future, the affable founder of WestCool Refrigeration intends to continue moving with the times. "You are always looking at different ways of expanding and providing new services," he concludes. "About four years ago, we started fitting milking parlours for farmers and we are dealers covering the west of Ireland for Fullwood Packo in Cork – that's going really well.
"You have to come up with new ideas. I'm thinking of expanding the workshop area and I have a few other ideas in mind as well to move the business forward. I have one man working full time alongside me and sub-contract other work out when we're really busy, but I'd hope to be in a position to be able to take on another employee before the end of the year. You have to put the hours in in this line of work but so far, so good and we'll see what the future brings."

WestCool Refrigeration,
Rockfield, Claremorris, County Mayo.
Tel: 0818 333808 Mobile: 085 1675730
Email: [email protected]
www.WestCoolRefrigeration.com
Taken from Irish Trucker & Light Commercials magazine, Vol 18 No 4, June 2015