Council pay €5,000 over pothole damage
22/04/2014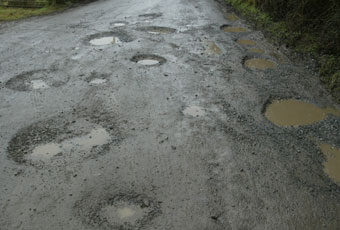 The potholes are so big that they have earned nicknames of the "Claureen Crater" and the "Fanore Fissure".
The Claureen Crater was the cause of €2,100 worth of payouts to 13 claimants but has since been repaired. Councillor Brian Meaney revealed the €5,000 cost to the taxpayer over an 18-month period and hit out at the poor state of the area's roads.
But Ennis tyre repair business owner Pat Foudy claimed "the council got off lightly" in the number of claims made against the Claureen pothole.
He said: "People don't know they can claim against the council for something like that and if the council paid out only €2,000 or so on that pothole, it has done well. Over the few days at Christmas we would have had income of €12,000 from 70 wheels damaged by that pothole."