Mar-Train take delivery of first five-axle step frame
27/11/2013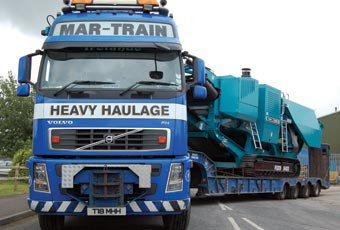 The SFCLEX 85 vehicle, built by Andover Trailers, is worth more than £80,000 and has been equipped with a low profile neck and an extendable frame on the outer boxes, which can pull out by up to 2.5m to accommodate longer heavy-duty Terex crushers and screeners it will transport.
"We have 12 other Andover heavy haulage trailers that have all been built to carry specific equipment or work in certain industries, and it's being able to design something exactly to our needs that keeps us coming back to Andover year after year," says Tim Martin, managing director at Mar-Train.
"The Andover team looked at the machine we would be carrying and then took the time to design a trailer that fulfils all possible requirements," he continues.
"It's so refreshing compared to a lot of trailer manufacturers who simply offer a set number of different specifications and say, 'is that any good to you?'."