Latest Nooteboom Super Wing Carriers for A.M. Kran Wind
16/10/2013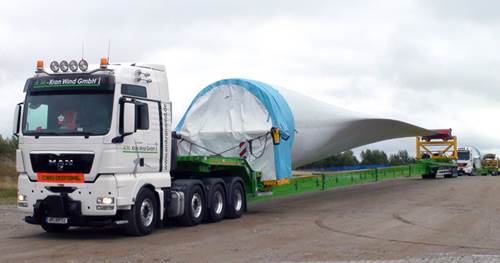 A.M. Kran Wind (in Poland operational since 1997) has been active in Germany for more than 2 years is owned by Maciej Gozdzik, who also owned the polish special transport company EUROKRAN-2 Sp. z.o.o. . To extend their activities in wind energy industry, A.M. Kran Wind is currently investing heavily in the most innovative transport solutions for transporting wind turbines. A.M. Kran Wind recently took into use 3 of the latest generation 3-axle Nooteboom Super Wing Carriers. With these quadruple-extendible wing carriers A.M. Kran Wind has no problem transporting rotor blades of up to 70 metres within Europe.

Comprehensive logistics service
It is Kran Wind's aim to offer a comprehensive logistics service for the wind turbine industry. That's why later this year they will take delivery of a Nooteboom Mega Windmill Transporter to transport tower sections and turbines. And in addition to their Terex CC2800 crane, they also purchased recently a Terex SL3800 crawler crane for the installation of windmills.

More than 50 Super Wing Carriers
Since the development and introduction of the Nooteboom Super Wing Carrier there are more than 50 of these revolutionary transport solutions being used in transport combinations by the main European windmill transport companies. And this number will grow during the coming months. Nooteboom can supply the Super Wing Carriers in various versions, such as the 3-axleTriple Tele-PX with adjustable axle assembly and the latest 3-axle Quatro Tele-PX. This latest version is based on the tried and tested technologies of the successful MCO-PX semi low-loader and has a much lower (quadruple-extendible) load floor, which means that transport operators can plan their route without worrying about the transport height when passing under viaducts. More information about the Nooteboom Super Wing Carrier programme is available on the Nooteboom website www.nooteboom.com.

Reliable & safe
Nooteboom are the inventors of the original Super Wing Carrier as well as a quadruple-extendible Teletrailer. Years of intensive collaboration with wind turbine producers and specialist transport operators and the practical experience gained in this way led to all the essential needs and requirements being incorporated in this wing transporter. The Nooteboom Super Wing Carrier is therefore the most reliable and safest means of transporting ultra-long rotor blades measuring up to 70 metres.