On the road in Limerick
02/09/2013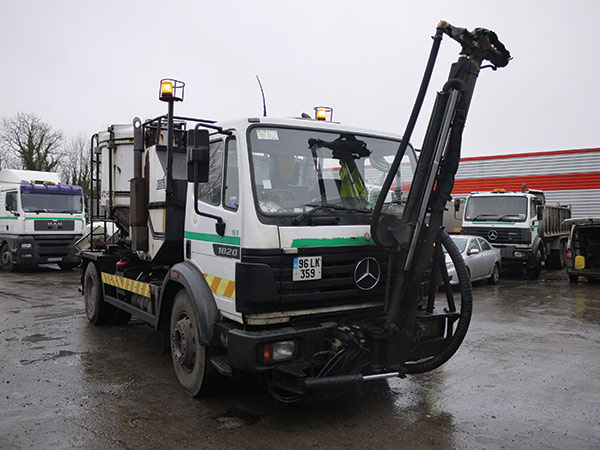 As part of its brief to preserve the local environment, it is also implementing the scheme for the free take-back of old cars, overseeing all directives regarding the disposal of End of Life vehicles (ELVs).

If you are getting rid of an old car, you need to know about new regulations which are effective as of January 1st, 2007 for all end-of-life cars. These regulations introduced an EU Directive aimed at ensuring that old cars are de-polluted and dismantled in a manner that doesn't pose a threat to our environment or to human health.
These regulations place obligations on the producers (i.e. vehicle manufacturers / importers), dismantlers / vehicle scrap facilities and the car owner. Facilities dealing with end-of-life vehicles must meet stringent new environmental standards for the collection, storage and treatment of end-of-life vehicles. These facilities are known as authorised treatment facilities (ATFs).
Old cars should be brought to an authorised treatment facility which will issue a Certificate of Destruction confirming that the vehicle will be de-polluted and dismantled in an environmentally safe manner. The facility will then notify the Vehicle Registration Unit in Shannon and the destruction of the vehicle will be noted in the National Vehicle File. The only document that must be given to the facility is the Vehicle Registration Certificate (RF101) or the log book for the car.
Where an authorised treatment facility accepts an intact end-of-life vehicle, no charge may be imposed by the facility on the owner of that vehicle.
Members of the public should only deal with a properly-permitted authorised treatment facility when getting rid of an old vehicle, as these are the only ones that have met the new environmental standards and can issue Certificates of Destruction.
The authorised treatment facilities for Limerick City and County and their locations are as follows: Auto Towing Ltd. (Bob Sweeney) in Castleconnell; Dan Dooley Ltd. in Knocklong; Dermot Kelly Motors Ltd. in Kilmallock; David O'Riordan in Ballyneety; JM Car Sales & Dismantlers Ltd. in Ballysheedy; John Ahern in Tournafulla; United Metal Recycling Ireland Ltd., Ballysimon; Neilus Healy in Abbeyfeale; Munster 4 X 4 Spares (Seamus Doyle), Lisnagry; Tommy Holmes in Cappamore; and John O'Carroll, Hospital. Contact numbers for these are available on the Limerick County Council website.
Limerick County Council employs over 700 staff, covering managerial, administrative, professional and technical grades. New county manager Conn Murray has overall responsibility for all staff in the county, including the Town Councils.
Paul Crowe, Director of Transportation, Water and Emergency Services, provides the administrative and technical functions for roads and water services while Josephine Cotter-Coughlan, Director of Environment, Community, Enterprise & Library, provides the administrative and technical functions for Planning, Environmental Protection, Waste Management, Libraries, Arts, Culture and Heritage Services.
Limerick County Council is the local authority responsible for administration of the county. Within the county there are three Town Councils – Kilmallock, Rathkeale and Newcastlewest. Each Town Council within the county area comes under the jurisdiction of the County Manager. The Council aims to protect and enhance the quality of life of the citizens of County Limerick and to establish County Limerick as a world class business location.
Kieran Lehane is the manager of Limerick City Council. The transport department has responsibility for the roads network, public lighting, traffic management and the road safety programme.
The roads section provides and maintains public roads, footpaths and public lighting; implements traffic management; and promotes road safety. Its aim is to secure safety and efficiency in the transportation of people and goods by road, which will in turn facilitate increased economic development and maximise the safety of all users of the roads network – motorists, cyclists and pedestrians.
Limerick County Council is responsible for 3,601km of road in the county, which includes the Local, Regional and National Road Network.
The Road Design Office in Lissanalta House, Dooradoyle is responsible for the planning, design and construction of national road projects.
The Roads Section is responsible for the maintenance of the county's road network. This involves a wide range of functions including the following: bridge maintenance, damage to public roads, felling of trees, provision of drains and temporary storage of materials, public lighting / traffic lights / school flashing lights, tree / hedge cutting, working near the roadside, pot hole repairs, road re-surfacing, weed control, trimming of grass verges, signage, the cutting of green areas and open spaces.
It is an offence to de-face, damage or dig up a public road without the consent of Limerick County Council. You can apply for a Road Opening Licence which will allow you to dig up a public road to lay pipes, wires or cables etc. It is also an offence to allow stones, clay or any other material to remain on a public road where by doing so it would cause a hazard or potential hazard to people using the road or obstruct or interfere with the safe use of the road. A fine or up to six months imprisonment can be imposed on an offender.
With winter closing in, a quick note on the Treatment of Roads for Winter Conditions in County Limerick. Of course, it is not possible to guarantee that roads including Motorways and National Routes will be entirely clear of ice at all times as ice can occur on roads at any time and any place not predicted in forecasts. All road users must be alert to any variations in the road surface condition.
Limerick has a very temperate climate given its location between the River Shannon Estuary and the Galtee Mountains in the inland part of the County. This means that weather conditions may and can vary very significantly in any one day or night.
The treatment system which is governed primarily on the National Road network, Priority 1, which is based primarily on the Icenet system, ice prediction software, put in place by the National Roads Authority (NRA). The system involves daily monitoring by the Council's Roads Engineers throughout the season from mid-October to end April each year. This system is supported by and operated in conjunction with the Irish National Meteorological Service, Met Eireann.
As resources permit and depending on prevailing weather, Priority 2 routes, comprising of most Regional Roads and other strategic locations, will also be treated.
With approximately 4,000km of roadway in County Limerick , it would be unrealistic to expect that every road and pedestrian area in the county can be treated.