Nooteboom delivers order worth millions to ALE
22/07/2013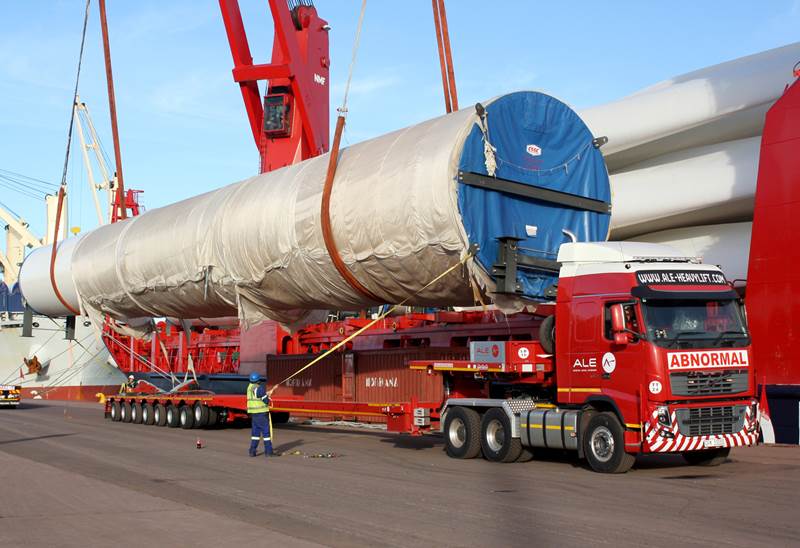 Almost all the (mostly 8-axle) extendible semi low-loaders and 4-axle Quatro extendible Telesteps have by now been delivered and put to work to carry out the very complex logistics of this operation.
ALE will be erecting wind turbines in the Eastern-Cape and West-Coast regions of South Africa. It concerns several wind farms with all together more than 200 wind turbines manufactured by, among others, Suzlon, Nordex and Vestas. The components of these turbines are transported over land from various ports to their destinations. Jan Yntema, Director – South Africa: "We can see important long-term opportunities in South-Africa for wind energy and therefore we made sure to choose the best trailers there are for this application. For us this meant Nooteboom Trailers, because they are widely known to set the trend in innovative solutions for the transport of wind turbines. The superior quality, the specific adjustments for South Africa and the after-service they offer have been the deciding factors here".
ALE
ALE, with their corporate headquarters in Staffordshire (UK), is a global player with a large number of branches in Europe, North-America, South-America, Africa, Australia, the Middle East and the Far East. ALE provides complete solutions for lifting, transporting, installing, ballasting, jacking and weighing large, heavy loads. For the installation of these wind turbines ALE has also invested in 9 new mobile cranes.