Renault Trucks launches insurance
21/03/2013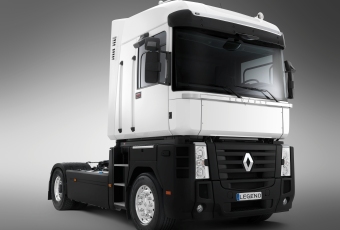 The insurance offer has been developed by professionals for professionals, and offers a full insurance solution. What's more, Renault Trucks is giving a 5% discount on the cost of the insurance to anyone who signs up for the Optifuel fuel saving programme at the same time.

The manufacturer will offer a Renault Trucks insurance policy when the customer purchases a new vehicle, so that it is insured in the best and most appropriate manner for their particular needs. Customers can approach their dealer directly to obtain this 'manufacturer's' insurance policy, which has been created specially for their particular business activity. "We have designed this service to address the particular issues facing professional hauliers, so that it fully meets their actual requirements," explains Michel Girod, in charge of sales at Renault Trucks. "With Renault Trucks insurance, our customers are assisted by transport insurance professionals to ensure they get the best possible cover."

The manufacturer has created a flexible policy that can be adapted to suit the regulations in force in each country. The Renault Trucks insurance policy includes at least three key types of cover in all the countries where insurance is offered: damage caused by accident or theft, third party liability, and financial loss protection when funded via Renault Trucks. The policy can cover the customer's entire fleet whatever the make of vehicle.

In addition, if customers sign up for its Optifuel Programme at the same time, Renault Trucks will give them a 5% discount on the insurance. "We know that when drivers have been trained in fuel-saving techniques and companies monitor consumption, it doesn't just save fuel - it increases safety too," explains Michel Girod. "So it made sense to reduce the insurance premiums for companies signing up to our Optifuel Programme."

The Optifuel Programme is one of the fuel-saving Optifuel Solutions developed by Renault Trucks. It consists of an in-house course in fuel-saving driving techniques (Optifuel Training) and software for analysing and monitoring fuel consumption (Optifuel Infomax). The Optifuel Programme can achieve fuel savings of up to 15% when applied to a whole fleet.

Renault Trucks insurance is available in most European countries: Austria, Belgium, Czech Republic, France, Germany, Holland, Hungary, Italy, Poland, Romania, Russia, Slovakia, Spain, Switzerland and the UK. The full insurance offer will be available in Turkey, Ireland and the Nordics later this year.