A landmark year for Monart Express Transport
22/03/2022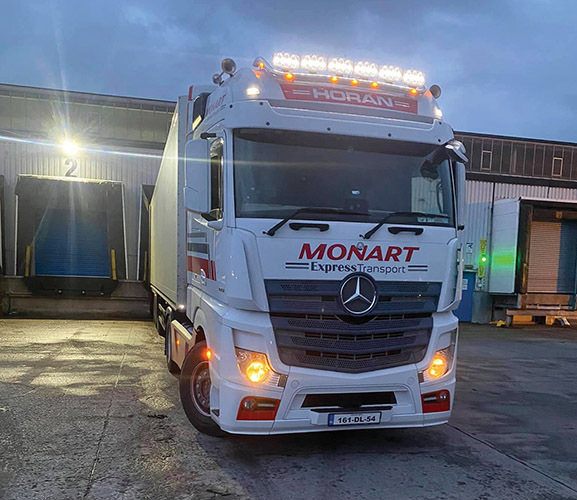 Twenty-twenty-one was another landmark year for Monart Express Transport as the exceptional County Wexford based family-run courier and haulage services provider celebrated a quarter of a century in business. To coincide with Monart's 25th anniversary, we travelled to Enniscorthy and met founder Kevin Horan to discuss his magnificent fleet, outstanding staff and the range of prompt and professional transportation solutions provided to an ever-growing clientele.
When it comes to providing dependable, efficient, courteous and value-added courier and haulage services with a personal touch, nobody delivers the goods as professionally, reliably and consistently as Monart Express Transport.
Coinciding with the company's 25th-anniversary celebrations, no fewer than 15 new Renault Masters were added to the fresh and immaculately-maintained fleet during the back half of 2021, swelling the substantial fleet size to 60 units in total – 54 vans and six trucks. Offering unrivalled daily distribution services – from a parcel to a pallet, a full load or even just a single envelope - across Wexford, Wicklow, the greater Leinster region and sometimes beyond, Monart Express Transport – which has been a limited company for little over one year - generates direct employment for a skilled, experienced and motivated team of 60.
Family is at the heart of the business, which was initially established in Enniscorthy, County Wexford in 1996 by Kevin Horan, whose wife and eight children are all heavily involved in day-to-day operations.
"I wouldn't be here today without the help and support of my family, who play a massive role in the success of Monart, which is a family business in every sense of the term," confirms the personable founder and proprietor. "We have eight children, including three sets of twins, ranging from 22 down to 13, and all of them contribute a lot to the business. I'd honestly be lost without them.
"I started off on my own with one van in '96 and brought my first family member on board two years later. We were up to six vans and two trucks by '98 and were back down to one van and one truck again by 2000. We operated at that level through until 2008. That relationship didn't work out and I decided to close down due to our differences but I reopened the business with a clean slate in 2010 and this time we haven't looked back.
"It has really taken off in the last three years as the lads have come of age and have become increasingly involved at all levels. It's great to have all eight of them so passionate about the business. Alex is 22; Kian and Jade are 20; Sam and Abbie are 19; Max is 15; and Jasmine and Callan are 13. The only reason I am here is down to them and my wife, Lorraine, who has been there for me 100% since the beginning.
"Each of them brings something invaluable to the table. Kian runs the Wexford UPS operation and covers everything from vans to employees; Sam is the transport manager, overseeing the entire fleet, and he also looks after the Wicklow end of our UPS contract; Abbie tracks all the deliveries; Max is a brilliant route planner and he genuinely knows Wicklow like the back of his hand; Callan takes out the power hose on a regular basis and he cleans and scrubs and shines every vehicle.
"It's a lot of work and responsibility for young lads but they have really taken to it. Alex runs the Wicklow and Wexford depots and he regularly goes out on the road driving trucks, doing traction work and full loads. Having them all on board takes the pressure off. In fairness, it's the children who do all the heavy lifting!
"I'm also lucky to have an excellent team in the office, including Niamh Devlin, our wonderful financial controller."
A vast range of courier and transportation services is provided. "We provide parcel services for DHL and UPS as well as haulage, emergency letters, blood samples and home removals," Kevin confirms. "We purchased the 15 new 212-reg Renault Masters from Shaw Commercials in Castlebar – all in the UPS livery - as we had taken on the new Wexford contract for UPS. We also have the UPS contract for Wicklow and have vans in our own colours working for DHL in Wexford."
Indeed, last year started on a bight note with the acquisition of a stunning high-spec Mercedes Sprinter V6 van from Somers Commercials in Camolin, Wexford. Investment in replenishing and expanding the fleet is substantial and ongoing.
Truck-wise, Monart Express Transport runs five artics (three Scanias, a DAF and a Mercedes-Benz) as well as one rigid Scania. The stunning red and white Merc is the most recent addition. "I bought it from Somers Commercials, who had picked it up in the North from McElchar Transport, whose upkeep of their vehicles is unbelievable. We got Neil Devlin at Devlin Diesel to spray it and do the livery for us and we are absolutely chuffed with how it worked out. It's a lovely truck and Regina is driving it.
"The artics operate out of Rosslare mostly and are nationwide. We do a bit of everything – curtainsiders, boxes, flats, fridges and strep frames – and have also broken into the ADR market for the transportation of hazardous goods. We're hoping to expand the haulage side of it going forward, but it's difficult to get lorry drivers at the moment."
It was perhaps inevitable that more and more trucks would eventually be added to the fleet as Kevin is something of a trucker at heart. "I've always been into trucks from a very young age but I never really got to follow up on that early on as I had such a young family," he reflects. "But the kids are all grown up now and I get to do what I always dreamed of doing. They tried to get me into an office at one point but I had no interest in Excel sheets and I only lasted a couple of days. Sam is brilliant at managing everything and he's in the process of getting his haulage licence now, while Alex has his ADR / HazChem passes."
Running a highly successful and harmonious family business – with so many family members involved - represents a remarkable achievement by any standards: "I always wondered what could I have to give them," Kevin concedes. "They wanted to do what I was doing and they went straight into it and that's how the whole thing developed – naturally. Alex and Kian joined and Sam wanted to go to Canada to study dentistry but they all ended up here and are happy to be here. Monart has been built up because of them and it's amazing what has happened in the last three or four years.
"Four years ago I gave Alex 60 deliveries to do between Cabinteely and Ballybrack to see if I could put him off. He went out and cleared them all and I knew he wasn't going to be broken, so I gave him Naas. Him and Kian – who is also our driver trainer - and James Levington – who is here since Day One – were going out and doing 440 deliveries in a day. They were unbelievable. I was doing between 80 and 110 a day in Arklow and I built up very good relationships in the area over five years.
"It's not an easy game and you need good drivers. We spend time with our drivers and invest in them and they are not just a number. We look after them as best we can."
As for the secret of Monart Express Transport's success, the founder continues: "A good working relationship between the staff and good relationships with clients. Any decisions we make here, we make as a family. Niamh joined the team last January and I would never question what she tells me. I'm a big spender but she told me straight that if I keep doing that I'll be in trouble, so we had to rein it in a little.
"The team in the office and the drivers are the backbone of the business. There's a level of trust there and I pay the drivers a decent wage. They are the ones who give me the extra hours when I need them and there is mutual respect between us all. I firmly believe that if you look after your staff, things will fall into place."
Of course, hard work is also a prerequisite and the team at Monart Express Transport certainly put in the hours! "It's physical work and you have to be fit and ready to get stuck in," says Kevin. "During the height of the pandemic we were under severe pressure because everybody was buying online and literally every day was like Christmas. But Sam, Alex and Kian pulled it off and the problem was solved. They are prepared to work. Sam was leaving Enniscorthy at 2am and leaving the warehouse in Dublin at 8am and he'd be back in the office until 5pm. Or there could be trips over to Waterford to sort out freight for the drivers. It's all go.
"We're in units 3 and 4 here in the industrial park and that's where the office is but we also have unit 9 for freight and have shower and toilet facilities for our drivers and we also take Health & Safety very seriously to protect not just ourselves and our customers but also the public.
"As I've said already, this business would not exist without Lorraine and the kids. It really was the perfect storm when they all came together and dived into it with enthusiasm and clearly liked what they were doing. The frightening thing is that they are much better at it than me! They are doing it a lot better than I was at their age."
Twenty-five years in, one gets the distinct impression that the Monart Express Transport story is still in its infancy!
Monart Express Transport,
Unit 3 / 4,
Peare Campus,
The Moyne Industrial Park,
Old Dublin Road,
Enniscorthy,
County Wexford.
Tel: 087 2688844
Email: [email protected]
www.facebook.com/monartexpresstransport
Published in Irish Trucker & Light Commercials magazine, February/March 2022, Vol 25 No 1