A headline act
11/01/2012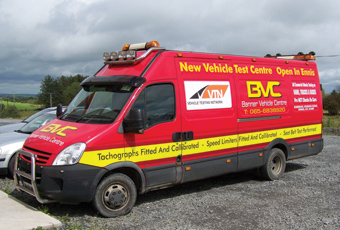 Oliver Haugh used to run his own haulage company, so he appreciates better than most exactly the kind of service a modern-day haulier requires when having a vehicle tested, repaired or serviced. Oliver has used his wealth of experience of the haulage sector to quickly develop his fledgling company, Banner Vehicle Centre, into one of the most exciting, vibrant and successful entities in its field.
The company was established 18 months ago and, from its base at Darragh, Ennis provides a comprehensive range of stellar services: VTN testing for light and heavy commercial vehicles; tachograph calibration; speed limiters and plating; 24-hour recovery; mobile breakdown; and all maintenance, repairs and servicing. A veritable one-stop shop, Banner Vehicle Centre offers all its services under one roof – it is the only company in Clare to provide this variety of services in one location.
In addition to testing, an 8,000 sq. ft. workshop offers vehicle repairs to light and heavy vehicles. "We're the only all-in-one, test centre / workshop in the Clare area," Oliver confirms. "We also offer a 24-hour recovery service, with a fully-kitted recovery truck that can winch up trucks and trailers. And we can do mobile repairs."
Oliver has combined his engineering qualifications, experience of the transport industry and vehicle maintenance skills to offer this first-class service for van, 4x4s, buses and trucks throughout the Clare region. For the past decade, he was involved directly in the industry, operating and maintaining a fleet of up to 33 vehicles, having previously received a Degree in engineering from University of Limerick. As he always carried out his own maintenance, he brings a wealth of experience as a commercial vehicle technician to the table.
An investment of €2m and twelve months of intensive work transformed the greenfield site at Darragh, Ennis into a state-of-the-art testing centre. The workmanship on the project is excellent and this stands the company in excellent stead moving forward.
Location is crucial in this industry sector and Banner Vehicle Centre is perfectly-placed four miles from Ennis on the main Kilrush Road, on a six-acre site with ample secure parking and CCTV security. A free pick-up / drop-off service is afforded within a 20-mile radius.
One of the real beauties of Banner Vehicle Centre is the convenience of its services. If a vehicle comes in for a test and fails for whatever reason, a free quotation can be given on the spot and these repairs can be carried out on site immediately. The customer can them leave with his cert. This saves a serious amount of time and inconvenience travelling between test centre and garage and back again.
All staff members are fully-trained to carry out all work with maximum efficiency, professionalism and safety. Even outside the annual VTN-approved test, vehicles sometimes need a routine check and these tests – which can be a major factor in ensuring road safety - are available at keen rates.
The test centre boasts two LGV test lanes and one HGV test lane. It has the capacity to test 20 LGVs and eight HGVs per day. Brake tests and pre-NCT tests are also available. Banner Vehicle Centre is an NSAI-approved tachograph / speed limiter centre containing the newest stoneridge equipment.
The modern. spacious, state-of-the-art workshop can cater for any vehicle repair from the smallest car up to the largest truck. The latest diagnostic equipment can detect problems on all vehicles and repairs can also be carried out on agricultural and construction equipment. A vast store stocks commonly-used parts and other parts can be sourced within hours from the company's networks of suppliers.
Oliver appreciates that one of the main things clients demand in these difficult economic times is value for money – as well as a fast and efficient service to keep downtime to an absolute minimum. And to guarantee customer comfort at all times, a fresh, cosy waiting room is provided with tea and coffee facilities included.
What was the thinking behind setting the business up? "I'm a qualified engineer and I worked in transport myself for ten years. Having been involved in the sector, I recognised an opening for a garage in Clare offering testing and repairs under one roof. We're employing seven at the moment and business is going well.
"We're building up our client base all the time, having started from scratch. Each month is a new test for us and brings us new challenges, but thankfully we are doing very well so far. We can do full diagnostic plug-ins on both lorries and light commercials and we're fully qualified to carry out all mechanical and electrical work, from changing a bulb to changing an engine, from a van up to the largest HGV and trailer."
Oliver's decision to set up his company in the middle of a recession was a brave one, but it shows how much confidence he has in Banner Vehicle Centre's ability to deliver the goods: "I'd estimate that the amount of heavy vehicles on the road is down by about 50% in the locality, so we have a smaller customer base to draw from. A lot of the more-established transport companies have closed down, while younger people are emigrating. A company that had ten lorries or vans might have four today, if any. That's the reality and there's not much fresh blood coming in, so things are tight and we have to provide a high-quality service at an affordable price.
"Hopefully things will pick up for the transport sector soon. In the meantime, we'll continue to provide an optimal service. I know from working in haulage myself that customers want a competitively-priced, quick and reliable service with as little inconvenience or disruption to their daily schedule as possible. But it's really all about cost at the end of the day; that's what everybody is watching. By providing all our services under one roof, we can offer significant savings with minimum downtime.
"We're also currently working with a number of bus and truck operators to introduce a twelve-week test of major components for a very small fee. This is very popular and can save operators money in the long run as well making a major contribution to road safety, which is vital."
Oliver concludes: "None of the success we've enjoyed so far would be possible without the continued help and support of staff, family, friends, suppliers and customers. We'd like to take this opportunity to thank them for their support thus far and we look forward to continuing working with them into the future."